LaGuardia Community College Advances To Semifinals For 2023 Aspen Prize, Nation's Top Recognition For Community Colleges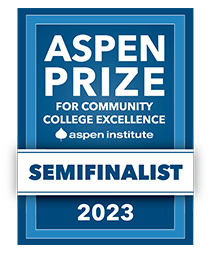 Long Island City, NY (May 3, 2022)—LaGuardia Community College has been named one of 25 semifinalists for the 2023 Aspen Prize for Community College Excellence, the nation's signature recognition of community colleges. Awarded every two years, the Aspen Prize honors colleges for outstanding performance in five critical areas: teaching and learning, certificate and degree completion, transfer and bachelor's attainment, workforce success, and equitable outcomes for students of color and students from low-income backgrounds.
"We are proud that LaGuardia's performance in the five critical areas examined by the Aspen Institute has earned us a spot among the top 25 Aspen Prize semifinalists," said LaGuardia President Kenneth Adams. "The dedication and innovation of our faculty and staff in fulfilling our mission to educate and graduate students has awarded us this opportunity, and we look forward to the next round of the selection process."
LaGuardia is one of three City University of New York (CUNY) schools named semifinalists—and the only in Queens—vying for $1 million in shared prize funds. Hostos Community College and Kingsborough Community College, also advanced. The three CUNY institutions are the only community colleges in New York named as semifinalists.
The selection process began in November 2021 when the Aspen Institute invited 150 community colleges to apply. The colleges were selected out of more than 1,000 institutions nationwide based on data showing strong and improving student outcomes in key areas such as retention, completion, transfer, and equity—particularly for Black and Hispanic students and those from lower-income backgrounds. A diverse selection committee of 16 higher education experts reviewed the applications.
Next, the selection committee will review interviews with leadership teams and narrow this selection of 25 semifinalists to 10 finalists, to be announced in early June 2022. The Aspen Prize winner will be announced in late spring 2023.
"We are thrilled to see America's community colleges making meaningful and measurable progress, educating people from all backgrounds and preparing them for good jobs," said Josh Wyner, executive director of the Aspen Institute College Excellence Program. He cited graduation rates that have risen more than six percent for all students since 2015, and five percent for students of color. "These 25 colleges represent our dreams for a better country and a reinvigorated democracy."
The Aspen Prize is funded by Ascendium, the Joyce Foundation, JPMorgan, and the Kresge Foundation.
• • • •
The Aspen Institute is a community-serving organization with global reach whose vision is a free, just, and equitable society. For 70 years, the Institute has driven change through dialogue, leadership, and action to help solve the world's greatest challenges. Headquartered in Washington, D.C., the Institute has offices in Aspen, Colorado, and New York City, and an international network of partners.
LaGuardia Community College, located in Long Island City, Queens, educates thousands of New Yorkers annually through degree, certificate, and continuing education programs. Our guiding principle Dare To Do More reflects our belief in the transformative power of education—not just for individuals, but for our community and our country—creating pathways for achievement and safeguarding the middle class. LaGuardia is a national voice on behalf of community colleges, where half of all U.S. college students study. Part of the City University of New York (CUNY), the College reflects the legacy of our namesake, Fiorello H. LaGuardia, the former NYC mayor beloved for his championing the underserved. Since our doors opened in 1971, our programs regularly become national models for pushing boundaries to give people of all backgrounds access to a high quality, affordable college education.
####