Two Graduating LaGuardia Community College Students Win Prestigious Scholarship Towards Bachelor's Degrees
Mohamad Bekhit and James Stuart are two of 100 community college students nationwide named 2022 Jack Kent Cooke Undergraduate Transfer Scholars
LONG ISLAND CITY, NY (May 19, 2022)—Two high-achieving LaGuardia Community College students have been selected as 2022 Jack Kent Cooke Undergraduate Transfer Scholars. This highly competitive national scholarship, awarded by the Jack Kent Cooke Foundation, provides transfer students with up to $55,000 a year to complete their bachelor's degrees. The 2022 LaGuardia Jack Kent Cooke Scholars are Mohamad Bekhit and James Stuart. Both will graduate from LaGuardia next month, and transfer to four-year colleges this fall.
Bekhit and Stuart are among 100 nationwide recipients of the 2022 Undergraduate Transfer Scholarship, chosen from more than 1,200 students from 332 community colleges. The scholars were selected for their academic ability and achievement, financial need, persistence, and leadership.
"We are proud of Mohamad and James for their hard work, perseverance, and for being named 2022 Cooke Undergraduate Transfer Scholars. For a community college student, being selected for a Cooke Undergraduate Transfer Scholarship is like winning a Rhodes Scholarship—it's that meaningful," said LaGuardia Community College President Kenneth Adams . "LaGuardia faculty and staff work relentlessly to guide our students towards opportunities like the Cooke Transfer Scholarship to help them achieve their goals. We will be cheering on Mohamad and James as they pursue their professional and personal ambitions."
Previous LaGuardia Cooke Scholars have gone on to earn bachelor's degrees at Columbia University, New York University, St. John's University, and Stanford University, among other colleges.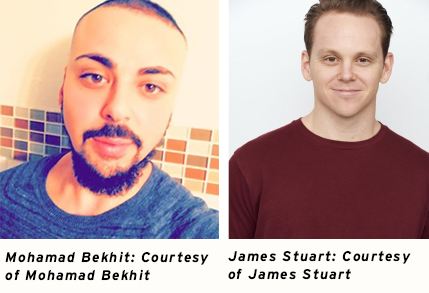 Mohamad Bekhit is a computer science major, ASAP student, and a member of LaGuardia's Black Male Empowerment Cooperative Program (BMEC). He is a first-generation American of Egyptian heritage and was born and raised in Queens. Bekhit left school after eighth grade to help his family financially. Eventually he pursued his high school equivalency diploma—taking the exam four times before passing. Now in his early 30s, he will graduate with a 3.8 GPA as a member of LaGuardia's Honors Program. He hopes to attend NYU's Tandon School of Engineering and plans to become an engineer.
"I left school barely literate. Now at LaGuardia I'm earning almost straight-A's and have won a Cooke Scholarship. In my first semester at LaGuardia, I had so much doubt—I didn't think I'd get anywhere in life. Thankfully, I met incredible professors like Dominique Zino and Reem Jaafar who showed me that a future was possible if I put in the effort," said Bekhit.
James Stuart is a political science major who serves as academic representative for the Social Science Department in LaGuardia's Student Government Association and as a college representative for the CUNY University Student Senate. He is a member of Phi Theta Kappa Honor Society, Transfer Scholars Network, and the CUNY Malave Leadership Academy. He will graduate as a member of LaGuardia's Honors Program. He plans to pursue a bachelor's degree in psychology.
Outside of his academics, Stuart works as a dance instructor aspiring young artists within the Tri-State Area. He also volunteers with The City Tutors as a tutor helping graduate students with their writing skills.
"Receiving the Jack Kent Cooke Scholarship will lift a heavy financial burden on my path forward," said Stuart, who aspires to develop a career exploring the intersection of art and mental health. He also intends to become an advocate for increased accessibility to mental health resources, particularly for communities that have been historically underserved.
In the 2020-21 academic year, four-year colleges and universities saw nearly 200,000 fewer transfer enrollment applications nationwide, reflecting the pandemic's disruptive effect on students and their plans for college. Despite that decline, the Jack Kent Cooke Foundation welcomed its largest class of Scholars to date, highlighting the talent and achievement of hundreds of community college students across the country. In light of growing financial hardship for so many families, the Jack Kent Cooke Foundation also increased the maximum award amount by an extra $15,000 to ensure students can focus on their studies while enrolled.
"Today, almost half of all college students begin their academic career at a community college. We know our community colleges are full of high-achieving students, and we're committed to playing our part to ensure those students succeed," said Seppy Basili, executive director of the Jack Kent Cooke Foundation. "Congratulations to a cohort of students who have persisted in the midst of such unprecedented disruptions in our lives. We welcome you into our community and look forward to learning alongside you."
New Cooke Undergraduate Transfer Scholars receive comprehensive educational advising to guide them through the process of transitioning to a four-year college and preparing for their careers. Along with financial support, Scholars receive opportunities for internships, study abroad, and graduate school funding, as well as connection to a thriving network of over nearly 3,000 Cooke Scholars and Alumni.
A list of this year's Cooke Transfer Scholars, their community colleges, and their hometowns can be found here.
• • • •
About The Cooke Foundation
The Cooke Foundation is dedicated to advancing the education of exceptionally promising students who have financial need. Since 2000, the Foundation has awarded $230 million in scholarships to nearly 3,000 students from 8th grade through graduate school, along with comprehensive counseling and other support services. The Foundation has also provided $125 million in grants to organizations that serve such students.
About LaGuardia Community College
LaGuardia Community College (LAGCC), located in Long Island City, Queens, educates thousands of New Yorkers annually through degree, certificate, and continuing education programs . LaGuardia is a national voice on behalf of community colleges, where half of all U.S. college students study. Part of the City University of New York (CUNY), the College reflects the legacy of our namesake, Fiorello H. LaGuardia, the former NYC mayor beloved for his championing the underserved. Since our doors opened in 1971, our programs regularly become national models for pushing boundaries to give people of all backgrounds access to a high quality, affordable college education.
####