LaGuardia Introduces Fields of Interest and Two New 'Tracks' to Help Students' Exploration of Studies and Careers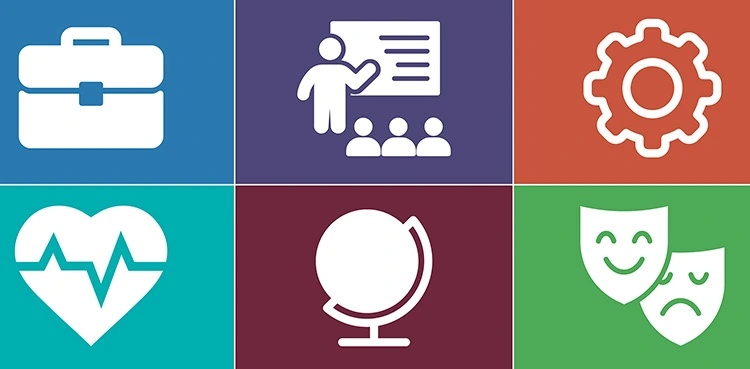 LONG ISLAND CITY, NY (August 28, 2023) — While some college students have already decided what they want to study for their future career, others are still trying to figure it out. LaGuardia Community College/CUNY understands there are many factors to consider when choosing what major fits best, and this decision can be quite overwhelming for many students.
There are so many academic paths that can be chosen, and it can be challenging for a student to pinpoint one and dedicate themself to it. For students, this can be difficult to find the one that will resonate with them for the rest of their lives as their future career. To help student navigate through their college learning experience, LaGuardia is introducing six Fields of Interest to help student choose from the college's 43 majors and their 64 distinct academic pathways.
The Fields of Interest are: Business & Entrepreneurship; Education & Public Service; Engineering, Science & Technology; Health & Wellness; Languages, Culture & Society; and Visual & Performing Arts.
"We hope the brief descriptions of each larger field help our students consider the major they want to explore," said Eric Hofmann, Associate Dean of Academic Affairs. "In each of the fields, students will also find materials that highlight specific career and transfer paths for a smaller group of majors that often have similar courses in the first semester or two."
Hofmann said students are encouraged to explore some of the self-assessment tools and other resources that provide information about career and transfer pathways, potential salaries, and the types of skills students will use in their careers. On the LaGuardia website students can also refer to the College's Course Catalog that includes academic coursework and degree maps to help select the required and recommended courses that will help students in their chosen field.
For the Fall 2023-24 semester, LaGuardia is also introducing two new options or "tracks" within existing majors: Health Humanities in the Liberal Arts Social Science and Humanities A.A. program and Animal Sciences in the Environmental Science A.S. program.
Dionne Miller, Associate Dean for Academic Affairs, said the new Health Humanities option in the Liberal Arts Social Science and Humanities A.A. program was added to address the complexity of health and health care from an interdisciplinary humanistic perspective. She said LaGuardia is in a unique position to be one of the first community colleges to enhance undergraduate humanities education by bridging the gap between health sciences and the humanities.
"Faculty with support from a grant from the National Endowment for the Humanities (NEH) developed the curriculum to introduce students to one of the fastest growing fields of study, Medical and Health Humanities," Miller said. "A July 2022 report published by Case Western Reserve University School of Medicine confirmed 140 programs in the US and Canada at the baccalaureate level, with another seven in development. At a time when many of us are concerned about the decline in the humanities, Health Humanities programs are experiencing dramatic growth. The same report states that in 2000, there were only 12 such programs. LaGuardia is one of very few two-year colleges offering students an introduction to this growing field."
The Animal Sciences track is being added to the Environmental Science program to address the current void in course and major offerings for students at LaGuardia with an interest in Animal Science or related fields. Miller said students within the Animal Sciences track will gain broad knowledge of the Animal Sciences discipline to understand the future of the field and the diversity of employment opportunities it offers. The Animal Sciences option will encourage students to foster understanding of biological and chemical principles utilizing quantitative reasoning in core subject areas such as physiology, genetics, and animal behavior and ethics.
"The new Animal Sciences track was developed to serve students who have career interests in animal science who cannot be served by the curriculum of LaGuardia's current Veterinary Technician program," Miller said. "This track will also be an option for students who apply to the Veterinary Technology A.A.S. program, but are unable to be admitted, because of the limited number of seats available."
Students who follow the Animal Sciences track will be better prepared for a seamless transfer to four-year schools like Rutgers College for a Bachelors in Animal Science, Brooklyn College (CUNY) for a Bachelors in Biology within the Pre-Vet/ Pre-Health track, and SUNY Cobleskill for a Bachelors in Animal Science.
Supporting students with transfer options to well-known four-year schools is critical to the academic success of LaGuardia students, Miller says. The transfers options are created through articulation agreements established between LaGuardia and many four-year institutions.
"We receive many students from John Bowne High School which has specialized courses in plant and animal science," Miller said. "Many of their graduates interested in these careers transfer to Rutgers and SUNY Cobleskill to pursue their degrees. With these articulation agreements, we can provide these students, as well as all LaGuardia students, a high quality and less expensive pathway to their 4-year degrees in agriculture and animal sciences."
"At Rutgers, for example, students will have a wide range of career possibilities to pursue, from traditional pre-Veterinary Medicine to Equine Science and Companion Animal Science to name a few," Miller explains. "By reducing costs, both in tuition and room and board (since NYC students would necessarily need to move away from home), we make these pathways accessible to more of our students."
Miller said the launch of the new tracks was a college-wide effort.
"Both of these new tracks were initiated by faculty who recognized the need and opportunity, advocated for the development of the tracks and wrote and successfully obtained grants to support their development," Miller said. "The college administration supported those efforts on multiple levels: 1.) Academic Affairs provided support in curriculum development, negotiating articulation agreements, and obtaining approvals from college, university, and state entities; 2.) the Grants Office provided support in developing and submitting the grants; 3.) Admissions in program promotion and recruitment and 4.) Communications and External Affairs in developing promotional materials and creating program web pages."
• • • •
LaGuardia Community College (LAGCC), a Hispanic-Serving Institution, located in Long Island City, Queens offers more than 50 degrees and certificates, and more than 65 continuing education programs to educate New Yorkers seeking new skills and careers. As an institution of the City University of New York (CUNY), the College reflects the legacy of our namesake, Fiorello H. LaGuardia, the former NYC mayor beloved for his advocacy of underserved populations. Since 1971, LaGuardia's academic programs and support services have advanced the socioeconomic mobility of students while providing them with access to a high quality, affordable college education.
####