CUNY EXECUTIVE VICE CHANCELLOR AND UNIVERSITY PROVOST
WENDY F. HENSEL VISITS LAGUARDIA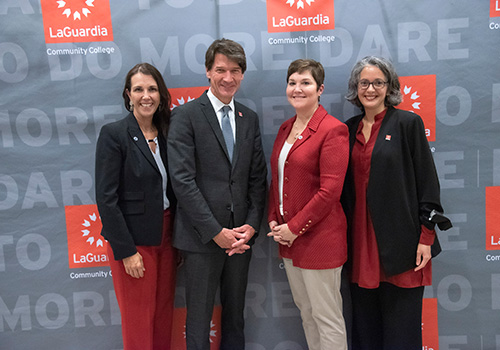 Pictured above: CUNY Associate Vice Chancellor for Academic Effectiveness and Innovation Alicia Alvero, LaGuardia President Kenneth Adams, CUNY Executive Vice Chancellor and University Provost Wendy F. Hensel, and LaGuardia Provost Billie Gastic Rosado.
Wendy F. Hensel, CUNY's Executive Vice Chancellor and University Provost, visited LaGuardia Community College/CUNY on October 31, 2022.
While on campus, EVC Hensel met with chairs of LaGuardia's Academic Departments to discuss pedagogy and modality, and visited various facilities and programs including the college's Occupational Therapy Assistant Program, Physical Therapist Assistant Program, Nursing (RN) Program, and Licensed Practical Nursing (LPN) Program. Hensel also visited the Veterinary Technology Lab, and met with Student Success Mentors, Peer Mentors, and members of the President's Society and College Senate.
EVC Hensel's visit concluded with a town hall where questions were welcomed from the college community, in a forum moderated by LaGuardia's Provost Dr. Billie Gastic Rosado. In remarks, EVC Hensel noted that this is a moment of inflection in higher education. She spoke about efforts underway at CUNY Central to remove barriers to student success, such as reduced enrollment and difficulty transferring credits between CUNY schools. She reviewed initiatives being developed to address these barriers, including working closely with the NYC DOE to help high school students see themselves as college material and establishing seamless transfer across all CUNYs.
She also spoke about the impact of the COVID-19 pandemic on students in the form of learning disruption. She noted that CUNY is working closely with the NYC DOE to help get students as young as middle school-age back on track.
And in response to increased demand for online learning, first introduced broadly during the pandemic, EVC Hensel noted that CUNY is bringing in developers and instructional designers to work with faculty and instructors to improve the quality and delivery of online instruction, for both degree and Continuing Education programs.
Finally, EVC Hensel spoke about fostering environments throughout CUNY where faculty and staff can succeed. She shared that CUNY Central is creating career paths, just as it does degree paths for students, and expanding professional development opportunities.
Posted November 4, 2022