LaGuardia Community College Receives $900K U.S. Department of Justice Grant to Provide Wraparound Services and Educational Opportunities for Residents of Queensboro Correctional Facility
LONG ISLAND CITY, NY (October 18, 2023) — LaGuardia Community College/CUNY has been awarded a three-year, $900,000 grant from the U.S. Department of Justice (USDOJ) to provide educational, training, and wraparound services for residents of Queensboro Correctional Facility. Queensboro Correctional is a New York State reentry facility for male prisoners scheduled for released on parole within 120 days and those on work release, situated directly across the street from the college campus. Through the Accelerated College Transition (ACT) project, LaGuardia will address the unique needs of New York State male prisoners both pre-release and post-release, helping them complete their educational goals, qualify for enhanced career opportunities, and achieve successful long-term community reintegration.
LaGuardia is one of only 10 institutions nationwide awarded funding for improving correctional education and training from the USDOJ's Second Chance Act Improving Reentry Education and Employment Outcomes initiative—and the only recipient that will provide services in New York State.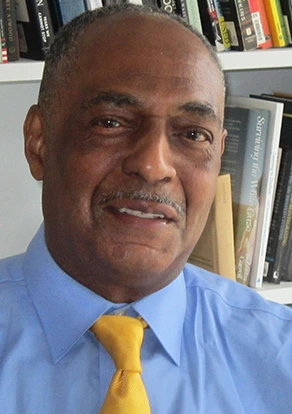 "As a formerly incarcerated individual who once slept at Queensboro Correctional Facility before my release in 2003, it's a true blessing that I'm now being given this amazing opportunity to apply my personal experience and academic research focus to help current and future facility residents get on track for positive outcomes upon release," said John R. Chaney, J.D., associate professor of Criminal Justice at LaGuardia, member of the Queensboro Correctional Facility Advisory Board, and principal investigator for the ACT project. Professor Chaney joined LaGuardia's faculty in 2012 after having served as executive director for the Kings County District Attorney's Office's ComALERT, a reentry program that received national recognition for its effectiveness in reducing recidivism.
Professor Chaney conceived of the ACT project with input from formerly incarcerated LaGuardia students and graduates, administrators from the New York State Department of Corrections and Community Supervision, and from his co-principal investigator Dr. Joni Schwartz-Chaney, professor of Humanities at LaGuardia and adjunct professor at the John Jay College of Criminal Justice Graduate Studies Program.
"The ACT project aims to create a model that increases the likelihood that formerly incarcerated students will successfully complete education and training programs. Earning college degrees and professional workforce certificates will enable them to pursue new and increased job and career opportunities, and enhance their personal growth. By helping them secure long-term employment, the project will positively impact their lives post-release and significantly decrease episodes of recidivism in New York City," said Professor Chaney. "We're excited to get to work on ACT, which we expect to have up and running by early Spring 2024."
Queensboro Correctional Facility residents participating in the ACT project will receive pre-release and post-release support from admissions through graduation, including individual case management, financial assistance, and course selection advisement.
Prisoners preparing for release from Queensboro will be offered the opportunity to take credit-bearing, transferrable classes taught by LaGuardia faculty and instructors leading to an associate degree at LaGuardia, as well as GED, ESL, and professional workforce training courses offered through LaGuardia's Continuing Education Division.
A new one-stop on-campus transitional resource center will provide sustained support, case management, and transitional services for post-release Queensboro students at LaGuardia. The center will be run by ACT project staff, hired with funding from the USDOJ award, who will connect the Queensboro students with LaGuardia resources that can help them stay on track to graduation, including LaGuardia CARES (College Access for Retention and Economic Success), which connects students with resources, referrals and local community services to provide resources for daily living expenses, including food, healthcare, rent, utilities, childcare, and emergency financial assistance; CUNY Fatherhood Academy, acknowledging that the majority of the men leaving the facility are fathers; and, pairings with Student Success Mentors (SSMs), particularly those with histories of criminal justice involvement, to bring recently admitted students up to speed in Information Technology.
The resource center will connect Queensboro students with community resources that support their post-release transition, including the New York City Housing Authority's (NYCHA) Family Re-entry Program that works with formerly incarcerated people wishing to return to their families residing in NYCHA's public housing; Resource Training Center/Christopher's Reason that will support participants pursuing careers in substance abuse treatment and counseling; and Fortune Society's employment, housing, and other transitional services for the formerly incarcerated. Brooklyn Plaza Medical Center will offer quality health care to ACT project participants.
The ACT project builds upon LaGuardia's longstanding relationship with Queensboro Correctional Facility. Since 2017, faculty have volunteered to teach no-credit courses in creative writing, philosophy of law, the politics of government and other topics at the facility, in a program developed and coordinated by Professor Chaney and Dr. Schwartz-Chaney.
• • • •
LaGuardia Community College (LAGCC), a Hispanic-Serving Institution, located in Long Island City, Queens offers more than 50 degrees and certificates, and more than 65 continuing education programs to educate New Yorkers seeking new skills and careers. As an institution of the City University of New York (CUNY), the College reflects the legacy of our namesake, Fiorello H. LaGuardia, the former NYC mayor beloved for his advocacy of underserved populations. Since 1971, LaGuardia's academic programs and support services have advanced the socioeconomic mobility of students while providing them with access to a high quality, affordable college education.
####