LaGuardia's Theater Program Announces Fall Production of Everybody by Branden Jacobs-Jenkins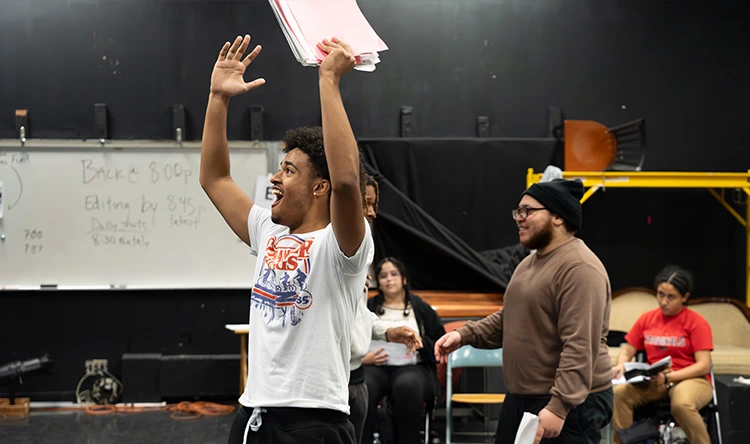 LONG ISLAND CITY, NY (October 18, 2023) — LaGuardia Community College/CUNY's Theater Program announces its fall production of Everybody, a dark comedy by acclaimed playwright Branden Jacobs-Jenkins, who earned a Pulitzer Prize for Drama nomination for Everybody. Tickets are available through the LaGuardia Performing Arts Center (LPAC) for shows scheduled from November 15 through November 20.
Inspired by the 15th century morality play Everyman, Jacobs-Jenkins' play follows Everybody as they travel down a road toward life's greatest mystery and confront the inevitable (their death). First performed Off-Broadway in 2017, Everybody was nominated for the Drama League's Outstanding Production of a Broadway or Off-Broadway Play Award.
Everybody was selected as the fall production by Christopher Weston, director of LaGuardia's Theater Program, Stefanie Sertich, professor of Theater, and James Ryan (J.R.) Caldwell, LaGuardia theater lecturer and director of Everybody.
"We chose Everybody because playwright Brandon Jacobs-Jenkins is so exciting and bold. He challenges audiences by creating uncomfortable circumstances in which they have no option but to engage," said Mr. Caldwell. "Everybody is an unpredictable, hilarious, and inventive inquiry into the ways individuals cope with mortality. Ultimately, it's about a wild trip that the main character takes everybody on, during which they find out that they're going to die. While it's existential and somewhat sad, any play that is about death is usually ends up being about life and how we live it."
Everybody challenges student-actors to go beyond classroom learning in their preparation and approach to their characters.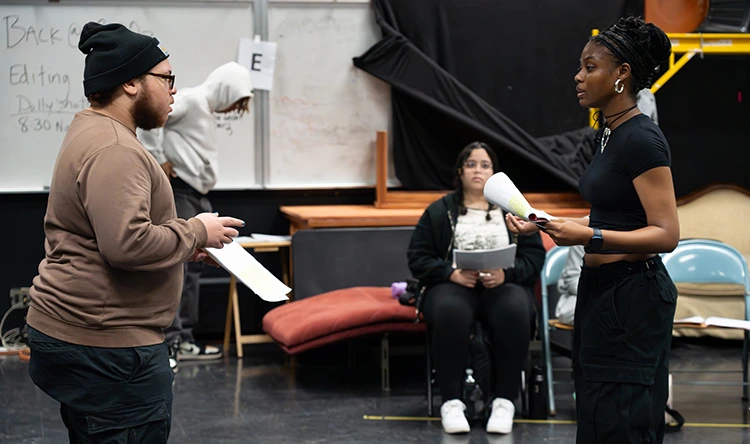 "The characters in Everybody aren't people. Instead, they play concepts like family, friendship, love, and truth," said Mr. Caldwell. "For actors, Everybody requires different preparation than a traditional work. For example, the person playing love must embody love as a person. Who is that person? What's their history? Thankfully, our students are down for the challenge."
To prepare students for the existential characters they play in Everybody, Mr. Caldwell designed a method to facilitate self-exploration.
"For each scene, the students wrote stories about a theme or topic explored in it. As example, for a scene involving friendship, the students wrote about what friendship is to them or about a friend that means a lot to them. Their stories are the inspiration for the movement, stage props, and set design," said Mr. Caldwell.
The unique storyline of Everybody inspired a plan for the audience to be seated in-the-round.
"I thought that the best format for this one-act ensemble piece would be to have the audience surrounding the stage. The in-the-round format enables every member of the audience to see one another, creating an intimate atmosphere," said Mr. Caldwell. "It's a great challenge for the students too because it's much different from a proscenium theater where they're always facing in one direction. The actors will need to be aware of their fellow actors' locations on stage the entire time."
With the diversity of LaGuardia and Queens, the production aims to ensure that make sure that everybody is represented, even if only one character is playing it.
"When we say Everybody, we're really trying to make it about everybody. It's fun and fascinating to look at how different all of us are. Yet we share essential human qualities. The play is a layering of these individual aspects of our identity with what happens when they're stripped away. It has a very humanist approach," said Mr. Caldwell.
Everybody will be on stage at the LaGuardia Performing Arts Center' Black Box Theater Room M-122, 31-10 Thomson Ave, Long Island City, NY 11101. Click here to reserve tickets. Tickets are $8 for students (students with financial issues will not be turned away); $10 general admission.
Performance dates:
Wednesday, November 15, 2:30 p.m. — Open Dress Rehearsal (FREE performance; reservations requested)
Wednesday November 15, 7:30 p.m. — Opening Performance
Friday, November 17, 2:30 p.m.
Friday, November 17, 7:30 p.m.
Saturday, November 18, 2:30 p.m.
Saturday, November 18, 7:30 p.m.
Monday, November 20, 12 p.m.
LaGuardia Theater majors and recent graduates who are part of the Everybody production include:
Cast: T. Hanifah Johnson, Isabelle Martinez, Liz Pratt, Rafael Dela Cruz, Jermaine Parker, Mya Marte, Jason Rodriguez, Bishal Dahal, Dickel Jallow, Aniyah Solomon, Lakhanpal Tak, Christian Houston ('23), and Yuliza Abreu.
Crew: Jaden Collins, Lee Monahan, KE Plunkett, Myea Patterson, and Daya Toney.
LaGuardia's Theater Program leads to an Associate of Science (AS) degree and provides students with skills and knowledge necessary to pursue a wide spectrum of careers in the theater. In the annual Kennedy Center American College Theater Festival, the foremost competition for theater students at two-year and four-year colleges and conservatories nationwide, LaGuardia students have received numerous honors and awards. Program graduates regularly transfer to audition-based theater programs and have been awarded competitive scholarships to attend theater conservatory programs.
• • • •
LaGuardia Community College (LAGCC), a Hispanic-Serving Institution, located in Long Island City, Queens offers more than 50 degrees and certificates, and more than 65 continuing education programs to educate New Yorkers seeking new skills and careers. As an institution of the City University of New York (CUNY), the College reflects the legacy of our namesake, Fiorello H. LaGuardia, the former NYC mayor beloved for his advocacy of underserved populations. Since 1971, LaGuardia's academic programs and support services have advanced the socioeconomic mobility of students while providing them with access to a high quality, affordable college education.
####