LAGUARDIA COMMUNITY COLLEGE RECEIVES $5 MILLION FROM COUNCIL MEMBER JULIE WON AND CITY COUNCIL SPEAKER ADRIENNE ADAMS TO LAUNCH
"3,000 HEROES" CAMPAIGN
LaGuardia Initiative Will Graduate 3,000 Frontline NYC Healthcare Workers By 2027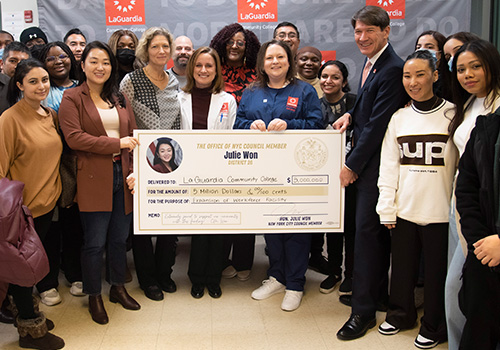 LONG ISLAND CITY, NY (November 29, 2022) — Today, Kenneth Adams, president of LaGuardia Community College/CUNY was joined by New York City Council Member Julie Won to announce the launch of "3,000 Heroes," the college's new initiative to expand training of frontline healthcare professionals.
Council Member Won presented President Adams with a check for $5 million to support the "3,000 Heroes" campaign with the upgrading and expansion of workforce training facilities on LaGuardia's Long Island City campus. The $5 million includes an allocation of $3 million from Council Member Won and $2 million from City Council Speaker Adrienne Adams. The investment will expand the college's capacity to provide hands-on education and skills building for programs that require specialized equipment and facilities, such as Nursing, Licensed Practical Nursing (LPN), Paramedic, EMT, and other healthcare fields.
"We are grateful to Council Member Julie Won and City Council Speaker Adrienne Adams for securing $5 million in funding in support of LaGuardia's healthcare education and training facilities," said Kenneth Adams, president of LaGuardia Community College. "This support enables us to launch '3,000 Heroes,' which is LaGuardia's commitment to train and graduate 3,000 frontline healthcare workers over the next five years. LaGuardia has long been a leader in the training of healthcare professionals. As we emerge from the pandemic, we must expand our programs in response to the critical shortage of frontline workers. This generous support from Council Member Won will make this possible. This investment means that more New Yorkers will be able to access training for jobs in dynamic healthcare fields that typically come with family-sustaining salaries and growth potential."
"LaGuardia Community College is the home to 23,000 scholars in which 88% are students of color. LaGuardia offers a pathway for socioeconomic mobility for working class students, many who are first generation college students. That is why I advocated to secure $5 million in funding to rebuild workforce development programs at LaGuardia as a way to invest in our next generation of leaders," said Council Member Julie Won. "Thank you to the Speaker and my Council colleagues for prioritizing LaGuardia, so our students get the hands-on training and resources they need to serve our community and beyond."
"To confront the shortage of frontline health care professionals in our city, it is critical that we invest in training and educational programs for our future essential workers," said Speaker Adrienne Adams. "Through LaGuardia Community College's '3,000 Heroes' initiative, students will benefit from hands-on learning and support to enter a vital field that offers stability and robust opportunities. The Council is proud to have allocated $5 million in the city budget to upgrade facilities to support this important initiative. I thank Council Member Won for her advocacy and LaGuardia Community College President Kenneth Adams for his leadership."
About the "3,000 Heroes" Campaign
For many years, LaGuardia Community College has been a leader in New York City in training of healthcare professionals. Its Nursing Program, for example, is continuously ranked #1 in the region based on licensing exam pass rates. The college trained EMTs throughout the Covid-19 pandemic. Enrollment in LaGuardia's programs leading to healthcare industry certifications has increased 30% since 2018.
Now, in response to the critical shortage of frontline healthcare workers across the city, LaGuardia plans to increase the number of students in training programs for the health professions. Through its new campaign, "3,000 Heroes," LaGuardia Community College aims to graduating three thousand frontline healthcare workers by 2027.
These LaGuardia students will be joining the ranks of New York's frontline healthcare workforce will include graduates of associate degree and academic certificate programs as well as graduates of non-credit workforce training programs in the college's ACE Division. Ten academic and workforce training programs will yield an average of 600 graduates per year over the next five years. The programs are: Nursing, Licensed Practical Nurse, EMT, Paramedic, Certified Clinical Medical Assistant, Mental Health Peer Specialist, Community Healthcare Worker, Central Service Technician, Pharmacy Technician, and Medical Interpreter.
Individuals interested in training for rewarding careers in healthcare should visit the LaGuardia website.
And visit our Admissions Office or contact Shannon Lund, Admissions Director, at slund@lagcc.cuny.edu for more information. Financial aid and scholarships are available to students who qualify.
Healthcare providers that would like to partner with LaGuardia are encouraged to contact Philip Gimber, RN, Chair of the Department of Health Sciences and/or Sunil Gupta, Vice President of the Division of Adult and Continuing Education and Workforce Development. Other inquiries should be directed to Manny Romero, Vice President of Communications and Marketing at mlromero@lagcc.cuny.edu.
• • • •
LaGuardia Community College (LAGCC), located in Long Island City, Queens, educates thousands of New Yorkers annually through degree, certificate, and continuing education programs. LaGuardia is a national voice on behalf of community colleges, where half of all U.S. college students study. Part of the City University of New York (CUNY), the College reflects the legacy of our namesake, Fiorello H. LaGuardia, the former NYC mayor beloved for his championing the underserved. Since our doors opened in 1971, our programs regularly become national models for pushing boundaries to give people of all backgrounds access to a high quality, affordable college education.
####