LAGUARDIA COMMUNITY COLLEGE RECEIVES $3 MILLION GRANT FOR COMMUNITY HEALTH WORKER TRAINING; ADDRESSING HEALTH DISPARITIES EXACERBATED BY COVID-19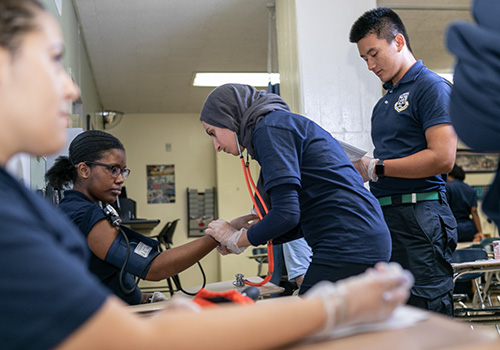 LONG ISLAND CITY, NY (October 24, 2022) — LaGuardia Community College/CUNY was awarded a three-year $2,992,527 grant from the U.S. Department of Health and Human Services (HHS)—Health Resources and Services Administration (HRSA) to launch the Community Health Worker Talent Pipeline Initiative to train 255 new and incumbent Community Health Workers.
LaGuardia's Community Health Worker Talent Pipeline Initiative will focus on communities with the greatest need in Queens and throughout New York City, including public housing residents, English language learners, and communities of color from the highest poverty neighborhoods in NYC.
Students will receive full-tuition scholarships, as well as a total of $2,500 in stipends. Training includes courses in communication skills, health and wellness, and healthcare system navigation, followed by an internship or registered apprenticeship.
LaGuardia was one of only nine institutions in New York State, and one of 83 nationwide selected for this funding, part of an effort to support and expand the community and public health workforce in response to the COVID-19 pandemic, laid out in the American Rescue Plan.
"This HHS-HRSA grant will enable us to prepare New Yorkers from traditionally marginalized communities for meaningful, economically rewarding jobs in health care, while helping to strengthen our city's public health infrastructure," said LaGuardia Community College President Kenneth Adams. "We look forward to collaborating with local partner organizations to prepare individuals to serve their communities as skilled and culturally competent community health workers, and to strengthen the skills of current community health workers to adapt to a post-pandemic environment."
"The COVID-19 pandemic showed the value of well-trained Community Health Workers ready to go into communities and build trust in our public health system—doctors and nurses can't do it alone. Community Health Workers have the tools to support communities severely impacted by the pandemic, help individuals with long COVID and other chronic illnesses manage their health needs, explain the benefits of vaccination, and perform other critical functions," said Hannah Weinstock, LaGuardia's senior director of workforce development and project lead on this HRSA grant.
Community Health Workers help to bridge gaps between medically underserved populations and healthcare or social service systems—improving health outcomes and lowering health care costs in the communities they work in. They work in community-based organizations, hospitals, community health centers, behavioral health providers, and insurance companies, providing basic health education, referrals and follow-up service, case management, help signing up for health insurance, and home visiting services. Titles may include outreach specialist, enrollment specialist, health coach, patient navigator, resource navigator, care coordinator, or health promoter.
The New York State Department of Labor projects that the number of community health worker jobs in New York City will grow 33.5% from 2018 to 2028, with a median wage of $46,000.
Recruitment for LaGuardia's Community Health Worker Talent Pipeline Initiative is expected to begin in November 2022, with the first cohort getting underway in Spring of 2023.
Graduates will earn up to nine credits towards a degree in Public and Community Health or Human Services at LaGuardia, and will be encouraged to continue their education and become public health researchers, social workers, and healthcare administrators—leading the public health field from a place of lived experience with health disparities and social determinants of health.
• • • •
LaGuardia Community College (LAGCC), located in Long Island City, Queens, educates thousands of New Yorkers annually through degree, certificate, and continuing education programs . LaGuardia is a national voice on behalf of community colleges, where half of all U.S. college students study. Part of the City University of New York (CUNY), the College reflects the legacy of our namesake, Fiorello H. LaGuardia, the former NYC mayor beloved for his championing the underserved. Since our doors opened in 1971, our programs regularly become national models for pushing boundaries to give people of all backgrounds access to a high quality, affordable college education.
####