LAGUARDIA COMMUNITY COLLEGE INAUGURAL 5K BRINGS TOGETHER LONG ISLAND CITY, QUEENS AND COLLEGE COMMUNITIES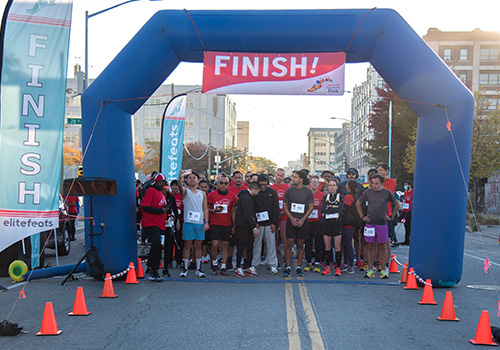 LONG ISLAND CITY, NY (October 25, 2022) — LaGuardia Community College/CUNY hosted the inaugural LaGuardia Community Run (5K) on Saturday, October 22nd in Long Island City, Queens. The race brought together the Western Queens community with LaGuardia faculty, staff, students, and friends. Over 170 runners and walkers participated in the race.
Proceeds will support LaGuardia students through the LaGuardia Community College Foundation.
"Saturday's race was a wonderful event—it brought the LaGuardia and Long Island City, Queens communities together for a celebration of fitness, good cheer, and friendship," said LaGuardia Community College President Kenneth Adams. "Thank you to all of the volunteers, race sponsors, and community members who joined us for this event."
The race kicked off at 8 a.m. with a vocal performance by LaGuardia Music Performance major Erik Blanca-Ladino, who sang "The Star-Spangled Banner." Runners and walkers proceeded on the race route from the LaGuardia campus to Hunters Point South, and back to LaGuardia.
Top male and female finishers of the LaGuardia Community Run on October 22, 2022 were Una Broderick (at left) and Tomasz Wawrzyniak.
After all racers crossed the finish line, medals were handed out to the top three male and female finishers overall and in several age groups. For the men, Tomasz Wawrzyniak came in first with a finishing time of 17:05.98. For the women, Una Broderick came in first at 23:03.19. Complete results are available here.
Throughout the morning, participants enjoyed music and refreshments, family-friendly games, and visited display tables from vendors, including: Adult Role Models (ARM) program of Planned Parenthood of Greater New York (PPGNY); Affinity by Molina Healthcare; BCG (Benefits Concierge Group); BOUT Boxing LIC; Citizens Bank; Creations by Tracy; Daily Dose Juice Bar; Fit Club New York; Home Family Care; LaGuardia Admissions; LaGuardia Media; Long Island City Partnership; NYC Care Social Adult Center; Path; Sisterhood | Purpose Driven Ladiez; NYC Taxi and Limousine Commission; The Center for Independence for the Disabled, NY (CIDNY); and Woodside on the Move, Inc.
The race was sponsored by Body Hack Physical Therapy and Dr. Richard K. Lieberman of the LaGuardia and Wagner Archives.
"Our gratitude to the New York City Police Department's 108th Precinct for helping to make this race possible," said President Adams.
Race photos are now available for viewing.
• • • •
LaGuardia Community College (LAGCC), located in Long Island City, Queens, educates thousands of New Yorkers annually through degree, certificate, and continuing education programs . LaGuardia is a national voice on behalf of community colleges, where half of all U.S. college students study. Part of the City University of New York (CUNY), the College reflects the legacy of our namesake, Fiorello H. LaGuardia, the former NYC mayor beloved for his championing the underserved. Since our doors opened in 1971, our programs regularly become national models for pushing boundaries to give people of all backgrounds access to a high quality, affordable college education.
####