LaGuardia Community College President Kenneth Adams Honored by Queens Community House at Annual Gala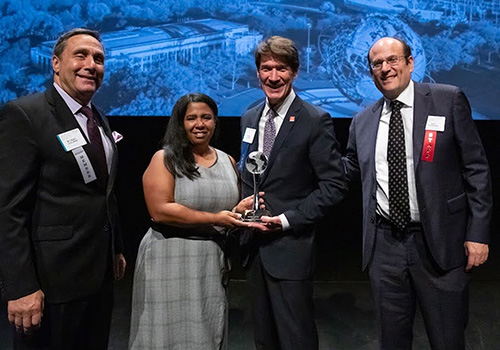 From left to right: Michael Stellman, QCH Board President; Ivonne Torres, QCH Associate Executive Director for Young Adult Services; Kenneth Adams, President of LaGuardia Community College; and Ben Thomases, QCH Executive Director. Credit: Queens Community House.
LONG ISLAND CITY, NY (October 20, 2022) — LaGuardia Community College President Kenneth Adams was honored by Queens Community House (QCH), one of the borough's largest social service organizations, at its Annual Gala on October 12 at the Museum of the Moving Image in Astoria.
Close to 200 people were in attendance to support QCH, which serves more than 25,000 children, youth, adults, and older adults every year.
"I am grateful to Queens Community House for their recognition," said President Adams. "Queens Community House and LaGuardia Community College share a focus on giving opportunities to members of traditionally marginalized communities throughout Queens. Together, we are working to create channels to family-sustaining jobs. We look forward to continuing and deepening our collaboration."
"QCH's Annual Gala is dedicated to celebrating the changemakers who have done so much to support Queens through the years, and Kenneth Adams [is] certainly deserving of this honor for the work [he's] done and continue[s] to do for the community," said QCH Executive Director Ben Thomases.
Adams became president of LaGuardia Community College in 2020. In 2021, he launched a campaign to raise $15 million to help LaGuardia students and Queens residents recover from the COVID-19 pandemic. Earlier this year, LaGuardia launched the NYC Accelerated Workforce Recovery Hub, an initiative to help low-income communities in Queens and The Bronx that were upended by the pandemic.
"The Hub is preparing youth and adults who have lost their livelihoods because of COVID-19 for careers in high-demand sectors, and QCH is proud to be one of two Queens service providers with whom LaGuardia chose to partner in this effort," said Ivonne Torres, QCH Associate Executive Director for Young Adult Services.
• • • •
Queens Community House (QCH) is a multi-service settlement house committed to serving the diverse neighborhoods of Queens. QCH serves more than 25,000 children, youth, adults, and older adults every year. Our mission is to provide individuals and families with the tools to enrich their lives and build healthy, inclusive communities. Through a broad network of programs operating out of 39 sites in 15 neighborhoods, we offer Queens residents a needed support system at every stage of life, helping them to develop the knowledge, confidence, and skills to change their lives for the better and become active participants in their larger community.
LaGuardia Community College, located in Long Island City, Queens, educates thousands of New Yorkers annually through degree, certificate, and continuing education programs. Our guiding principle Dare To Do More reflects our belief in the transformative power of education—not just for individuals, but for our community and our country—creating pathways for achievement and safeguarding the middle class. LaGuardia is a national voice on behalf of community colleges, where half of all U.S. college students study. Part of the City University of New York (CUNY), the College reflects the legacy of our namesake, Fiorello H. LaGuardia, the former NYC mayor beloved for his championing the underserved. Since our doors opened in 1971, our programs regularly become national models for pushing boundaries to give people of all backgrounds access to a high quality, affordable college education.
####