LaGuardia Community College Graduates 2,000+ at Commencement for Class of 2023
New York State Assemblymember Patricia Fahy (District 109), Chair of the Assembly Higher Education Committee, gave a video message to LaGuardia's 51st graduating class.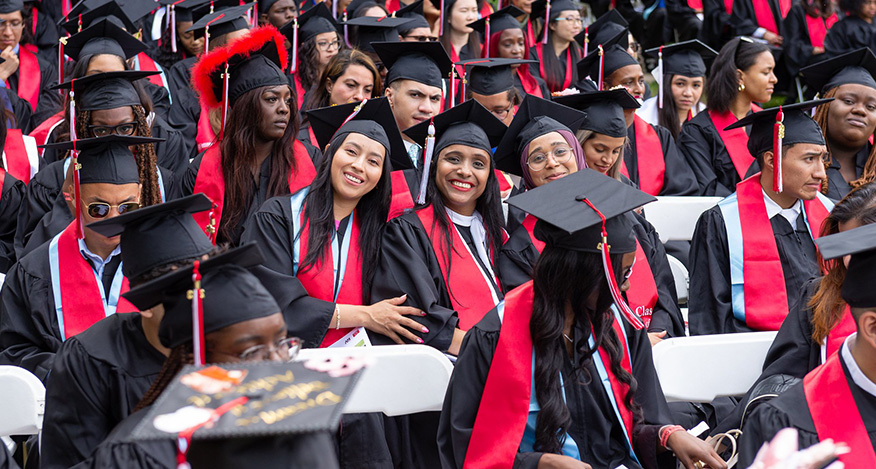 QUEENS, NY (June 21, 2023) — LaGuardia Community College/CUNY celebrated the graduation of the more than 2,000 members of LaGuardia's Class of 2023, the college's 51st graduating class, at a Commencement Ceremony held today on the lawn of Queens College. The graduates were honored by more than 10,000 guests, which included graduates' family members and friends, CUNY leadership, elected officials, community members, college supporters, and LaGuardia administration, faculty, staff, and alumni.

New York State Assemblymember Patricia Fahy (District 109) provided a video message for the graduates. She was scheduled to be the keynote speaker; however, was unable to attend as the State Assembly was called to session.
"I want you to know how proud I am of you. And I am you. I was once in your shoes, as a community college graduate…. As somebody who was a first-generation American, whose parents never even got a chance to go to high school," said Assemblymember Fahy. "So, I stand before you as somebody who understands what many of you have been through and the struggles that it has taken. And I share the pride with you in crossing the stage today. Please think of this as a lifelong journey of education. I am now the chair of the New York Assembly's Higher Education Committee, and I could not be more proud of the work we did this year to add transformative funding and more to make sure that we strengthen programs across the board… All we ask is that you continue to work hard, that you pay it forward…. Every time you reach for the stars, and you should, please extend a hand to make sure that you're helping the next person behind you."

LaGuardia Community College President Kenneth Adams welcomed graduates and attendees, saying, "Graduates of LaGuardia Community College Class of 2023, you did it! You should feel good today. You made it. Your family and friends are proud of you. Your professors, advisors, mentors, coaches, and counselors are proud of you… LaGuardia students excel at time management, because so many juggle work and school and family obligations. Many worked your way through school. And many of you are parents or help take care of family members at home. Many of you are the first in your family to go to college and graduate. Congratulations!"

CUNY Trustee Mayra Linares-Garcia acknowledged the tradeoffs made by the graduates while working towards their degrees, saying, "Only you know the sacrifices you made to get here. Working extra hours, not going to family gatherings. You didn't go because you had other responsibilities—whether it was working so you could go to school, or going to school so you could work. But it brought you here," said Trustee Linares-Garcia. "LaGuardia gave you the foundation for your success. LaGuardia gave you the tools you need to break down any barriers and to be able to face those challenges that are coming to you. Because as you look to the future, know that the knowledge and experience you gained during your time at LaGuardia will serve you throughout your lives. When you're big successes, you can say, I started my journey at LaGuardia."

New York City Comptroller Brad Lander joked about using ChatGPT to create a speech for today's commencement, and spoke to the graduates about the hard work they did to earn their degrees, particularly in light of trauma caused by the COVID-19 pandemic, which led to personal growth that cannot be achieved through artificial intelligence.

"Artificial intelligence can produce what sounds like knowledge, often better than we can and with a whole lot less work. Two things that I believe this graduating class is capable of and that no artificial intelligence could possibly do," said Comptroller Lander. "You didn't come to LaGuardia to produce what sounds like knowledge but what's really just regurgitating what other people have already figured out. And you sure didn't come here to avoid struggle and hard work. You came here to figure out how to grow through challenges. If the purpose of higher education is to learn the skills and habits you'll need to face adversity and to thrive in an ever-changing word, I'd argue that the LaGuardia Class of 2023 is the most prepared graduating class it has ever produced."

New York City Council Member Julie Won related her personal story to the graduates, and the importance of degrees to their families, saying, "As a product of public education myself and as an immigrant who worked through college as the first generation to graduate in my family, it is an honor to stand here with you today, to say that you are our ancestors' wildest dreams. You did it," said Council Member Won. "For all of your sleepless nights, after working those late-night shifts to study for your finals. For all of those mornings where you stood on that 7 train studying your flash cards so you could make it on time to class. For all of those breaks that you took in between class to run back home to take care of your aging parents. For all of those days when you ran to daycare or school to pick up your child. You have made it work, and you have got here on your own two feet… You made it. So, I congratulate you. Because unlike any other school, LaGuardia is a school that represents our working class, every day New Yorkers, our immigrant families and those who are here to say that New York is our home and you have made sure that you're giving back to our community even before you graduated. Even during the pandemic when you thought this day would never come. We are so proud of you and we know how hard you worked… LaGuardia Community College and the community of Long Island City will always have a place for you to call home."

Dr. Billie Gastic Rosado, Provost and Senior Vice President of Academic Affairs for LaGuardia Community College, served as MC for the ceremony.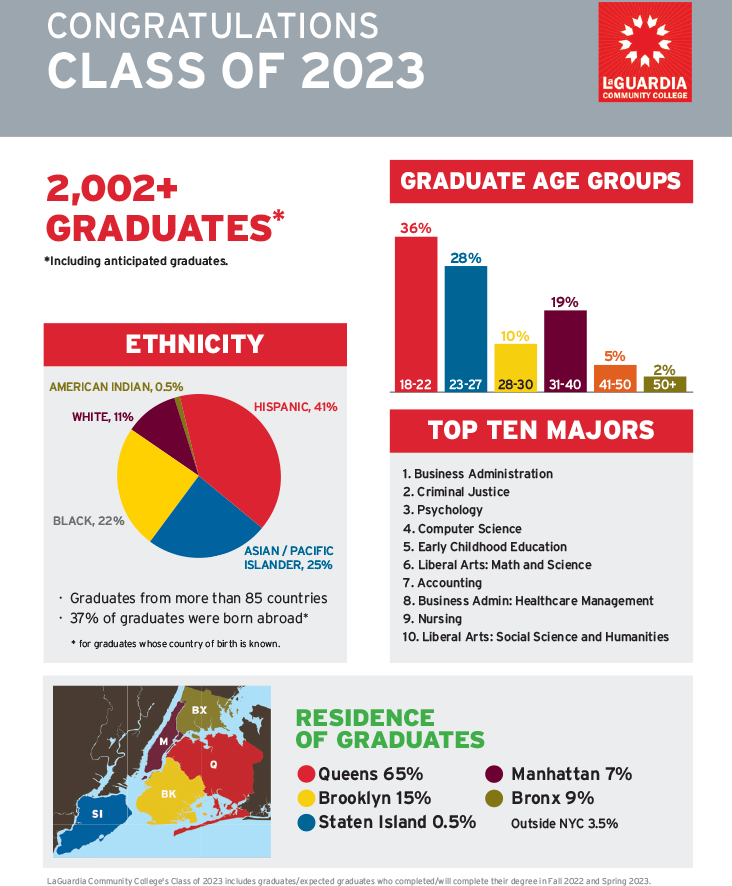 The graduates earned associate degrees and professional certificates in one of 50 programs offered by LaGuardia's nine academic departments—with many becoming the first in their family to earn a college degree. The top majors (in order of degrees awarded) for the Class of 2023 were Business Administration, Criminal Justice, Psychology, Computer Science, Early Childhood Education, Liberal Arts: Math and Science, Accounting, Business Administration: Healthcare Management, Nursing, and Liberal Arts: Social Science and Humanities. Nearly 700 were ASAP students. About 10% began their studies at LaGuardia in the Continuing Education division, learning English, earning their GED, or earning industry-recognized professional certifications—and getting college credit for them.

The 2,002 members of LaGuardia's Class of 2023 reflect the college's diverse student population, Hispanic-Serving Institution designation, and service to New York City—in particular, the borough of Queens, among the most ethnically diverse urban areas in the world. Graduates come from 85 countries and 37% were born outside the United States. Forty-one percent of the graduates are Hispanic or Latino, 25% Asian or Pacific Islander, 22% Black, 11% White, and 0.5% American Indian. Thirty-six percent are between the ages 18–22, 28% ages 23–27, 10% ages 28–30, 19% ages 31–40, 5% ages 41–50, and 2% ages 50+. A significant majority, 65%, live in the borough of Queens; 15% live in Brooklyn, 9% in The Bronx, 7% in Manhattan, 3.5% outside NYC, and 0.5% in Staten Island.

Two Red Hawks Rising, Gian Castro and Min Young Kim—both immigrants and the first in their families to earn a college degree—addressed their fellow graduates at commencement. Read more about Red Hawks Rising, named for LaGuardia's mascot.

"One of the most valuable things that I learned at LaGuardia is to maintain persistence, to keep dreaming big and not being afraid to fail," said Gian, 27, from Peru, who earned his associate degree in Criminal Justice. "This has probably been the hardest year of my life. But it's also the first year of my life that I feel fulfilled. I went from not caring about getting good grades to feeling excited to see my name on the Dean's list's every semester. I went from someone who did not have any goals to the person speaking at my graduation. When I started my journey, I only wanted to finish my associate's to become a police officer but thanks to having amazing criminal justice professors, now I have many new goals for the future like transferring to John Jay next and starting the BS/MA program that will allow me to get my bachelor and masters in three years to reach my new final goal of becoming an FBI agent."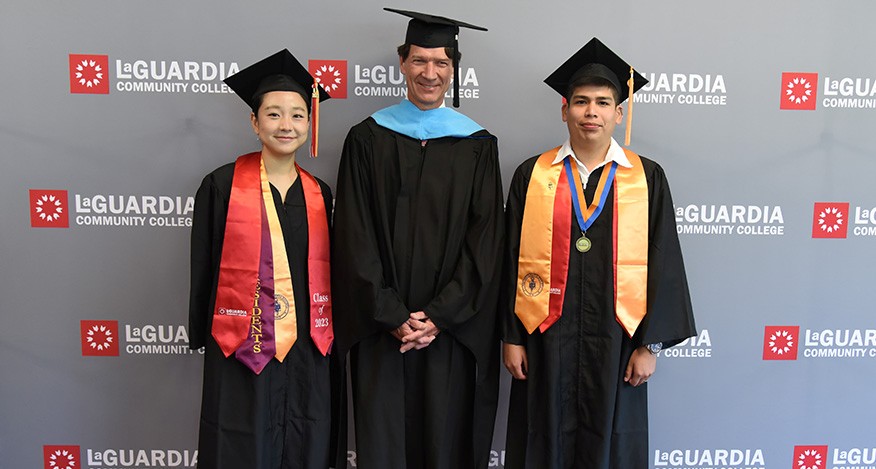 This summer, Gian will enter the Police Academy. He plans to continue his studies while serving the NYPD, which provides tuition support for officers pursuing higher education. Like Gian, Min Young credits LaGuardia with expanding her view of her capabilities and opportunities available to her.

"I want to emphasize the value of our education and the impact it can have on not only our lives but also on the world around us. LaGuardia helped me realize my potential and visualize a future that I didn't know existed to me. I don't even recognize the person that I was when I first started at LaGuardia two years ago. After I dropped out of high school at age 16, I took almost a decade searching for the right education for me," said Min Young, 26, from Seoul, South Korea, who earned her associate degree in Liberal Arts: Applied Math. "As we stand on the brink of our future, let us carry forward the spirit of collaboration and determination that we have fostered at LaGuardia. Together, we can create a future that is brighter and more inclusive for all."

This fall, Min Young will transfer to Columbia University to pursue a bachelor's in computer science. She was one of 60 community college students selected from more than 1,700 students from 450 community colleges nationwide for the 2023 Jack Kent Cooke Undergraduate Transfer Scholarship, which will provide her with significant financial support to complete her undergraduate studies. Min Young plans to earn a Ph.D. and develop a career teaching STEM to disadvantaged populations.

Many graduates will transfer to senior colleges, typically in CUNY, to complete their bachelor's degrees. Graduates of career programs, such as Nursing, Computer Technology, and Veterinary Technology often enter the workforce.

#LAGCCGRAD2023
• • • •
LaGuardia Community College (LAGCC), a Hispanic-Serving Institution, located in Long Island City, Queens offers more than 50 degrees and certificates, and more than 65 continuing education programs to educate New Yorkers seeking new skills and careers. As an institution of the City University of New York (CUNY), the College reflects the legacy of our namesake, Fiorello H. LaGuardia, the former NYC mayor beloved for his advocacy of underserved populations. Since 1971, LaGuardia's academic programs and support services have advanced the socioeconomic mobility of students while providing them with access to a high quality, affordable college education.
####