U.S. Department of Agriculture Awards LaGuardia Community College $4.5m to Cultivate Next Generation of Food and Agriculture Professionals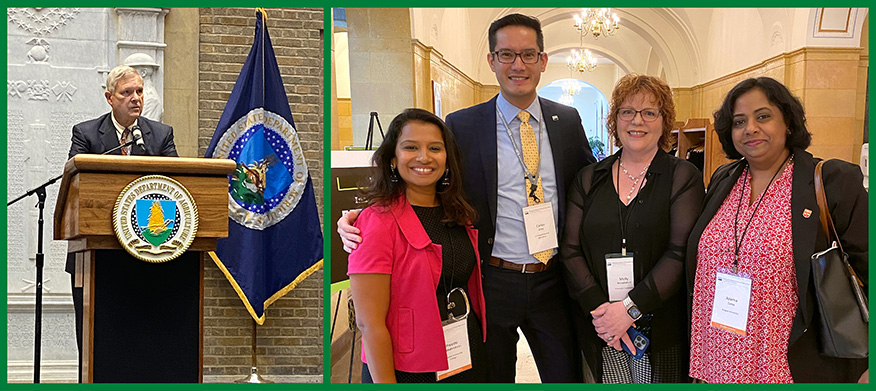 LONG ISLAND CITY, NY (June 22, 2023) — LaGuardia Community College/CUNY is receiving support from the U.S. Department of Agriculture (USDA) National Institute of Food and Agriculture (NIFA) for its program to prepare future professionals in the field of food and agriculture.
The NIFA awarded LaGuardia a $4.5 million multi-year grant for the development of "The Animal Science Discovery (ANSCId) Program: A Summer Experiential Learning, Career Development, and Scholarship Pipeline Program Between LaGuardia Community College and Rutgers University." The project is under the leadership of Dr. Preethi Radhakrishnan, Professor of Biological Sciences, and Director of the Environmental Science program who is working with Dr. Aparna Zama, Director of the Animal Science Program and Dr. Thomas Leustek, Professor, Department of Plant Biology from Rutgers University.
"This is such wonderful news for LaGuardia," said President Kenneth Adams. "It is a tremendous achievement by Dr. Radhakrishnan, the result of her hard work, and her heartfelt commitment to the program and our students."
"With the launch of our new Animal Science track in Fall 2023, we have opened the doors of access for our urban students to high-paying careers in veterinary medicine, companion animal science, wildlife science, equine science, laboratory animal science, animal-assisted therapy, animal genetics and breeding, pet adoption counseling as well as the Animal and Plant Health Inspection Service (APHIS), part of the United State Department of Agriculture. Many of these careers come with internships at the USDA and other entry points into federal jobs with wonderful benefits – I am excited to see what the future holds for these young professionals!" said Dr. Radhakrishnan.
The award, announced on June 21 by the USDA, is part of a $262.5 million investment in institutions of higher education to foster the next generation of diverse agricultural professionals across the nation. The program titled, "From Learning to Leading: Cultivating the Next Generation of Diverse Food and Agriculture Professionals Program" is funded by President Biden's Inflation Reduction Act, which aims to lower costs for American families, expand access to markets to producers from all backgrounds and communities, build a clean energy economy and strengthen American supply chains. NIFA's grant support will enable eligible institutions, from New York to the Northern Mariana Islands, to build and sustain the next generation of food, agriculture, natural resources and human sciences workforce. This includes efforts to strengthen USDA's workforce through enhanced educational support, experiential learning and exposure to early career opportunities. Eligible institutions include: 1890 Land-grant Universities, 1994 Tribal Colleges and Universities, Hispanic-serving Institutions (HSI), Alaska Native-serving and Native Hawaiian-serving Institutions and institutions of higher education located in the insular areas, as well as their partners.
The $262.5 million investment will provide training and support to more than 20,000 future food and agricultural leaders through 33 project partners, which includes LaGuardia Community College/CUNY, the only NY state recipient.
LAGCC is the current recipient of a USDA NIFA HSI-Ed grant titled "Project SEMBRAR: Growing and Diversifying the next generation of leaders in AgSTEM (2021-2025)" with a focus on experiential learning for students interested in urban agriculture, food equity, and food justice through the new Sustainable Urban Agriculture track. Building on this success, this new NEXTGEN project titled "The Animal Science Discovery (ANSCId) program" plans to use 45% of its funding directly to support students through paid summer residencies, peer-mentorship, career development opportunities, and a fully funded scholarship program between LAGCC and Rutgers which would serve as pipeline for inner-city high school students in NYC to careers in food, agriculture and natural resources, (FANH) that are currently unavailable to them near their homes. ANSCId is student-centered and supports student learning and success through: (1) advertising, outreach, engagement and articulated transfer agreements; (2) paid, summer experiential learning program for LaGuardia students at the Rutgers University farm and research laboratories; (3) transfer scholarships for bachelor's degrees in Animal Science to Rutgers, and (4) peer mentorship, career development, and USDA career pipeline. Through this program, LaGuardia will have a USDA liaison on our campus to assist in guiding students through the pipeline.
ANSCId with a focus on Animal Science would convene 35 faculty and staff to accomplish these goals over five years. Overall project outcomes include, conducting outreach to 375,000 high school and 13,500 two-year students, retention of ~ 200 students at LAGCC, and transfer of ~ 100 four-year students for a bachelor's degree, increase in enrollment and advisement by 30%, retention by 30% and graduation and transfer to a bachelor's degree by 45% along with tracking pipeline student employment within the federal sector.
LaGuardia Community College (LAGCC), a Hispanic-Serving Institution, located in Long Island City, Queens offers more than 50 degrees and certificates, and more than 65 continuing education programs to educate New Yorkers seeking new skills and careers. As an institution of the City University of New York (CUNY), the College reflects the legacy of our namesake, Fiorello H. LaGuardia, the former NYC mayor beloved for his advocacy of underserved populations. Since 1971, LaGuardia's academic programs and support services have advanced the socioeconomic mobility of students while providing them with access to a high quality, affordable college education.
####