LaGuardia Community College Among Top 150 U.S. Community Colleges Eligible for the 2025 Aspen Prize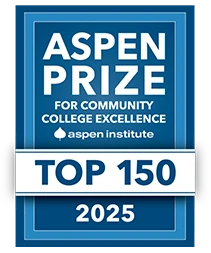 LONG ISLAND CITY, NY (November 7, 2023) — LaGuardia Community College/CUNY was recently recognized as one of the Top 150 U.S. community colleges and invited to apply for the prestigious $1 million Aspen Prize for Community College Excellence.
LaGuardia was named one of 25 semi-finalists for the 2023 Aspen Prize.
"We are honored once again to be selected to compete for the 2025 Aspen Prize for Community College Excellence award," said LaGuardia Community College President Kenneth Adams. "LaGuardia continues to produce strong outcomes in the areas of teaching and learning, certificate and degree completion, transfer and bachelor's attainment, workforce success, and equity for students of color and students from low-income backgrounds."
LaGuardia is one of five City University of New York (CUNY) schools invited to apply for the Aspen Prize along with Borough of Manhattan Community College, Hostos Community College, Kingsborough Community College, and Queensborough Community College.
"Our community colleges continue to lead the way in providing transformational educational opportunities and, with them, equitable pathways to a prosperous future," said CUNY Chancellor Félix V. Matos Rodríguez in a press release. "We congratulate the five CUNY schools that earned this prestigious recognition from the Aspen Institute, with appreciation for this latest reminder of our colleges' high quality."
The $1 million Aspen Prize, awarded every two years, is the nation's signature recognition for America's community colleges. By focusing on student success and promoting models that work, the Aspen Prize aims to celebrate excellence, advance a focus on equitable student success, and stimulate replication of effective culture and practice.
LaGuardia is among the Top 150 institutions eligible to apply for the 2025 Aspen Prize, and a leader of prosperity and social mobility. The 2025 Aspen Prize cycle began in October 2023 when the Aspen Institute invited 150 community colleges to apply, based on data showing strong and improving student outcomes in key areas such as retention, completion, transfer, and equity.
• • • •
The Aspen Institute is a community-serving organization with global reach whose vision is a free, just, and equitable society. For 70 years, the Institute has driven change through dialogue, leadership, and action to help solve the world's greatest challenges. Headquartered in Washington, D.C., the Institute has offices in Aspen, Colorado, and New York City, and an international network of partners.
LaGuardia Community College (LAGCC), a Hispanic-Serving Institution, located in Long Island City, Queens offers more than 50 degrees and certificates, and more than 65 continuing education programs to educate New Yorkers seeking new skills and careers. As an institution of the City University of New York (CUNY), the College reflects the legacy of our namesake, Fiorello H. LaGuardia, the former NYC mayor beloved for his advocacy of underserved populations. Since 1971, LaGuardia's academic programs and support services have advanced the socioeconomic mobility of students while providing them with access to a high quality, affordable college education.
####