Kenneth Adams Named 4th President of LaGuardia Community College
July 10, 2020
LONG ISLAND CITY, NY—Kenneth Adams was appointed as the fourth president of LaGuardia Community College by the Board of Trustees of the City University of New York on June 29, 2020. He will assume the role on August 17, 2020.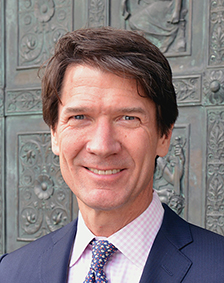 Mr. Adams currently serves as dean of workforce and economic development at Bronx Community College and brings a highly accomplished record of public service as chief executive of several large and essential New York State agencies. In his most recent role, he has focused on researching and strengthening the workforce development capacity of community colleges and improving outcomes for low-income students.
"Kenneth Adams has the skills and track record to ensure that LaGuardia's students can be prominent participants in a post-COVID economy," said Chancellor Félix V. Matos Rodríguez.
"I'm honored to be appointed as the next president of LaGuardia Community College, which is assuredly among the top community colleges nationally for its commitment to academic excellence and long record of giving students the skills and knowledge they need to succeed," said President-designate Adams. "I'm eager to collaborate with LaGuardia's dedicated staff and its talented faculty—the lifeblood of the college—to ensure the promise of LaGuardia for students from across Queens and beyond."
"Addressing the ravages that the COVID pandemic has inflicted upon our students, their families, and our community, will be a top priority. Students have lost loved ones and been furloughed or laid off from their jobs. Many are struggling to put food on the table and keep a roof over their heads. Those students who are parents have also had to contend with their children's emotional upheaval, while facing limited childcare options and having to support their children's schooling via distance learning," said Mr. Adams, who has been coordinating a phone bank at Bronx Community College through which college staff and volunteers have been reaching out to students throughout the coronavirus pandemic. They have been assisting students with the transition to online classes, advising, and access to support services such as food, housing, mental health, and other resources.
"We need to ensure that LaGuardia is part of the solution to addressing the hardships faced by marginalized groups, as well as the racial inequities throughout our society that have been amplified by the pandemic and the recent deaths of people of color at the hands of police. I'm committed to listening to the diverse voices of students, faculty, and staff at LaGuardia, and to building an inclusive and equitable organization which addresses disparities that for too long have harmed communities of color."
Mr. Adams' dedication to providing opportunities and resources for low and moderate-income families and other marginalized groups—which are disproportionally represented at community colleges—is reflected in the programs he's developed and led, the partnerships he's created, and his work with nonprofit and community-based organizations.
At Bronx Community College, Mr. Adams has developed career pathways to lead students into film production and other high-growth sectors of the city's economy. To facilitate this work, he has raised nearly $2 million in support of workforce training and career education initiatives, collaborated closely with academic department chairs and faculty, and cultivated robust partnerships with employers, unions, and industry associations. Outcomes include better alignment of Bronx Community College's academic programs with labor market conditions and employer needs. Enrollment in continuing education has increased by 45%—in part by attracting first-generation college students and other non-traditional college students.
Upon observing that students at community colleges nationwide often struggle to complete an Associate degree, Mr. Adams began looking for alternative means to provide high-quality training that would enable students to quickly secure gainful employment. In an op-ed for the Center for an Urban Future, he advocated for the expansion of academic certificate offerings to provide accelerated job-readiness training, while simultaneously allowing students to accrue college credits that they could apply toward an Associate degree in the future.
"When community colleges inform their programs and offerings to address what local employers need and create student-friendly career pathways, they provide economic mobility for students and improve their community's economic competitiveness," Mr. Adams said.
More on Mr. Adams' Professional Experience & Background
President-designate Adams' professional experience includes extensive public service serving in senior positions at government agencies and on the boards of multiple nonprofit organizations.
As dean at Bronx Community College since 2016, Mr. Adams has served as a member of President Thomas Isekenegbe's Cabinet, and leads the departments of Adult and Continuing Education, Workforce Development, Career Services, Community and Economic Development, and the Center for Sustainable Energy.
Mr. Adams currently serves as Chairman of the Boards of Directors of New York State's affordable housing agencies, including the Housing Finance Agency, the State of New York Mortgage Agency, and the Housing Trust Fund Corporation. He is a director of  Opportunity America, the NYC Employment and Training Coalition, the Queens Chamber of Commerce Foundation, and the Bronx Charter School for Excellence.  
Prior to joining CUNY, Mr. Adams was the Acting Commissioner of the New York State Department of Taxation and Finance, where he oversaw an annual operating budget of over $450 million and 5,000 full- and part-time employees represented by multiple collective bargaining units. From 2011 until 2015, he served as President and CEO of Empire State Development and Commissioner of the NYS Department of Economic Development.
Before joining state government, Mr. Adams led The Business Council of New York State, the Brooklyn Chamber of Commerce, and the MetroTech Business Improvement District, and was the Founding Executive Director of New York Cares. While at New York Cares he created the Annual New York Cares Coat Drive and based it in the Falchi Building adjacent to LaGuardia Community College.
After earning his BA and MA degrees from Middlebury College, Mr. Adams began his career as a high school teacher and youth services coordinator. He was born and raised in Brooklyn, where he lives with his family.
Read CUNY press release.
• • • •
LaGuardia Community College (LAGCC), located in Long Island City, Queens, educates thousands of New Yorkers annually through degree, certificate, and continuing education programs . LaGuardia is a national voice on behalf of community colleges, where half of all U.S. college students study. Part of the City University of New York (CUNY), the College reflects the legacy of our namesake, Fiorello H. LaGuardia, the former NYC mayor beloved for his championing the underserved. Since our doors opened in 1971, our programs regularly become national models for pushing boundaries to give people of all backgrounds access to a high quality, affordable college education.