Kenneth Adams is New President of LaGuardia Community College
August 17, 2020
LONG ISLAND CITY, NY—Kenneth Adams today assumes his new role as president of LaGuardia Community College. He was appointed by the Board of Trustees of the City University of New York in June 2020.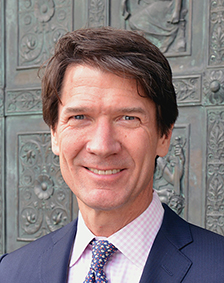 "I am confident that as president Mr. Adams will be able to continue his record of cultivating robust partnerships with employers, including unions and industry associations, to advance student outcomes and maintain LaGuardia's status as a results-driven innovator among community colleges," said CUNY Chancellor Félix V. Matos Rodríguez.
"I'm honored to be president of LaGuardia Community College, a nationally recognized leader for its track record of boosting the social and economic mobility of low-income New Yorkers and transforming the lives of our students," said President Adams. "My agenda is entirely focused on helping our students get to where they want to go. This means educating and inspiring them to build the careers and lives they want and that our society needs."
"Given the times we're in LaGuardia's mission to educate and graduate critical thinkers and socially responsible citizens who help to shape a rapidly evolving society has never been more important," said President Adams. "These have been challenging days for many of us and for our city. A LaGuardia education not only helps our students improve their lives and the lives of their families but strengthens our democracy and advances efforts to confront racism and build a more inclusive and equitable society. I can think of no better institution than LaGuardia Community College—with its long history of pursuing academic excellence and social justice—that meets this moment."
Mr. Adams brings a highly accomplished record of public service as chief executive of New York State government agencies, economic development, and community service organizations. His most recent role was dean of workforce and economic development at Bronx Community College.
Read President Kenneth Adams' bio.
Read LaGuardia's July 10, 2020 press release: Kenneth Adams Named 4th President of LaGuardia Community College.
Read CUNY's June 29, 2020 press release about Kenneth Adams' appointment as president of LaGuardia: CUNY Names Four College Presidents.
Mr. Adams is the fourth president of LaGuardia Community College. His predecessors include Gail O. Mellow, PhD (2000–2019), Raymond C. Bowen, PhD (1989–1999), and the late Joseph Shenker, EdD (1970–1988).
• • • •
LaGuardia Community College (LAGCC)
, located in Long Island City, Queens, educates thousands of New Yorkers annually through degree, certificate, and continuing education programs . LaGuardia is a national voice on behalf of community colleges, where half of all U.S. college students study. Part of the City University of New York (CUNY), the College reflects the legacy of our namesake, Fiorello H. LaGuardia, the former NYC mayor beloved for his championing the underserved. Since our doors opened in 1971, our programs regularly become national models for pushing boundaries to give people of all backgrounds access to a high quality, affordable college education.