Incarcerated Individuals at Rikers Island Celebrate Earning College Credits Through New LaGuardia Community College Program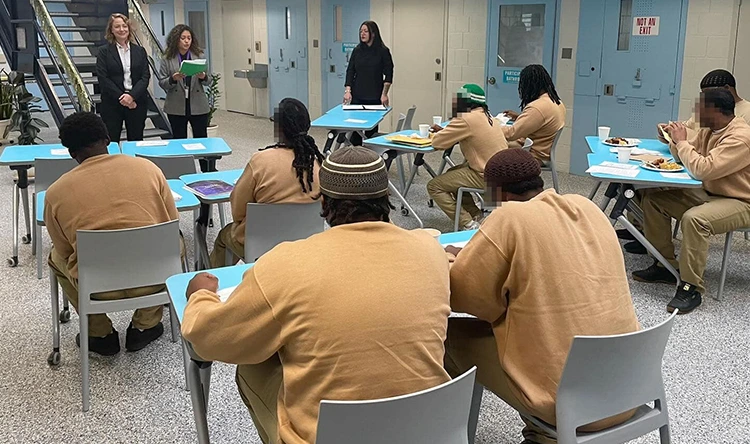 LONG ISLAND CITY, NY (November 15, 2023) — Nineteen incarcerated individuals at Rikers Island celebrated earning their first-ever college credits through a new LaGuardia Community College/CUNY program, at an event at Rikers on Monday, November 6.
"We were thrilled to celebrate the first group of incarcerated individuals at Rikers Island to complete a college-level course through our new education program. This marked the first time that men in custody at Rikers' George R. Vierno Center had access to a course for credit," said Cory Rowe, Ph.D., associate professor of Criminal Justice at LaGuardia, and director of the LaGuardia–Rikers college credit program. "We hope and expect to host many such celebrations in the future."
The celebration was attended by New York City Department of Correction (NYCDOC) representatives Francis Torres, deputy commissioner of the Division of Programs and Community Partnerships, and Dionne Spencer, CSM, executive director of facility programs. LaGuardia program staff and other special guests were also in attendance.
Research has shown that education can be critical for people in jail, both during incarceration and upon release. During incarceration, well-designed prison education programs have the potential to create safer communities. Upon release, individuals who have obtained education during incarceration have higher rates of employment and lower rates of recidivism.
The first cohort of 19 students were men from New York City charged with serious felonies. They were selected through a voluntary application process. They completed a three-credit course, "First Year Seminar in Criminal Justice," provided in partnership with the community non-profit College Way, where Dr. Rowe is lead professor. The course, which is taken by first-year Criminal Justice majors at LaGuardia, teaches tools for success in college and provides students with opportunities for self-reflection on their individual education and professional goals. Dr. Rowe adapted the course for people in jail, adding curriculum in procedural law relevant to someone going through the court system.
"This event marks the beginning of a new chapter. While this is our first class, it certainly will not be our last," said Kathy Mora, director of College Way, program assistant for the Criminal Justice Ph.D. program at John Jay College of Criminal Justice, and the newly hired coordinator of Project Impact at Borough of Manhattan Community College. "Our graduates worked diligently and delivered inspiring speeches during the ceremony."
During the November 6th event, each student was invited to give a speech outlining their master plan for their future. Many spoke about wanting to enroll at LaGuardia upon release—to learn the skills and knowledge needed to start their own businesses and make better lives for themselves and their families. Names of the incarcerated individuals quoted below have been withheld for privacy.
One student spoke about his plan to develop a 3D printing business, saying, "When I get out of jail, I will meet industry professionals and take some courses at LaGuardia. It will take a couple months to learn the basics and two years for an associate degree, but the time would be worth it."
A student fighting a manslaughter charge shared that he envisions "learning a trade at LaGuardia Community College" upon his release. Another student spoke about his plans to "get a degree in Music Recording Technology from LaGuardia and use my wisdom to give back to the less fortunate."
A fourth student spoke about wanting to study the art of public speaking at LaGuardia Community College in order to become a motivational speaker. "I want to encourage people to do their best at whatever they do," he said. "My biggest challenge may be to learn the audiences I will be talking to. And I want to learn how to draw an audience's attention to me."
Ten LaGuardia students interning with Dr. Rowe through the S.O.A.R. (Succeed, Observe, Achieve, and Rise) Experiential Learning Program helped to design and teach the course, as well as collect data on the process and outcomes. They were known as "Justice Fellows."
Aim-E C. (last name withheld for privacy), a New Media Technology major, served as a Justice Fellow, which she describes as "one of the most meaningful things I've done in my 23 years of life." Aim-E helped cofacilitate the class—running a daily ice breaker and leading discussions about how to achieve academic success. She also put her graphic design skills to work creating the coursebook and graduation certificates.
"It was a transformative experience for everyone involved—the professors, Justice Fellows, and the incarcerated individuals. Everyone was brought out of their comfort zone," Aim-E said. "The students gave 110%. They were so eager to prove themselves and to learn, which was inspiring. To them, it was more than a class. Having the opportunity to make something of their time meant a lot to them. They knew how unique the experience was. It was an opportunity to get away from what was going on at Rikers and to dispel stereotypes about incarcerated individuals."
Aim-E hopes to continue working with Dr. Rowe and Ms. Mora, and she plans to pursue a career as a teacher of incarcerated individuals upon her graduation in Spring 2024.
Once incarcerated individuals in the LaGuardia–Rikers program are released, Dr. Rowe and other staff at LaGuardia will provide personalized assistance to those who are interested in enrolling at LaGuardia, either in an associate degree program or a workforce training program.
"We are offering the individuals a way to continue their education at LaGuardia when they come home," said Dr. Rowe.
As a result of the successful first course, LaGuardia and College Way have been asked to come back this March and offer a three-credit class, "First Year Seminar in Criminal Justice for Women at Rikers," to women incarcerated at the Rose M. Singer Center at Rikers. LaGuardia will teach two classes of up to 25 incarcerated women. The course will be supported by 10 Justice Fellows through the S.O.A.R. program.
• • • •
LaGuardia Community College (LAGCC), a Hispanic-Serving Institution, located in Long Island City, Queens offers more than 50 degrees and certificates, and more than 65 continuing education programs to educate New Yorkers seeking new skills and careers. As an institution of the City University of New York (CUNY), the College reflects the legacy of our namesake, Fiorello H. LaGuardia, the former NYC mayor beloved for his advocacy of underserved populations. Since 1971, LaGuardia's academic programs and support services have advanced the socioeconomic mobility of students while providing them with access to a high quality, affordable college education.
####