LaGuardia Community College Students Rise to Success at 2023 National Model United Nations Conference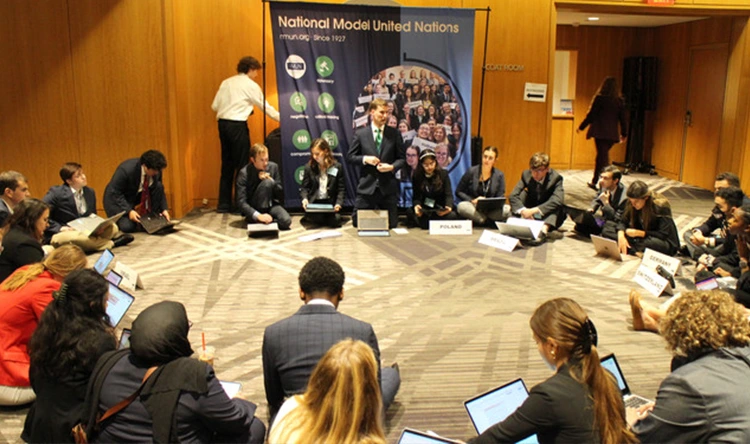 LONG ISLAND CITY, NY (November 15, 2023) — Students from LaGuardia Community College/CUNY successfully participated in the 2023 National Model United Nations (NMUN) Conference, November 10-12, in Washington, DC.
LaGuardia's student delegation was led by Dr. Anja Vojvodic, Lecturer and Political Science Program Director, and Dr. Lara V. Kattekola, English Professor, both who are also Model United Nations Faculty Advisors. This year's NMUN featured the participation of more than 1,000 students hailing from five different continents.
Dr. Kattekola said, representing the Republic of Chile, students in LaGuardia's ten-person delegation worked in pairs on United-Nations simulated committees, collaborating with fellow committee members who represented other United Nations member states.
"Through cooperation and diplomacy, they debated topics and wrote resolutions addressing important issues," Dr. Kattekola said. "These issues included protecting the world's oceans, leveraging technology and cybersecurity to combat the illicit arms trade, reinvigorating efforts to implement the 2030 Sustainable Development Agenda, forging pathways to achieve better nutrition and food production, and preserving culture and promoting cultural heritage initiatives for indigenous and underrepresented ethnic groups."
Dr. Vojvodic said LaGuardia's Model UN students deserve much praise for the hard work they performed during the intense three-day conference as well as ten weeks of pre-conference preparation.
"Their preparation involved researching Chilean foreign policy, writing position papers, practicing short speeches, and learning the art of diplomacy, all while managing coursework and busy schedules," she said.
In addition, there were two Best Position Paper awards earned by two sets of delegates.
Samantha Ortiz & Julian Poli, General Assembly 1, Best Position Paper award
Genesis Otuonye & Misra Salah, General Assembly 3
John Fletcher & Stephanie Theolin, Economic & Social Council, Best Position Paper award
Ekaterine Abutidze & Abir Apon, Food & Agricultural Organization
Aya Nasri & Benjamin Gamboa, United Nations Environment Assembly
"We are certain the challenging and rewarding global learning experience these students enjoyed at the conference will continue informing their lives academically, personally, and professionally," said Dr. Kattekola.
Dr. Kattekola and Dr. Vojvodic are grateful for the support the delegation received during the experience.
"We acknowledge LaGuardia's Model United Nations activity could not be made possible without help on many fronts," Dr. Vojvodic said. "We extend our deep appreciation to LaGuardia's College Auxiliary for generously funding all aspects of our conference participation. We are also grateful for the invaluable assistance of those who helped in processing the funding, often with a very quick turn-around and despite busy workloads."
The professors also extend a special thanks to their friends and colleagues in Business and Financial Operations including Ms. Maritza Gutierrez, Ms. Precious Harewood, and Mr. Alvin Dasrat along with Ms. Nancy Palma, Ms. Judy Liu, Mr. Adesine Murray, and Ms. Nancy Benegas.
They also wish to thank other members of our college community including Provost Billie Gastic Rosado, Vice President for Student Affairs Alexis McLean-McKessey, Ms. Fedeline St. Germain, and Dr. Payal Doctor along with Dr. Irwin Leopando and Dr. Bojana Blagojevic, and the faculty and staff who excused Model UN students from classes or work hours to attend the conference.
• • • •
LaGuardia Community College (LAGCC), a Hispanic-Serving Institution, located in Long Island City, Queens offers more than 50 degrees and certificates, and more than 65 continuing education programs to educate New Yorkers seeking new skills and careers. As an institution of the City University of New York (CUNY), the College reflects the legacy of our namesake, Fiorello H. LaGuardia, the former NYC mayor beloved for his advocacy of underserved populations. Since 1971, LaGuardia's academic programs and support services have advanced the socioeconomic mobility of students while providing them with access to a high quality, affordable college education.
####