LaGuardia Community College Appoints Nireata D. Seals, Ed.D. as Vice President of Student Affairs
October 2, 2018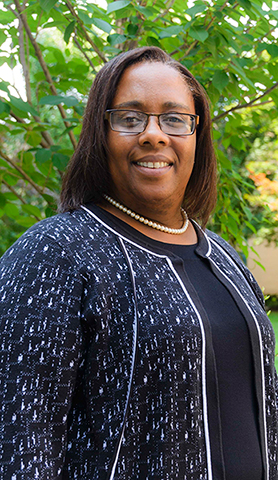 After a nationwide search, LaGuardia Community College/CUNY ("LaGuardia") has appointed Nireata D. Seals, Ed.D. as vice president of Student Affairs.
In her role, Dr. Seals directs the essential student services for the nearly 20,000 students pursuing their associate's degrees at LaGuardia, including registration, enrollment, financial aid, disability services, transfer, and career planning and placement.
As well, she oversees LaGuardia's robust services designed to help the college's primarily low-income student population stay on track and graduate. These include an on-campus food pantry, health services, and subsidized daycare (for student-parents). Each year, hundreds of LaGuardia students—in both our associate's degree programs and continuing education programs—access these services.
"Dr. Seals is a transformational leader who has a deep understanding of the demands on our busy students, and what they need to stay on track to graduation," said LaGuardia Community College President Gail O. Mellow.
For the past 25 years, Dr. Seals has led a distinguished career in student services, beginning with directing campus activities at the College of New Rochelle and as resident hall manager at New York University. Next, she held positions at Queensborough Community College and Hunter College. She joined LaGuardia in 2015 as assistant dean for enrollment services, and was appointed associate dean for student access and achievement in 2016.
"Nireata has an amazing ability to see the student experience from the macro level," said LaGuardia Community College Provost Paul Arcario, Ed.D. "She wants our students to have positive experiences here, and fosters a culture where student-facing staff go above and beyond."
"My job is to help students remove barriers to their success," said Dr. Seals. "They're juggling work, family, and classes—and often spend several hours commuting between their daily responsibilities. When students are on-campus, they need to access what they need as easily as possible—accordingly, we're adding more evening hours to campus services to better serve working students. Anything to help our students get to their next step in their journey."
Under her leadership, the U.S. Department of Education awarded to LaGuardia a four-year $1.5 million grant to support student-parents. The grant, from the federal Child Care Access Means Parents in School Program, will enable LaGuardia to increase the number of children served by LaGuardia's on-campus subsidized daycare, the Early Childhood Learning Center (ECLC), from 219 to upwards of 263 children. As well, the ECLC is establishing a program to address the emotional and mental health of parents, and providing subsidies for the lowest income student-parents.
For students like single mom Tracy Mingo, age 35, being able to send her child to universal pre-k at LaGuardia's ECLC was an enormous boon: "I could not imagine dropping off my son somewhere, and then coming to LaGuardia. Here it's a one stop shop. Knowing my son is nearby gives me so much comfort."
Dr. Seals earned her doctorate of education in executive leadership from Saint John Fisher College in Rochester, NY; her masters in student personnel administration from New York University; and her bachelors in behavioral science/social work from Concordia University (formally Christ College Irvine) in Irvine, Calif.
Dr. Seal succeeds Michael A. Baston, J.D., Ed.D., who was appointed president of Rockland Community College in July 2017.
• • • •
LaGuardia Community College (LAGCC), located in Long Island City, Queens, educates thousands of New Yorkers annually through degree, certificate, and continuing education programs . LaGuardia is a national voice on behalf of community colleges, where half of all U.S. college students study. Part of the City University of New York (CUNY), the College reflects the legacy of our namesake, Fiorello H. LaGuardia, the former NYC mayor beloved for his championing the underserved. Since our doors opened in 1971, our programs regularly become national models for pushing boundaries to give people of all backgrounds access to a high quality, affordable college education.
####