First-Generation College Graduate Embraces LaGuardia Experience and Enters Medical School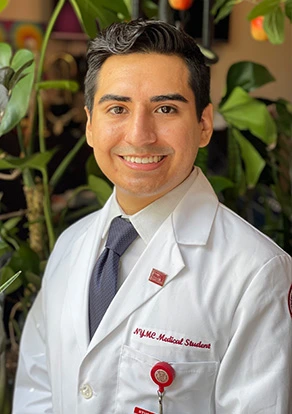 LONG ISLAND CITY, NY (August 23, 2023) — Attending college is an experience Marvin Campos holds close to his heart. After graduating LaGuardia Community College/CUNY in December 2016, Marvin is now making his way to New York Medical College where he is pursuing his dream of entering the medical field.
Marvin is a first-generation college graduate, from Queens. His parents both immigrated from Mexico before settling in New York.
"My family originally settled in California before I was born," Marvin said. "My father was a tomato picker. During this time, he was undocumented and was afraid everyday of deportation. After several years, just before my older brother, Orlando, was born, my parents moved to Queens when they started the process of becoming naturalized."
"I chose LaGuardia Community College due to its strong academic reputation and its association with the CUNY system," Marvin said. "I attended Aviation High School, which introduced me to the College Now program at LaGuardia and convinced me that it was an excellent school to attend."
Despite being a first-generation college student, Marvin says he is not the first in his family to join the healthcare field.
"I am the first to attend medical school," he said, "but my older brother, Orlando, was the first to become a nurse at New York University, and he too is a LaGuardia graduate (June 2015)."
Marvin said his interest in medicine began at a young age when his younger brother, Erick, was taken to the emergency room after suffering from a seizure.
"He was about 3 years old. I was 7," Marvin said. "No one in my family had ever witnessed such an event before, and thus began my family's journey into accessing the healthcare system for help. Our experiences have been very positive, and my introduction to medicine was through the care my younger brother received. Most coincidentally though, the neurosurgeon who operated on my brother almost 20 years ago, gave a speech at my White Coat Ceremony last month. My family and I were all reminded why I started this journey when we saw him."
"Ordinarily, people do not enter the emergency room for being healthy, but the positive outcomes from good, caring physicians grabbed my interest," Marvin added. "I wish to make positive changes, no matter how small, on the same personal level my non-English speaking family received when I was young."
Marvin began his classes at New York Medical College in July. He plans to receive his Medical Degree in 2027 and hopes to match into a residency for Medical Oncology.
"I previously worked for Radiation Oncology and Medical Oncology as a Clinical Research Coordinator during my time at Weill Cornell Medicine," Marvin said. "Having witnessed the profound optimism and compassion by various physicians during consultations, I came to the realization that I aspire to create an equally enduring and positive outcome on the lives of patients."
Marvin said his short-term goal is to excel in medical school and his long-term goal is to become "a good, compassionate physician."
"LaGuardia served as the catalyst into shaping my character as a young adult," Marvin said. "Meeting many amazing classmates, friends and faculty played an integral role into understanding who I am as an individual, and in helping me understand how I can serve my people of NYC."
Marvin describes his learning experience at LaGuardia as "transformative."
"All of my professors at LaGuardia motivated me to strive for further education, a drive I still carry into New York Medical College," he said.
Marvin said he is grateful for the support her received from his many professors at LaGuardia. He especially wants to share his gratitude to Dr. Thomas Onorato and Dr. Janet Gonzalez "for their unwavering support and guidance throughout my time at LaGuardia and while applying for Medical School."
In a congratulatory note to Marvin, Professor Onorato wrote, "The Natural Sciences Dept, LaGuardia, and CUNY all have synergistically provided opportunity and prepared you to successfully envision and approach that intersection where preparation and opportunity meet. Your efforts, your abilities, and your determination to make your aspirations tangible have brought you to this node of 'luck.' I wish you good fortune and the fellowship of lifelong learning as you embark on your next journey, where ultimately your preparation and opportunity will once more intersect as luck."
Marvin hopes to finish medical school in 2027 and plans to stay in New York to serve his community.
"I hope to Continue living in Queens, the 'Borough of the World'," he said. "This place is my home. I wish to serve the hospitals here for as long as I can."
• • • •
LaGuardia Community College (LAGCC), a Hispanic-Serving Institution, located in Long Island City, Queens offers more than 50 degrees and certificates, and more than 65 continuing education programs to educate New Yorkers seeking new skills and careers. As an institution of the City University of New York (CUNY), the College reflects the legacy of our namesake, Fiorello H. LaGuardia, the former NYC mayor beloved for his advocacy of underserved populations. Since 1971, LaGuardia's academic programs and support services have advanced the socioeconomic mobility of students while providing them with access to a high quality, affordable college education.
####