Casa de las Américas Kicks Off Spring 2023 Programming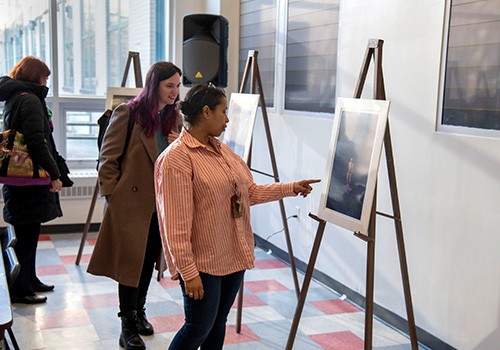 LONG ISLAND CITY, NY (March 21, 2023) — Casa de las Américas at LaGuardia Community College aims to provide opportunities to educate and advance Latinx community members and support them as they become lifelong learners, professionals and activists, contributing towards the betterment of society.

After recently hosting the unveiling of its new student-created mural, La Casa hosted its first monthly Support Circle for First-Generation College Students on March 14.

"The idea for the support circles was borne out of my own experiences as a first-generation college student," said Dr. Sonia Alejandra Rodríguez, co-director of La Casa and associate professor of English. "I know how overwhelming and isolating it can be to be a college student without any models to look to within your family."

The first session drew students who spoke about feeling disconnected from other students.

"As a commuter school, our students are often rushing to and from school, work, and family responsibilities. First-generation students are sometimes helping their families—even sending money back to their home countries—it's a lot of responsibility and pressure. Hopefully this Support Circle will make them feel more connected and give them a safe outlet to share their struggles," said Dr. Ryan Mann-Hamilton, co-director of La Casa and associate professor of Anthropology, Latin American and Caribbean Studies in the Social Science Department.

The sessions are being run by La Casa Student Ambassadors, who received training in how to lead a support circle. The Ambassadors are: Johana Chulde Castro, a Criminal Justice major; Benjamin Gamboa, a Business Administration major; and Emma Gottschalk, a Liberal Arts: Social Science and Humanities major.

"Students are often more likely to open up to fellow students, so we have trained La Casa Student Ambassadors to lead the support circles," said Dr. Rodríguez.

La Casa Hosts 'Science for All: Tales of the Colombian Scientific Diaspora'

On March 16, the work of Clubes de Ciencia (Science Clubs) Colombia (CdeC) to improve access to high-quality scientific education for children and young Colombians belonging to historically disadvantaged groups in urban and rural regions of the country was featured in an event titled, "Science for All: Tales of the Colombian Scientific Diaspora."

The event was organized by Milena C. Cuéllar, professor of mathematics and a Carnegie National Faculty. As a member of the Colombian diaspora, Dr. Cuéllar has volunteered with CdeC, traveling to rural areas of Colombia and "teaching math that's cool to young people," as she described.

More than 50 individuals attended the event, held in the Poolside Café, including representatives of CdeC and the Colombia Consulate, as well as LaGuardia faculty and staff. Attendees heard from CdeC director Dr. Elisa Chaparro about using scientific tools to make a better Colombia and promote careers in science. "Science doesn't have borders," said Dr. Cadavid. "It's possible to use science to break down walls of misunderstanding and mistrust."

The event featured selected works of Colombian photographer Daniel Lopez, who spent more than four years traveling to rural communities participating in CdeC across Colombia, e.g., Amazonas, Guajira, and Santander, as well as a musical performance by La Cumbiamba Eneyé and assorted Colombian foods served by Tamales Marujita.

Upcoming Events

Casa de las Américas is hosting a variety of events Spring 2023 that include:
A Visiting Artist Lecture by Melissa Misla, a native New Yorker and mixed media artist specifically interested in the Nuyorican experience. The event is co-hosted by the Women's Center and LGBTQIA Safe Zone Hub, and the Commercial Photography, Fine Arts, and Women, Gender, and Sexuality Studies programs 
Thursday, March 23; 5 p.m.; Room E-111
Dutch Oil, Dominican Sugar and the Back Doors of the Caribbean Disapora, 1910–1970, in collaboration with the Dominican Studies Institute and the Center for Latin American, Caribbean, and Latino Studies (CLACLS) at the CUNY Graduate Center
Friday, March 24; 2:30 p.m.; CUNY Graduate Center, Room C-198
Music Series Part 1: Salsa class and demonstration by Cucala Dance Company in collaboration with the Women's Center
Wednesday, March 29; 2 p.m. – 4:30 p.m.; M-Building Gymnasium
First Generation Student Support Circle
Tuesday, April 18; 3 – 4 p.m.: online (Zoom)
Wikipedia/ChatGPT Transla-a-thon for Earth Day
Wednesday, April 19; 2 – 5 p.m.; Room MB-10B
Author Visit: Tanya Hernandez, Racial Innocence: Unmasking Latino Anti-Black Bias and the Struggle for Equality, in collaboration with the Office of the Provost and the Black Lives Summit Committee
Friday, April 21; 3 p.m.; Room E-500
Screening of Madan Sara – Haiti, in collaboration with the Women's Center
Wednesday, May 3; 3 p.m.; Room E-501
Latinxs in STEM: Sharing Stories
Friday, May 10; 3 p.m.; Room E-111
Author Visit: Daphne Palasi Andreades, Brown Girls
Friday, May 12; 12 p.m.; E-Building – Poolside Café
First Generation Student Support Circle
Tuesday, May 16; 3 – 4 p.m.; online (Zoom)
Music Series Part 2: Histories and rhythms of Latin America and the Caribbean. Bulla en el Barrio will share the traditions, experiences and lives of the Colombian cantadroas. Their musical performance will be preceded by a talk by renowned historian Alejandro de la Fuente (Harvard)
Thursday, May 18; 1:30 p.m. – 5 p.m.; Little Theater
Hispanic Federation Resource & Job Fair, in collaboration with the Center for Career and Professional Development
Wednesday, May 24; 12 – 4 p.m.; 29th St. and Skillman Ave.
We Want Foods That Tell Our Stories: Reclaiming and Reviewing Indigenous Food Sovereignty by Dr. Marielena Huambachano (Syracuse)
Wednesday, May 31; 11 a.m. – 12:30 p.m.; online (Zoom)
Music Series Part 3: The La Casa Music series explores the different histories and rhythms of Latin America and the Caribbean. A virtual conversation with Dr. Mariaelena Huambachano on Indigenous Food sovereignty; workshop on Indigenous cosmologies organized by the Tampu Project. Food and a musical presentation by los Guachinangos
Wednesday, May 31; 1-5 p.m.; Poolside Café
First Generation Student Support Circle
Tuesday, June 6; 2-4 p.m.; Room M-141

For more information visit Casa de las Américas, located in Room M-141, go online, send an email to casa@lagcc.cuny.edu or call (718) 482-5995.
• • • •
LaGuardia Community College (LAGCC), a Hispanic-Serving Institution, located in Long Island City, Queens offers more than 50 degrees and certificates, and more than 65 continuing education programs to educate New Yorkers seeking new skills and careers. As an institution of the City University of New York (CUNY), the College reflects the legacy of our namesake, Fiorello H. LaGuardia, the former NYC mayor beloved for his advocacy of underserved populations. Since 1971, LaGuardia's academic programs and support services have advanced the socioeconomic mobility of students while providing them with access to a high quality, affordable college education.
####