Casa de las Américas Hosts Open House, Unveils Student-Created Mural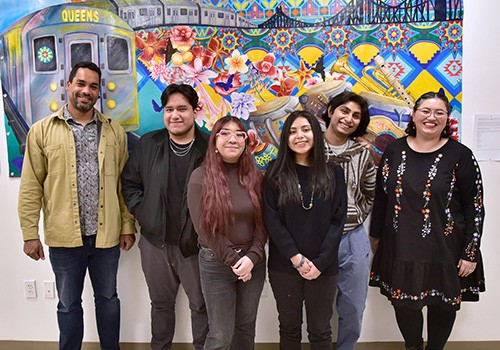 LONG ISLAND CITY, NY (March 21, 2023) — Casa de las Américas at LaGuardia Community College kicked off its Spring 2023 programming with an open house that featured the unveiling of a student-created mural, its inaugural support circle for first-generation college students, and an event highlighting the contributions of the Colombian scientific diaspora to science education in Colombia.

At its Spring Open House on March 8, Casa de las Américas unveiled its new student-created mural, the centerpiece of its office located in room M-141.

The artists are all La Casa Art Fellows, who come from immigrant families and are first-generation college students. The Fellows, who were awarded stipends from the LaGuardia Community College Foundation, are: Melissa Alonso, a Mexican-American from Los Angeles; Richard Cabrera, a NYC native whose family is from Ecuador; Isaac Ramos, who moved to NYC from Mexico in 2019; and Analy Marin, a Mexican-American who was born and raised in Queens. These students are all Fine Arts majors, except Analy Marin, who began her higher education studies in fine arts at another community college before switching to LaGuardia to major in New Media Technology: Digital Media.

The Fellows spent weeks designing the mural with La Casa co-directors, Drs. Ryann Mann-Hamilton and Sonia Alejandra Rodríguez, and LaGuardia Fine Arts professors Arianne (Ari) Marie Fernandez and Dina Pizzarello. The planning process began shortly after La Casa opened in Fall 2022.

"We began by looking at other murals from New York artists for inspiration," said Alonso. "Then we drafted simple designs that included flowers and musical instruments representing as many Latin countries as possible, and started weaving our ideas together."

"A lot of research went into the mural. For example, the tribal prints on the mural represent different indigenous peoples, with colors inspired by flags from different countries," said Ramos. "Blue is for Argentina and Guatemala, and the bright green is for Mexico."

Once the mural team decided on elements to include, Cindy Garcia, a LaGuardia Fine Arts graduate who currently works for Continuing Education, created digital sketches of the design and a color study. Finally, it was time to paint the mural, a process that the Fellows describe as a collaborative effort to merge each artist's different styles.

"We needed to make the composition coherent. It took a lot of compromise and communication," said Marin.

"We divided ourselves into shifts to paint the mural, which took many layers of paint to get the colors as vibrant as we wanted. Sometimes we would find ourselves painting on top of each other, getting paint on our hair and clothes," Ramos said. "It was hard but a lot of fun."

The resulting mural "is an homage to the diverse fusion of the musical and artistic traditions found en Latinoamerica y el Caribe, where graphic, realism, abstraction, African, and Indigenous styles birthed a unique brand of Modernism," said Dr. Fernandez.

Additional support for the mural's design and creation was provided by Fine Arts major and LaGuardia gallery intern Luka Ochoa; Fine Arts CLT Christine Eng; Fine Arts alum Michelle Sanchez; La Casa Office Manager Stefania Gonzalez; and Professors Gary Vollo and Arthur Simms.
• • • •
LaGuardia Community College (LAGCC), a Hispanic-Serving Institution, located in Long Island City, Queens offers more than 50 degrees and certificates, and more than 65 continuing education programs to educate New Yorkers seeking new skills and careers. As an institution of the City University of New York (CUNY), the College reflects the legacy of our namesake, Fiorello H. LaGuardia, the former NYC mayor beloved for his advocacy of underserved populations. Since 1971, LaGuardia's academic programs and support services have advanced the socioeconomic mobility of students while providing them with access to a high quality, affordable college education.
####