Accounting Major Tyshawn Washington Aspires to Share His Financial Knowledge with his Community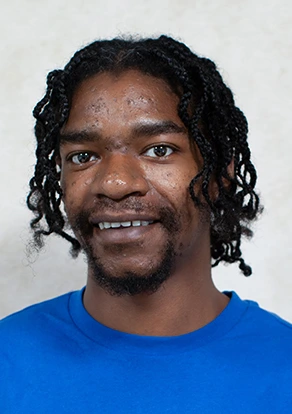 LONG ISLAND CITY, NY (November 8, 2023) — When Tyshawn Washington, 30, graduates from LaGuardia Community College/CUNY in Spring 2024, he will be one of the first people in his family to earn a college degree.
Growing up, he "got caught up in the wrong crowd," said Tyshawn, who was raised in Bed-Stuy, Brooklyn. Between ages 14–19, he was in and out of jail, with stints at Rikers Island. "I was doing drugs, going clubbing, etc.," said Tyshawn.
Tyshawn dropped out of high school and found work in construction and as a mover. Then, in early 2020, Tyshawn decided he wanted to go back to school to make a better life for his family. He has three daughters with his long-time partner, who is currently pursuing her master's at York College.
Tyshawn found the CUNY Fatherhood Academy at LaGuardia and enrolled to earn his GED. When the COVID-19 pandemic came to New York City, in-person classes for the Fatherhood Academy shifted to online.
"It was a super hard time. I had to learn how to use Zoom and Google Classroom, and get more comfortable with computers," said Tyshawn, who lives with his partner and their daughters in public housing in Crown Heights, Brooklyn. "In my household, we were all online at the same time. When I would unmute, I'm sure my instructors could hear my daughters' teachers."
Tyshawn earned his GED diploma and the Fatherhood Academy helped him enroll in the emergency medical technician (EMT) training program at LaGuardia. He worked as an EMT for a short while, but found it wasn't for him. Fatherhood Academy helped him enroll at LaGuardia and sign-up for College Discovery, which provides students who enter with less than an 80 average or a GED with supportive services, including counseling, tutoring, and financial aid.
Today, Tyshawn is an Accounting major with a 3.5 GPA, and he hopes to share what he's learned so far with others.
"I've always liked math. I want to educate others about financial management—investing, saving, and budgeting. We didn't learn enough about finances in school," Tyshawn said. "Just like I get information from my professors, I want to take what I know and pass it on to others."
Tyshawn works on campus as a mentor for the Black Male Empowerment Cooperative (BMEC). "I help students who come to BMEC to find jobs on campus, research scholarships they can apply for, give them advice on picking classes and encourage them to visit their advisor, help connect them with LaGuardia CARES," he said. "I like helping people."
Despite his success at LaGuardia, Tyshawn worries about keeping up his GPA and managing life stress.
"Sometimes I can't believe I have a 3.5 GPA. I just did my best and earned good grades," he said. "But sometimes it's hard to focus on my classes. I've had a lot of losses recently—one of my brothers died of natural causes and a good friend was killed in an act of gun violence while I was standing next to him."
Tyshawn works hard to keep his focus on school. "I try to cope by having conversations with my brother and friend—imagining us laughing and joking together—and by thinking about the future that I want."
He hopes to transfer to Baruch College after earning his associate degree from LaGuardia.
"I'll be happy to graduate, but I won't be happy to leave. I like LaGuardia. School is my haven," said Tyshawn, whose daughters are now 7, 8, and 13. "I'm a family man. I like spending time with my kids. They're my light. My goal is to create a comfortable life for my kids."
• • • •
LaGuardia Community College (LAGCC), a Hispanic-Serving Institution, located in Long Island City, Queens offers more than 50 degrees and certificates, and more than 65 continuing education programs to educate New Yorkers seeking new skills and careers. As an institution of the City University of New York (CUNY), the College reflects the legacy of our namesake, Fiorello H. LaGuardia, the former NYC mayor beloved for his advocacy of underserved populations. Since 1971, LaGuardia's academic programs and support services have advanced the socioeconomic mobility of students while providing them with access to a high quality, affordable college education.
####