Tony Award winner Stew to debut new musical—a modern take on U.S. history—with the LaGuardia Community College Theatre Program
Production Will Run May 8—12, 2018, at the LaGuardia Performing Arts Center
May 2, 2018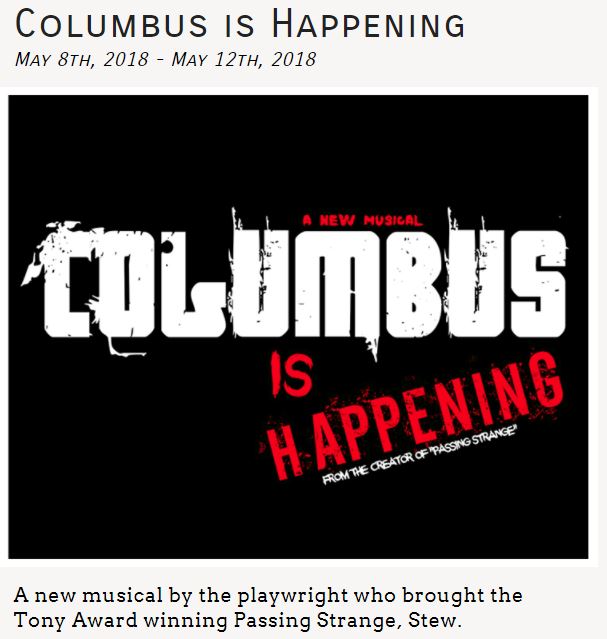 Tony Award winner Stew is collaborating with LaGuardia Community College award-winning Theatre Program to launch a brand new musical called "Columbus is Happening."
Stew describes "Columbus is Happening" as an ode to Queens—particularly, our legacy as a landing spot for immigrants to the U.S. As Stew describes, "Everything good about this country and about Queens was born of people's resistance."
It's a lively rendition filled with dancing, catchy-songs, and memorable one-liners. Lynching, slavery, and immigration are topics in the work, which are woven together with issues and topics of modern day life, such as the life of immigrants living in Queens today.
"I always write with geographic specificity, and I built 'Columbus is Happening,' for Queens and for LaGuardia Community College," says Stew. "To me, Queens is genuine—it's the New York that I always wanted to come to, and it's the America I always wanted to live in. I like diversity in art, but that diversity only happens if the environment is genuine. And where else but LaGuardia Community College could we have a 20-person cast from all over the place?"
Students in the cast hail from South Korea, Germany, Belize, Puerto Rico, The Bronx, Brooklyn, Queens, Maine, and Portland, Oregon.
LaGuardia Community College, with students from more than 150 countries who speak 96 native languages, has among the most diverse student population of any college nationwide; and Queens is among the most diverse counties of the U.S.
For the past several months, Stew has been coming regularly to LaGuardia to meet with LaGuardia's theatre students—meetings that have helped inspire his development of the new work—and to attend rehearsals, during which he is often writing or tweaking material (making edits to make it "nice and short and tight" as he says, or stopping a run through to teach a song to an actor).
"Our students have so much to gain from this collaboration between Stew and our Theatre Program," said LaGuardia Community College President Gail O. Mellow. "Students are getting to perform under the guidance and inspiration of a Tony-award winning dramatist and are having the opportunity to watch an emerging work of art come to life. We're delighted that under Professor Stefanie Sertich's leadership, our theater program is flourishing and it is a testament to her work that this opportunity comes to LaGuardia student. And a special thank you to Stew for sharing his talents with our students and investing in their futures—investments that are sure to pay back in dividends in the years to come."
In 2016, Ms. Sertich directed LaGuardia Theatre students in a production of "Passing Strange," for which Stew took home the Tony Award for Best Book in 2008. LaGuardia's production was selected for five prestigious awards, including Distinguished Production of a Musical, from the national awards committee of the Kennedy Center American College Theatre Festival—the premiere theatre festival for the more than 700 US colleges and universities with theatre programs.
"Columbus is Happening" will run from May 8 through May 12, in the Little Theater, here at the LaGuardia Performing Arts Center of LaGuardia Community College.
Tickets for the eight-run production are on sale for $10 (or $8 for those with a valid student ID). For more info and to buy tickets, visit bit.ly/LGCStew.
Show times are:
May 8 — 7:30p.m.                
May 9 — 2:30p.m. and 7:30p.m.                
May 10 — 7:30p.m.                
May 11 — 2:30p.m. and 7:30p.m.                
May 12 — 2:30p.m. and 7:30p.m.
• • • •
About the LaGuardia Community College Theatre Program
Under the direction of Stefanie Sertich since 2011, LaGuardia theatre students have received numerous regional and national recognition at the Kennedy Center American College Theater Festival, the premiere theatre program for the more than 700 two- and four-year colleges and universities nationwide with theatre programs. Graduates of LaGuardia's theatre program have transferred to highly-competitive, audition-based programs at four-year colleges, including Boston University, Pace University, Marymount of Manhattan, The New School, Brooklyn College, Hunter College, Lehman College, Queens College, Dean College, SUNY New Paltz and others. As well, several LaGuardia theatre students have been selected for scholarships to study at prestigious theatre conservatory programs including the Commonwealth Shakespeare Company and Margolis Method Training Center in Barcelona. Visit www.laguardia.edu/Theater/ to learn more.
About LaGuardia Community College
LaGuardia Community College (LAGCC), located in Long Island City, Queens, educates thousands of New Yorkers annually through degree, certificate, and continuing education programs . LaGuardia is a national voice on behalf of community colleges, where half of all U.S. college students study. Part of the City University of New York (CUNY), the College reflects the legacy of our namesake, Fiorello H. LaGuardia, the former NYC mayor beloved for his championing the underserved. Since our doors opened in 1971, our programs regularly become national models for pushing boundaries to give people of all backgrounds access to a high quality, affordable college education.
####