Three Siblings Embrace Their

Bengali

Culture as

LaGuardia Community College Students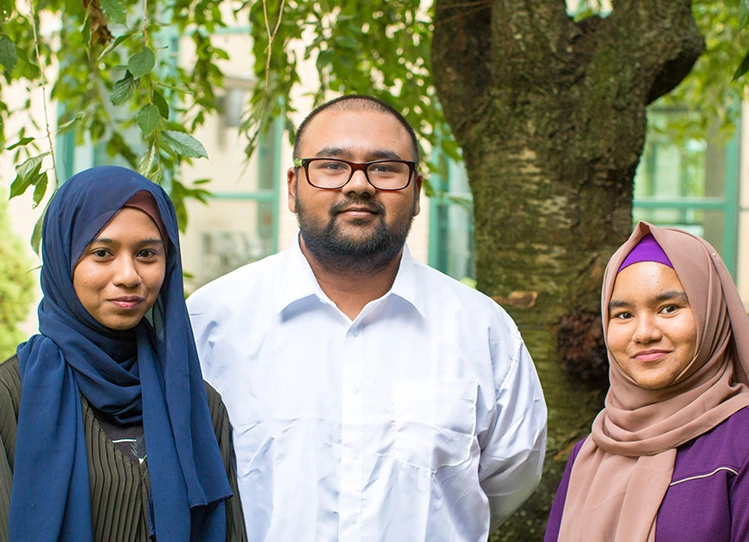 LONG ISLAND CITY, NY (August 14, 2023) — LaGuardia Community College/CUNY students come from all over the world. In many cases, their global perspectives and cultural influences are sources of inspiration for pursuing a college degree and planning a career. 
Three siblings, MD Siddique, 24, Amena Shamia, 21, and Nadia Begum, 20, have brought their traditions and values from Bangladesh to New York City and LaGuardia. With the degrees they're pursuing, the three first-generation college students plan to serve their New York City Bengali community by sharing their knowledge of medicine, mental health, and technology.  
In September 2021, MD, Amena, and Nadia moved to the United States with their parents after their family's farming business was decimated by the pandemic. "We were sad to leave the country of our ancestors but were excited about the opportunities for a better education in America," said Amena, a Biology major. 
In the first weeks after their arrival, they noticed many differences between their village in Bangladesh and their new home in Jamaica, Queens. "In our village, the electricity would flutter on and off daily—and Wi-Fi was hard to access. And everyone is in everyone's business—in a good way—we look out for one another," said Amena. "Here, people tend to mind their own business and tend to think of themselves first. In Bangladesh and as a Muslim, we are taught to make sure everyone in the family is happy and satisfied. We are focused on helping our entire family thrive, not just ourselves." 
To get themselves ready for college in the U.S., they practiced speaking English with their American-born cousins and watched "Avengers" movies and TV shows—Japanese anime dubbed in English for MD and Nadia, and "Grey's Anatomy" and "Suits" for Amena. After earning their GEDs at a community center near their new home in Jamaica, they applied to several CUNY community colleges. Each of them decided to enroll at LaGuardia, having heard from friends that, compared to other colleges, LaGuardia professors focus more on their students. 
MD, Amena, and Nadia brought their Bengali culture and Muslim values with them to LaGuardia, where they enrolled in Spring 2022. "Having my sisters at LaGuardia has been a big advantage," said MD, a Computer Science major. "We're constantly looking for programs we can get involved in to grow our leadership skills and professional networks, and sharing information about opportunities we find with one another. Because the more we learn, the more we can help our Bengali community in the future." 
Nadia, a Psychology major, joined Accelerated Study in Associate Programs (ASAP), and encouraged MD and Amena to join ASAP as well, which they did. "I was grateful for the support and guidance of my ASAP advisor, the free MetroCards, and help paying for textbooks," Nadia said. 
Through his ASAP advisor, Anabel Rivas, MD learned about career preparation support and opportunities for internships. He became a fellow of America Needs You, an organization serving first-generation college students, where he received resume and interview prep support, and more. He also had a paid 10-week internship with LaGuardia's Information Technology team through S.T.O.R.E. IT (Student Training Opportunity with Relevant Experience in Information Technology), a program for Computer Science majors, part of LaGuardia's S.O.A.R. (Succeed, Observe, Achieve, Rise) Experiential Learning Program.  
Recently, MD joined the Queens STEM Academy (Q-STEM), a new program between LaGuardia and Queens College to recruit students from under-represented groups into STEM (science, technology, engineering, and mathematics) fields. This summer, he attended seminars at Queens College and did a research internship with LaGuardia's Dr. Alaa Darabseh, an assistant professor with the Mathematics, Engineering, and Computer Science Department, who has become a mentor.  
"In our research, 'Outlier Detection Algorithms on Wireless Sensor Network Data,' we looked at systems that constantly monitor temperature and other environment factors. These systems generate significant amounts of data—crucial in areas like the military and farming," said MD. "Our aim was to validate the reliability of this data using various machine learning models and techniques to pinpoint inaccuracies. One notable test involved using steam to simulate sudden temperature changes. We primarily employed Python tools for data analysis. Ultimately, the Histogram-based Outlier Score (HBOS) method emerged as the most accurate." 
Amena and Nadia have also found opportunities for hands-on learning that complements their studies. As a member of the CUNY Research Scholar Program (CRSP), Amena worked on a bio-informatics research project this past academic year with Dr. Claudette Davis, associate professor of Biology and director of the Biology Program at LaGuardia. Amena was also a research assistant with the Aaron Diamond AIDS Research Center at Columbia University Irving Medical Center, through CUNY LifeSci NYC. "I love working in a wet lab. In the beginning, working with viruses and plasmids in the lab at Columbia was intimidating, but I got the hang of it," she said. 
As part of her Arabic class, Nadia participated in a virtual exchange program with students from The American University of Cairo in Egypt, through LaGuardia's Global Scholars Achieving Career Success (GSACS) program, which provides students opportunities to learn about issues related to United Nations Sustainable Development Goals. "We collaborated with students in Egypt, creating infographics and surveys to raise awareness about the water crisis there caused by Ethiopia's damming of the Nile River to create electricity." 
This summer, Nadia and MD participated in the Summer Youth Employment Program at LaGuardia. Nadia worked at the Community Counseling & Meditation Center in Brooklyn, where she learned how to track patient applications, maintain patient records, and create service plans. MD did social media and graphic design for the Kehilat Sephardim Food Pantry in Flushing, Queens.  
"We're a bit competitive with one another," said Nadia. "We try to do well in our classes and participate in as many activities as possible." 
Each of the three siblings have made the Dean's List and are members of the Phi Theta Kappa (PTK) International Honor Society. Amena is also a member of Honors Student Advisory Committee (HSAC), an arm of the Honors Program, and the STEM Club, where she previously served as vice president. MD is a member of the Red Hawk Engineering Club and the Bangladesh Club.  
This month, MD and Amena start their terms as Student Government Association (SGA) officers. MD is Vice President and Amena is Secretary. They are excited to work with SGA President John Fletcher, Treasurer Carolina Lenes Arreola, and the Academic Representatives for each department. "We're encouraging Nadia to join," said Amena. 
While juggling their busy academic lives, the siblings make time to help their Bengali communities both near and far, through volunteering. "It's a way for us to support our community," said Amena, who volunteers at a library close to her home, providing tech support for library patrons. MD volunteers with New York Cares and previously helped to raise funds, through a local mosque in Jamaica, for communities in Bangladesh impacted by recent flooding. "I like to help," said MD, who has also tutored classmates struggling in a programming class. Currently, Nadia is looking for volunteer opportunities in mental health. 
Amena and Nadia plan to graduate in June 2024, while MD may stay on for another semester. After graduation from LaGuardia, each of them plans to pursue a bachelor's and graduate degrees. MD hopes to transfer to Stanford or Cornell for his bachelor's and then earn a doctorate. Amena has her sights set on Columbia University, where she wants to earn a bachelor's in biology followed by her M.D. Nadia aspires to go to Baruch for her bachelor's in psychology, and then pursue a master's in either psychology or social work.  
MD, Amena, and Nadia plan to remain in the United States and create careers that enable them to help people, particularly the Bengali community, as well as people living in Bangladesh. 
"I want to help people and solve big problems, such as building technology that medicine can use to find cures," said MD, who aspires to become an artificial intelligence (AI) researcher. "I particularly want to work on glaucoma, a disease that has affected several family members, by developing a method of identifying glaucoma at an early stage." 
Nadia plans to apply her Bengali culture as a therapist or social worker. "In our community, mental health is overlooked. In Bangladesh and here in my Bengali community, it's not spoken of. People don't talk about depression or anxiety like they do cholesterol levels or whether they're not sleeping enough," said Nadia. "I want to educate my family and my community about mental health, encourage conversations about it, and help them understand the benefits of seeking treatment." 
As an aspiring future medical professional, Amena plans to draw from her culture and religion when working with patients and their families. "I will show them empathy and kindness, listen to their fears and concerns, and provide honest and transparent information," she said. "I also want to bring diversity to the medical community and advocate for inclusion. I'm proud of being Muslim and wearing a hijab. I want to be a role model for young people in my community."  
 • • • •
LaGuardia Community College (LAGCC), a Hispanic-Serving Institution, located in Long Island City, Queens offers more than 50 degrees and certificates, and more than 65 continuing education programs to educate New Yorkers seeking new skills and careers. As an institution of the City University of New York (CUNY), the College reflects the legacy of our namesake, Fiorello H. LaGuardia, the former NYC mayor beloved for his advocacy of underserved populations. Since 1971, LaGuardia's academic programs and support services have advanced the socioeconomic mobility of students while providing them with access to a high quality, affordable college education. 
####