Spotlighting LGBTQ History of Queens
July 8, 2019
The LaGuardia and Wagner Archives ("Archives") at LaGuardia Community College is bringing to light the impact of Queens on the LGBTQ rights movement, through an ongoing series of public installations, education programs, and demonstrations. The LGBTQ Public History Project is made possible with generous support from the New York City Council through the office of Daniel Dromm, and the Robert David Lion Gardiner Foundation.
"Having grown up in Queens, I recall the fear I felt in my youth about revealing my sexuality to friends and even colleagues," said LaGuardia Community College Provost and Senior Vice President for Academic Affairs Paul Arcario, Ed.D. "I'm so grateful to Danny Dromm and others, whose brave activism have allowed me to live openly and freely as a gay individual and educator."
"Most New Yorkers don't know that Queens was the first outer borough to publicly support gay rights by holding a parade," said Richard Lieberman, Ph.D., professor of history and director of the Archives. "The history of LGBTQ activism in Queens is an incredible story of activism in the face of tremendous opposition, and it's important that people know about this legacy, learn from it, and honor it."
"Queens has its own unique lesbian, gay, bisexual and transgender (LGBT) history and people should know about it," said New York City Council Member Daniel Dromm (District 25—Jackson Heights, Elmhurst). "We didn't just one day wake up and have same sex marriage. It's been a long struggle for LGBTQ acceptance."
Queens Pride Exhibit at LaGuardia Airport
In a partnership that would have delighted our shared namesake, former NYC mayor Fiorello H. LaGuardia, Archives staff and students curated an exhibition (see photo below) commemorating Queens' LGBTQ history, which is on display at LaGuardia Airport's Marine Air Terminal throughout the month of July 2019.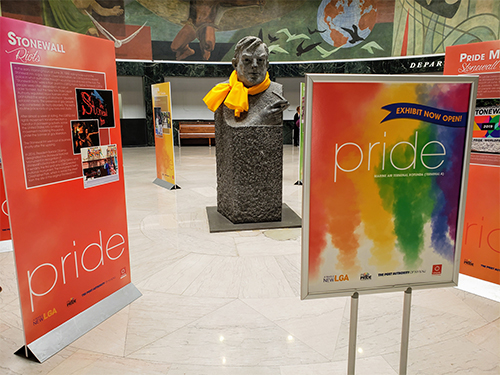 The Collection of Council Member Dromm at the Archives formed the basis of the exhibition. One panel is devoted to PA PRIDE, an initiative of the Port Authority of New York and New Jersey, which collaborated on the exhibition.
Two LaGuardia students interning at LaGuardia Airport helped to put on the exhibition. Srija Rai and Melissa Osoria, both communication studies majors, have been working for the past few months with the airport's community outreach team, engaging with residents living near the airport about the ongoing LGA Redevelopment Program. They're pictured below next to the statue of Mayor LaGuardia in the rotunda of Marine Air Terminal.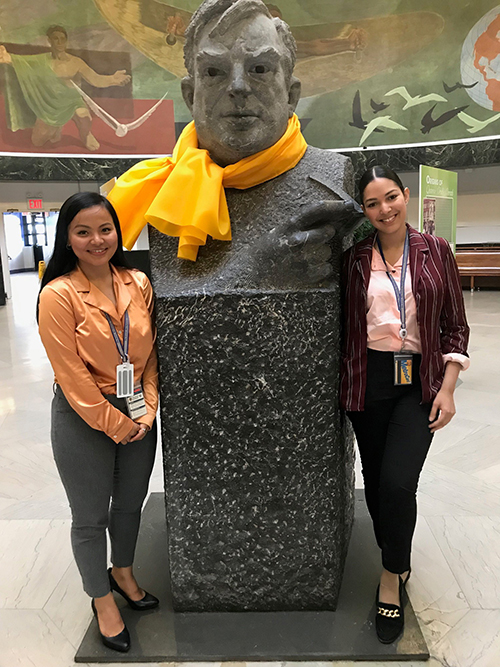 from left to right: Srija Rai; Melissa Osoria)
"This internship helped me find my passion: working with the community. I want to pursue community relations as my career," said Ms. Rai, age 28, who came to LaGuardia after earning her cosmetology license and then finding that she didn't enjoy working in that industry. "Airports are an important part of our community, and through working on this exhibition, I learned that there are opportunities to educate and inform residents and visitors traveling through our airports."
Ms. Osoria, age 25, moved to the U.S. from Nepal. Last month, she graduated from LaGuardia and plans to pursue a career in broadcasting.
At a recent reception marking its opening, Archives historian Stephen Petrus said, "The venue of this exhibition is entirely fitting. Not only does the LGBTQ community have a long and prominent place in the airline industry, but many individuals who've fled persecution in other countries because of their sexual orientation have entered America through our airports."
Shades of the Rainbow: Generation Z
The Archives curated an exhibition, Shades of the Rainbow: Generation Z, to showcase the experiences of LGBTQ students at LaGuardia Community College. Through photography, film, and oral history, the students share intimate stories about coming out in families of different ethnicities, races, and religions. They explore challenging traditional understandings of gender and sexuality in American culture, enduring hardship, and finding love and support from friends, partners, and family members.
The exhibition opened this spring, and is on view now in the College's E-building, 2nd Floor Atrium, 31-10 Thomson Ave., Long Island City, Queens. Members of the public with a valid ID are welcome to visit it during college hours. There is no charge to do so.
For exhibit information, click here.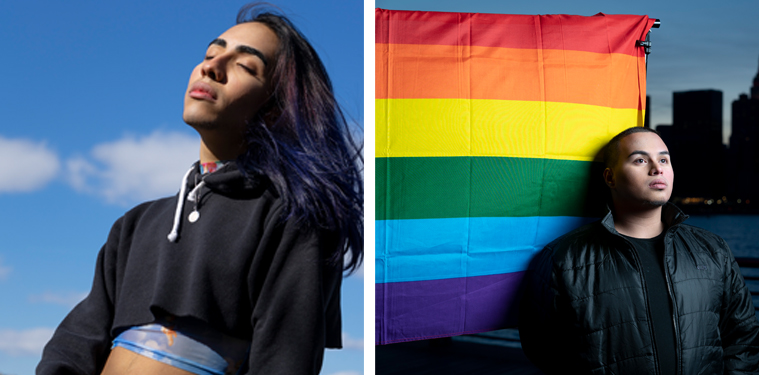 Photo at left shows LaGuardia student Marcello Riera; credit: LaGuardia student Anthony Daley. Photo at right, with rainbow flag, shows LaGuardia student Joshua Lobato; credit: LaGuardia student Luisa Madrid.
Queens Pride Parade
Last month, Dr. Lieberman and the Archives led faculty, staff and students from the five CUNY campuses in Queens ( Queens College; York College; CUNY Law School; Queensborough Community College; and LaGuardia Community College) that marched under a CUNY banner (see photo at right) at the 2019 Queens Pride Parade. With 200 participants, CUNY Queens was the largest group in the parade! Click here to watch a short video about it.
The first Queens Pride Parade was held in 1993. It was organized by the Queens Lesbian & Gay Pride Committee, Inc., which Daniel Dromm co-founded, following a series of anti-gay incidents that included the brutal murder of Julio Rivera, and controversy over references to same-sex couples in the Children of the Rainbow Curriculum.
"The anti-gay murder of Julio Rivera and the battle over the Children of the Rainbow Curriculum are Queens' equivalent of the Stonewall Rebellion," said Council Member Dromm.
Lavender Line: Coming Out in Queens
A multimedia exhibition, the Lavender Line: Coming Out in Queens , about the incidents that sparked the Queens Lesbian & Gay Pride Committee, Inc. and the first-ever Queens Pride Parade, was shown throughout 2017-18 at the Queens Museum and at the five CUNY campuses in Queens. It's now permanently located in the College's historic Hall of Flags, in Joseph Shenker Hall, 31-10 Thomson Ave., Long Island City, Queens). Free and open to members of the public with a valid ID, during college hours.
The exhibition title was selected to celebrate lavender as both a symbol of the original gay liberation movement and the color of the line marking the Queens Pride Parade route along 37th Avenue, from 89th Street to 75th Street, in Jackson Heights.
The Lavender Line exhibition was curated by LaGuardia commercial photography faculty Thierry Gourjon and Javier Larenas, as well as by LaGuardia student scholars and faculty, drawing largely from Dromm Collection. It includes photographs taken by LaGuardia students.
City Council Member Jimmy Van Bramer (District 26—Astoria, Long Island City, Sunnyside, Woodside) contributed materials from his personal archives to the Lavender Line exhibition. Van Bramer marched in the first-ever Queens Pride Parade as a St John's University student, and has been recognized for his work encouraging members of the LGBTQ community to stand proud, and for raising awareness of the AIDS epidemic and bias crimes.
"For far too long, the stories, experiences, trials, and victories of the LGBTQ movement in our country and in Queens have often gone untold," said Council Member Van Bramer. "The history of the LGBTQ movement in Queens is a deeply human story of ordinary people fighting for the right to openly and freely love without fear."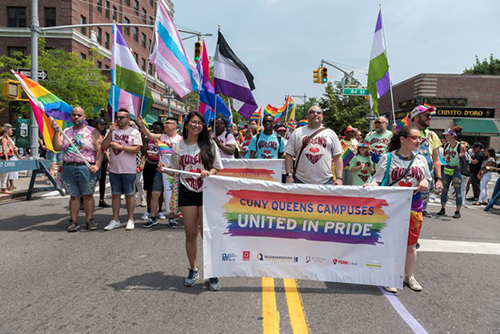 The LGBTQ Collection
The LaGuardia and Wagner Archives has created The LGTBQ Collection to illuminate Queens LGBTQ history and activism.
The bulk of the LGBTQ Collection comes from the Dromm Collection and from the papers of the Honorable Thomas K. Duane, former New York State Senator. The Senator Thomas Duane LGBTQ Collection consists of two series: the Gay Literature Series, which consists mainly of issues of the Christopher Magazine from 1976 to 1993, and the Personal Gay Files Series, which contains documents collected by Senator Duane, before, during and after his time in political office, related to LGBTQ issues.
The LGBTQ Collection is presently being processed, and will be added to the Archives' online database as documents become available for researchers.

• • • •
About the LaGuardia and Wagner Archives at LaGuardia Community College
The LaGuardia and Wagner Archives, established in 1982, serves as a repository for NYC's social and political history. Its large collection of New York City mayoral papers include the personal papers and official documents of Mayors Fiorello H. LaGuardia, Robert F. Wagner, Abraham D. Beame and Edward I. Koch. Additional collections include The Council of the City of New York, the New York City Housing Authority, the piano maker Steinway & Sons, and a Queens Local History Collection. Assets from these collections are regularly referenced in news stories, and accessed by researchers and students. Visit  LaGuardia and Wagner Archives website to learn more.
About LaGuardia Community College
LaGuardia Community College (LAGCC), located in Long Island City, Queens, educates thousands of New Yorkers annually through degree, certificate, and continuing education programs . LaGuardia is a national voice on behalf of community colleges, where half of all U.S. college students study. Part of the City University of New York (CUNY), the College reflects the legacy of our namesake, Fiorello H. LaGuardia, the former NYC mayor beloved for his championing the underserved. Since our doors opened in 1971, our programs regularly become national models for pushing boundaries to give people of all backgrounds access to a high quality, affordable college education.
About the Robert David Lion Gardiner Foundation
The Robert David Lion Gardiner Foundation, established in 1987, primarily supports the study of New York State history. Robert David Lion Gardiner was, until his death in August 2004, the 16th Lord of the Manor of Gardiner's Island, NY. The Gardiner family and their descendants have owned Gardiner's Island since 1639, obtained as part of a royal grant from King Charles I of England. The Foundation is inspired by Robert David Lion Gardiner's personal passion for New York history. The purpose of the Robert David Lion Gardiner Foundation is:
•  To educate and inform the general public in the State of New York, particularly in the area of the Town of Islip and more generally in Suffolk County, concerning the culture, art and tradition of the locality;
•  To cultivate, foster and promote interest in, and understanding and appreciation of the societal heritage of Town of Islip, particularly during the nineteenth century;
•  To encourage and sponsor the creation and perpetuation by existing and future historical societies of collections and repositories for the deposit, collection and examination of documents and artifacts of various kinds relevant to such heritage and traditions; and
•  To sponsor and encourage the preservation, restoration and exhibition by existing and future historical societies of at least one facility appropriate to such purpose.
####