SOUTH KOREAN NATIVE JONG WOOK "RYAN" JHIN ELECTED PRESIDENT OF LAGUARDIA COMMUNITY COLLEGE STUDENT GOVERNMENT ASSOCIATION
Jhin Applies Military Experience and Passion for Accounting to New Leadership Role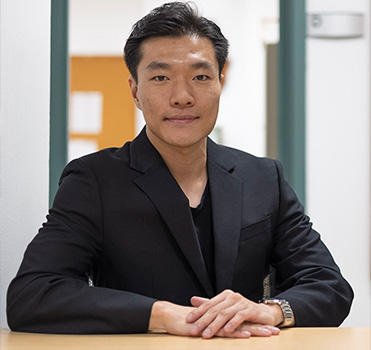 Jong Wook "Ryan" Jhin, age 29, was recently elected by his peers as president of the LaGuardia Community College/CUNY Student Government Association for the 2022-2023 academic year. Jhin, an Accounting major, says he was inspired to apply for the leadership role by his experience serving in the South Korean military. He is pictured below in red.
"I'm honored to serve LaGuardia students and the college as SGA president. At first, I was afraid to receive the spotlight as SGA president, given my intermediate English level," Jhin says. "However, I stepped up because I wanted to feel proud of my college after graduation. Serving in the South Korea military taught me the importance of civic responsibility."
"Cultivating future civic leaders and community advocates, through experience on LaGuardia's SGA, is one of the important ways that we serve our college's mission to graduate socially responsible citizens who can help shape a rapidly evolving society," says Kenneth Adams, president of LaGuardia Community College.
In 2021, Mr. Jhin came to the U.S. from South Korea and enrolled at LaGuardia as a full-time student. He immediately looked for ways to make the most of his time as a LaGuardia student. H joined the the Phi Theta Kappa International Honors Society, the Honors Program, and the Honors Student Advisory Committee (HSAC). In addition, he was selected for the Goldman Sachs 10,000 Small Businesses Fellows program at LaGuardia, where he was placed in an accounting internship at Reginensi Consulting.
As SGA president, Jhin and his fellow SGA representatives are planning to ask students how they can best support them on their journey to graduation and establishing meaningful careers.
"We want to hear directly from students about their concerns and ways we can help address them," says Jhin, who as SGA president is a LaGuardia delegate on the CUNY University Student Senate. "I also plan to use my role to help educate LaGuardia students about financial literacy—having seen too many friends and family fall victim to financial fraud. It's one of the reasons I'm passionate about accounting."
Jhin plans to graduate from LaGuardia in June 2023, and then further his studies in finance and accounting at Baruch College or Columbia University. His career goals are to contribute to financial education for young people in the world, including in South Korea, and to catch financial manipulations and frauds on Wall Street as a financial auditor at one of the big four accounting firms.
Posted November 3, 2022