Red Hawks Athletics Program Recruiting Student Athletes in Preparation For 2023-2024 Season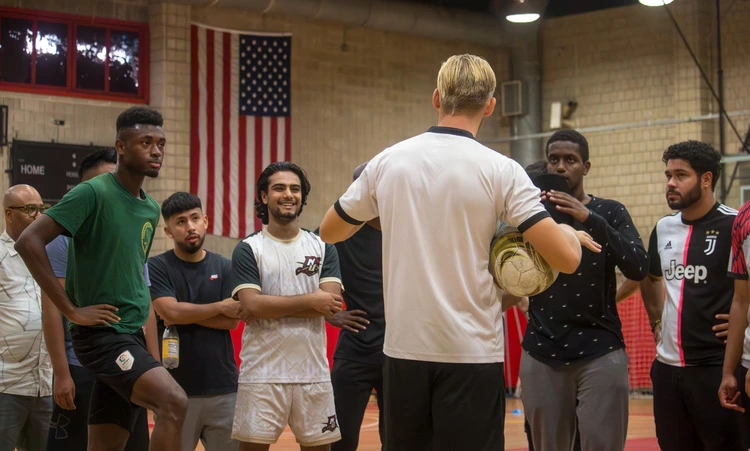 LONG ISLAND CITY, NY (August 16, 2023) — LaGuardia Community College/CUNY is preparing to welcome students to the start of the 2023-2024 academic year on September 8. As students settle in, the Red Hawks Athletics Program is inviting student athletes to join a variety of sports coming back after years on hiatus.
Andrew Walker, Director of LaGuardia's Athletics Program, says this season promises to bring more opportunities for students, faculty, and staff to cheer on the Red Hawks.
"I'm very excited about our men's soccer team," Walker said. "For the first time in our second year of existence as a soccer program we were able to recruit. Our men's head coach Ahmed Johnson and assistant coach Evan Kostylev 'Coach K' have bought an energy this year to our program. Our numbers speak to that enthusiasm. So far, we have over 22 players on the team. Our schedule is set, and the players are ready to compete."
Walker says he is also excited to see the Red Hawks men's and women's basketball teams coming back. Both teams were on hiatus for more than five years and they just started up again last year.
"This year both men's and women's coaches had more time to prepare for the upcoming season," Walker said. "For each sport our student athletes participate in, I judge success not only how you start a season, but how you finish the season. They should ask themselves, 'Did you give it your best on the field of play, and did you do your best in the classroom?' I expect the best from our coaches, their leadership, integrity, and the sportsmanship of our student athletes."
Men's Soccer Prepares for Tryouts
Ahmed Johnson, head coach of men's soccer, and Evan Kostylev, assistant soccer coach invited students for an informal meeting and practice on August 15, in the Red Hawks Gym. Students practiced close-touch ball handling drills and dribbling, along with other technical skills to prepare for tryouts scheduled in September.
Johnson said they have generated a lot of interest from students so far, and they are hoping more will show up for formal tryouts.
"The team will perform successfully if we can win games, perform well in the classroom, complete community service and finish the whole season with everyone still eligible," Johnson said. "I want all of our student athletes to be role models and leaders. The goal is to show everyone that LaGuardia CC is a wonderful school with amazing student athletes and incredible faculty. We want to be able to compete on the field and in the classroom for the upcoming season."
LaGuardia students who are interested in joining the men's soccer team, can contact Coach Ahmed Johnson at ahjohnson@lagcc.cuny.edu; and assistant soccer coach Evan Kostylev, Evkos99@gmail.com.
Men's and Women's Basketball Starts Late October
Jarrett Lockhart, coach for the men's basketball team, says the team is prepared for the season and will be hosting tryouts in late September.
"Last year's team was not fully assembled until right before the season started, so there was a lack of chemistry which hurt us on and off the court," Lockhart said. "This 2023-24 team has been building and working since early April and they are currently finishing up a six-week Summer workout session which has allowed them to grow together months before the first day of official practice."
Lockhart says, "The culture of the program has shifted, and the players have developed a mindset of hard work, toughness, discipline, and togetherness. I want the guys to understand that being part of a team and playing sports at the college level is about more than basketball; it's about accountability, responsibility, integrity, and purpose. Keys to life through sports that they will learn as the season progresses."
Basketball season won't be starting until late October, and the LaGuardia men's roster is still being out together. Students interested in joining can contact Coach Lockhart at: jlockhart@lagcc.cuny.edu.
Shareika Parry, head coach of the women's basketball team, says she is looking forward to the return of women's basketball at LaGuardia. Parry says recruitment is underway and she is hopeful many students will join.
"I am pleased that after a five-year hiatus, athletics has returned to LaGuardia Community College, however; our initial season faced a significant challenge: recruitment," Parry said. "Due to LaGuardia's Athletics absence from the city for some time, it was not an option for urban students. Our team had to work diligently to disseminate the news and generate interest. Fortunately, our hard work has paid off, and we are thrilled to announce that three exceptional student-athletes have committed to playing for the LaGuardia Red Hawks immediately following their high school graduation. It promises to be an exhilarating season, and we eagerly anticipate what the future holds for our team."
Parry says she hopes the return of women's basketball will also encourage attendance by students, faculty, and staff.
"I am highly enthusiastic about the upcoming season and hold great expectations for the players who will be returning to the team," Parry said. "I firmly believe that they possess the ability to excel and secure college offers. Additionally, as a team, we are capable of meeting significant targets. My confidence in the LaGuardia Red Hawks' potential to make a comeback and demonstrate our exceptional capabilities to all the boroughs is unwavering."
Students interested in joining the women's basketball team can contact Coach Shareika Parry at: sparry@lagcc.cuny.edu or assistant women's coach Kimberley Coke at Kcoke@lagcc.cuny.edu.
Men's and Women's Cross-Country Begins
The 2023-2024 season brings men's and women's cross-country to LaGuardia. Peter Briguglio, the cross-country coach, said this will be the inaugural season of the Red Hawks cross-country program. The teams are currently scheduled to compete in at least five races, including the CUNY Athletic Conference Championship on October 29.
The complete schedule is still being finalized and will be available on the Athletics webpage. Briguglio said recruitment is underway, and he is looking forward to preparing the men's and women's cross-country teams for competition.
"We plan to utilize our recently modernized fitness center for strength training days as well as our new treadmills for most speed and hill workouts," Briguglio said. "We will run around the perimeter of the M and E buildings, which is safest for local outdoor running and measures almost exactly 800 meters. We will also take our teams to trail run workouts at local public trails such as Cunningham Park, Alley Pond Park, and Van Cortlandt Park so our athletes can run on similar terrain to what they'll race on."
Briguglio said the most important thing to help the cross-country teams will be team.
"We will only have about two weeks between tryouts and our first competition," he said. "I don't expect each of our athletes to be elite runners, but I do expect them to work hard, prioritize their studies, and complete the season more fit and more well-rounded than when they began it. To me, a successful season is one where our freshmen athletes are eager to return in Fall 2024 and our sophomore athletes graduate in the Spring."
As Briguglio works on recruiting runners, he says he looks forward to being involved in the day-to-day aspects of training our student-athletes and being in a position that can directly impact their experience at the College.
"I know how much running benefits me in my life, and I'm excited to be able to share the knowledge and passion I have with our teams," Briguglio said. "As a former student-athlete myself, my fondest memories of college all come from the road trips and competitions I shared with teammates, and I hope our program can provide similar experiences to LAGCC students and help them progress toward graduation."
Students who are interested in joining the men's and women's cross-country team can contact Coach Briguglio at Pbriguglio@lagcc.cuny.edu.
College Community Encouraged to Support Red Hawks
Walker says bringing back Athletics has its challenges, but he is hopeful the 2023-2024 season will be a success.
"The most challenging aspect of recruiting players is facilities," Walker said. "Our college is land locked and we have nowhere to put a soccer or track and field, softball complex. I think I have some great ideas that at some point I'd like to share with whomever will listen. The most rewarding are the students themselves. To give their time and commitment to the sports they love to play is priceless. We don't offer scholarships. Our student athletes do for the love the sport and the college they represent."
"Home team advantage is real and if your fans show up and support the teams it makes a difference," Walker added. "The community should also be a part of this resurgence, our athletics department and with your assistance will have posters and flyer in the college and local businesses."
• • • •
LaGuardia Community College (LAGCC), a Hispanic-Serving Institution, located in Long Island City, Queens offers more than 50 degrees and certificates, and more than 65 continuing education programs to educate New Yorkers seeking new skills and careers. As an institution of the City University of New York (CUNY), the College reflects the legacy of our namesake, Fiorello H. LaGuardia, the former NYC mayor beloved for his advocacy of underserved populations. Since 1971, LaGuardia's academic programs and support services have advanced the socioeconomic mobility of students while providing them with access to a high quality, affordable college education.
####