NEH Awards LaGuardia Professors Grant to Support Interdisciplinary Exploration of Maritime Histories of New York City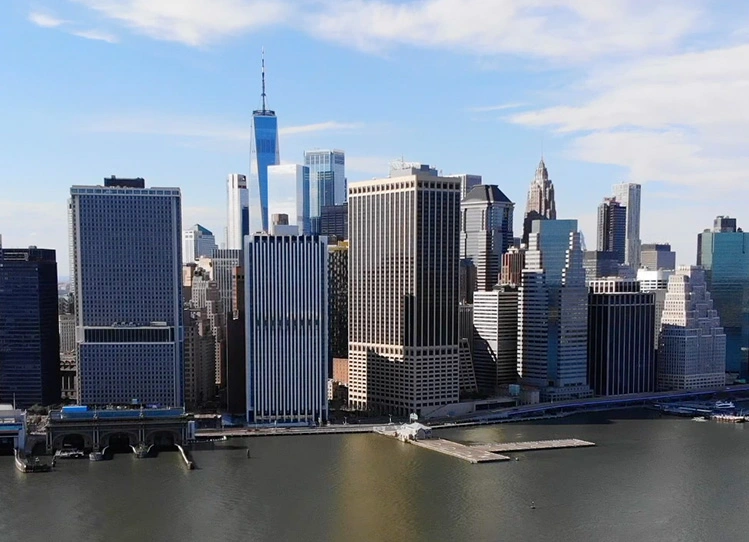 LONG ISLAND CITY, NY (August 16, 2023) — LaGuardia Community College/CUNY recently received a $189,986 grant to support an interdisciplinary project led by Dr. Christopher Schmidt, professor of English, and Dr. Karen Miller, professor of history. The grant was awarded by the National Endowment for the Humanities (NEH), which announced $41.3 million in grants for 280 humanities projects across the country, including LaGuardia through the CUNY Research Foundation.
The project titled, "New York as Port City" focuses on the history of maritime and migration in New York City. As part of the project, 40 higher-education faculty and humanities professionals would be invited to participate in an experiential learning case study. "New York as Port City" will involve two one-week workshops (one week in June and one week in July of 2024). Each workshop will invite 20 higher education and humanities professionals to explore the maritime histories of New York City and their effects on the present-day city.
"The Port City workshops will conduct site visits to landmarks, including Manhattan's historic port architectures, museums of maritime and migration history, and shipping infrastructures," said Professor Miller. "Through readings and discussions, walking tours, and four visiting scholar presentations, we will explore how the city's waterfront has changed in response to shifting economic conditions and ecological crises. The city will serve as a learning lab as we explore the cultural shifts and ecological challenges that have transformed the original port into today's vibrant and diverse global city."
Professor Schmidt says they envision the workshops will appeal to scholars and humanities professionals across many disciplines, particularly those interested in developing experiential learning activities and incorporating place-based learning into their classrooms.
"The topic is of clear relevance to maritime historians and scholars of New York Studies, but it will also appeal to teachers, researchers, and humanities professionals in other fields," Professor Schmidt said. "Union organizers and labor historians will be eager to explore aspects of the city's stevedore and longshoreman union and waterfront cultures. American Studies and Ethnic Studies scholars will find the discussions of migration, community, and memory cultures relevant to their teaching. Museum professionals may join the workshop to learn about experiential learning and to expand their place-based educational offerings."
The "New York as Port City" workshops will provide structured opportunities to experience the city's maritime histories in site-based learning activities. It will also address the challenges this waterfront city must confront in the face of rising sea levels.
"While LaGuardia is the host institution for the grant, New York City will be our classroom," said Professor Miller. "Every day will involve exploration of the boroughs and New York Harbor, including historic port infrastructures in Manhattan and Brooklyn, as well as the active port of Newark, New Jersey. We will visit landmark sites that speak to the city's origins and development through maritime trade and naval occupation."
The project will include visits to South Street Seaport Museum, the former military base on Governor's Island, the lower Manhattan waterfront, and the actively used Port of Newark's Container Terminal.
"We will also explore New York's history as a port of entry for migrants by visiting The African Burial Ground National Monument, the Museum of Chinese in America, and African-American Maritime Heritage Program at the Mary A. Whalen retired oil tanker in Red Hook, Brooklyn," said Professor Schmidt.
The project will also include tours to the harbor and to learn about efforts to remediate environmental pollution resulting from waterfront industry and maritime commerce. This will include visits to Portside in Brooklyn, a non-profit "living lab" devoted to "better urban waterways," as well as the Billion Oysters Project on Governor's Island, a major "green" remediation of New York's polluted harbor.
"We will also consider the historical impact and political rise of the Port Authority of New York and New Jersey, which is proposing a $52 billion project of sea barriers and levees to guard the city from extreme weather events," said Professor Miller.
As part of their research, the group will be considering the role of space and site, and they will also consider how experiential learning and spatial analysis can supplement text-based learning in classrooms and research areas.
Professor Schmidt said he worked with Professor Miller recently on a different NEH Grant titled, "Border Lands, Border Waters," which brought scholars of border studies to LaGuardia for presentations and workshops with other CUNY faculty. He said they wanted to extend these explorations by turning to our own local environment – the New York City harbor.
"We are very excited to be leading groups of educators, historians, and arts professionals on walking tours of the city's shoreline and waterways," Schmidt said. "With this new grant, we'll be looking more closely at the history and culture of our city as told through its waterways. How did exploration, maritime trade, and military occupation of the harbor create the city as we know it? Pressing issues of climate change and rising sea levels make this study urgent. We want to understand how the harbor's history affects its present—and what clues that history can give us as we confront environmental challenges that confront our port city."
• • • •
LaGuardia Community College (LAGCC), a Hispanic-Serving Institution, located in Long Island City, Queens offers more than 50 degrees and certificates, and more than 65 continuing education programs to educate New Yorkers seeking new skills and careers. As an institution of the City University of New York (CUNY), the College reflects the legacy of our namesake, Fiorello H. LaGuardia, the former NYC mayor beloved for his advocacy of underserved populations. Since 1971, LaGuardia's academic programs and support services have advanced the socioeconomic mobility of students while providing them with access to a high quality, affordable college education.
####