After 19 Years As President Of LaGuardia Community College, Dr. Gail O. Mellow To Give Her Final Commencement Address
—More Than 1,700 to Graduate at LaGuardia's 2019 Commencement—
Thursday, June 13, 2019 @ Barclays Center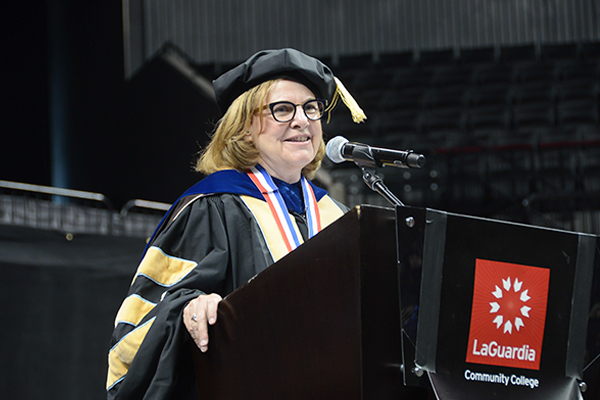 Long Island City, NY—LaGuardia Community College President Gail O. Mellow will give the keynote address at LaGuardia Community College's 47th Commencement on June 13, 2019 at Barclays Center. It will be the last commencement that Dr. Mellow will preside over as president of the college; she recently announced plans to step down in August 2019.
Dr. Mellow has served as president of LaGuardia Community College since 2000. During her tenure, she's become a national voice for community colleges—advocating for increased funding for and acknowledgement of the significant role that two-year colleges play in the U.S higher education system. In 2017, she was awarded the TIAA Institute Hesburgh Award for Leadership Excellence, one of the most prestigious awards in academia.
Under Dr. Mellow's leadership, LaGuardia is among the top 1% of two-year colleges nationwide (#5 out of 604) with the greatest success in lifting the poorest students into jobs that enable them to create better lives for themselves and their families, according to research led by analysts at Stanford University's Center on Poverty and Inequality.
WHO: Members of LaGuardia's Class of 2019
• More than 1,700 students will receive their associate degree in one of more than 60 majors from LaGuardia Community College
• LaGuardia Community College President Gail O. Mellow; additional college leadership, faculty and staff; representatives of the City University of New York (CUNY); and other esteemed guests
• Alumni Speaker: Aida Akim-Escriva (LaGuardia'15), who works in fundraising for the Global Fund for Women. Ms. Akim-Escriva spent her childhood in Kyrgyzstan, Kazakhstan, and Russia, before immigrating to the United States. After earning her associate degree in journalism from LaGuardia, she went on to earn her bachelor's from Amherst College.
• Class of 2019 Speaker: Kishauna Givans, a 30-year-old therapeutic recreation major who was born and raised in Jamaica. Ms. Givans plans to transfer to a four-year college to earn her bachelor's, and then pursue a career in health care public policy.
WHAT: LaGuardia Community College's 47th Commencement
WHERE: Barclays Center, 620 Atlantic Avenue, Brooklyn, New York, 11217
WHEN: Tuesday, June 13, 2019, 9 a.m. ET
Press Call: 8 a.m. ET. Reporters should enter Barclays Center via the VIP Entrance at the corner of Atlantic Avenue and Fort Greene Place.
Commencement will be live-streamed on LaGuardia's YouTube channel.
• • • •
LaGuardia Community College (LAGCC), located in Long Island City, Queens, educates thousands of New Yorkers annually through degree, certificate, and continuing education programs . LaGuardia is a national voice on behalf of community colleges, where half of all U.S. college students study. Part of the City University of New York (CUNY), the College reflects the legacy of our namesake, Fiorello H. LaGuardia, the former NYC mayor beloved for his championing the underserved. Since our doors opened in 1971, our programs regularly become national models for pushing boundaries to give people of all backgrounds access to a high quality, affordable college education.
####