May 6, 2019
Queens College And LaGuardia Community College Launch Small Business Development Center (SBDC) At Queens College
— SBDC Serves Immigrant Entrepreneurs and Other Under-Represented Populations in Flushing, Initial Outreach is Offered in English and Mandarin;
U.S. Congresswoman Grace Meng Facilitated the Launch —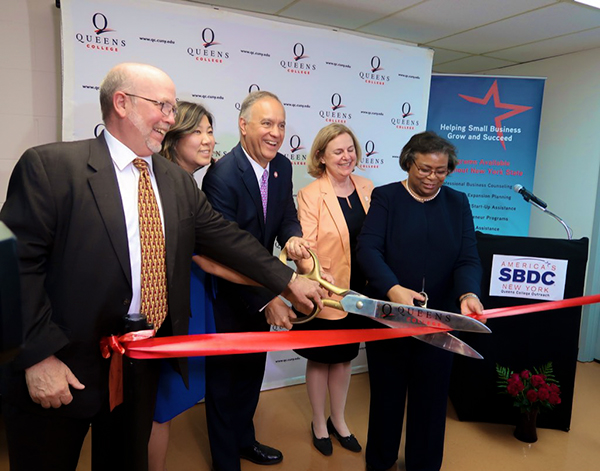 At a ribbon-cutting marking the opening of the Queens College SBDC on Monday, May 6, 2019, with (from left to right): Queens College Dean of Arts and Humanities Michael Wolfe; The Honorable Congresswoman Grace Meng; CUNY Chancellor and Queens College President Félix V. Matos Rodríguez; LaGuardia Community College President Gail O. Mellow; and Director of the LaGuardia Community College SBDC Rosa Figueroa (photo credit: CUNY).
Queens College and LaGuardia Community College jointly launched a Small Business Development Center (SBDC) at Queens College today, with a press conference and ribbon-cutting ceremony. Made possible with support from U.S. Congresswoman Grace Meng (D-Queens), the center serves immigrant entrepreneurs and other underrepresented populations of Flushing, Queens. Services will initially be offered in English and Mandarin. The center is located at Queens College, Kissena Hall, 64-19 Kissena Boulevard, opposite the main campus. It is the third SBDC in the borough of Queens, and the ninth in New York City
City University of New York Chancellor and Queens College President Félix V. Matos Rodríguez stated, "This new center will provide vital assistance to budding entrepreneurs, including immigrants, whose start-up businesses are indispensable to our borough and city. We very much look forward to seeing the results of successful collaborations between the center's clients and its skilled staff, complemented by the talents and contributions of our Tech Incubator team, faculty, and student interns."
Congresswoman Grace Meng facilitated the launch of the new SBDC after noting the need for additional services to support small business owners in Flushing and surrounding areas. The center is initially being overseen by Rosa Figueroa, director of the LaGuardia Community College SBDC​. Since its opening in 2001, that center has served nearly 6,000 businesses, helping them invest more than $60 million in the area's economy and create or save nearly 2,000 jobs. Figueroa will train two business advisors who will support the business community on site at the Queens College SBDC.
"Since 2014, I have worked tirelessly to create an SBDC in northeast Queens, and today, that goal is finally a reality," said Congresswoman Meng. "What better way to celebrate National Small Business Week than to unveil this great facility. SBDC's help small businesses grow and thrive, and this new center will ensure that local entrepreneurs have the resources they need to succeed. I am proud to have secured the funding to establish this SBDC and I'm thrilled to have selected Queens College for its home. Small businesses are the economic engine of our economy in Queens and across the nation, and it's imperative that government be a strong partner in helping them succeed and flourish. I look forward to this facility serving the needs of local entrepreneurs for many decades to come, and I urge all local small business owners to take advantage of the valuable resources that this SBDC will be offering."
Small Business Development Centers help small businesses grow by working with them to develop business plans and apply for government loans. Strategically located regional centers, hosted primarily on college campuses throughout the state, provide ready access to training and counseling services. This effort nurtures entrepreneurship and innovation, targets regional and local needs, and aligns with New York State's approach to regional economic development. The state's SBDC network is the result of collaboration among the U.S. Small Business Administration, the State University of New York (SUNY), the City University of New York (CUNY), private universities, and the private sector.
"I have seen first-hand Queens College's dedication to entrepreneurship, and when I was approached by Congresswoman Meng and Dr. Félix V. Matos Rodríguez to explore opening a center, it soon became evident that this would be a win-win for the community and SBDC," said Brian Goldstein, state director, New York State Small Business Development Center. "We look forward to growing small business and entrepreneurship opportunities in this wonderful new location."
"Having this opportunity to expand support for immigrant entrepreneurs and other small business owners in Flushing, Queens through our partnership with Queens College, is extremely meaningful," said LaGuardia Community College President Gail O. Mellow. "Not only is this a model for future collaborations—bringing expertise to communities where it's needed, and thereby shortening ramp-up time. But small businesses are the lifeblood of our communities—when they thrive, our communities thrive. They provide jobs, close access to services, and more. We're very pleased to be working with our colleagues at Queens College in this important endeavor."
The Tech Incubator at Queens College (TIQC)—the first facility of its kind in the borough—and the college's programs, including its Bachelor of Business Administration and its minor in Business and Liberal Arts, will offer opportunities for collaborations among SBDC clients and QC faculty and students. The Queens College SBDC will also focus on supporting the tech business community—from start-ups to established businesses—leveraging the college's strengths in computer and data science, and drawing on the resources of the TIQC.
LaGuardia Community College's SBDC has successfully served such immigrant entrepreneurs as Ms. Kiyeon Nam, who sought help during the startup phase of her business, B'zT, LLC.® , which makes children's clothing with tracking devices.
"LaGuardia's SBDC, especially its director Rosa Figueroa and business advisor Seyoung Son, have helped me grow my business substantially," said Kiyeon Nam, who moved to the US from Korea more than 20 years ago. "I've been working with them since 2016. With their guidance, I added a device that enables the tracking of up to 30 children at once—a great tool for field trips. They also supported me as I began marketing my product as a tool to monitor students' whereabouts at school—it sets off an alarm if a student attempts to walk out of a school building." B'zT® has been recognized by PC Magazine as one of the top tracker solutions.
• • • •
About Queens College
Queens College graduates the most teachers, counselors, and principals serving in New York City public schools. The college contributes to the local talent pool as a powerful economic engine and a leader in tech education, with more computer science majors than any college in New York City. Students from across the country and around the world are attracted to study at the Aaron Copland School of Music. Its renowned faculty and alumni include nationally recognized composers, conductors and performers who have received over 100 Grammy Awards and nominations.
Queens College enjoys a national reputation for its liberal arts and sciences and pre-professional programs. With its graduate and undergraduate degrees, honors programs, and research and internship opportunities, the college helps its nearly 20,000 students realize their potential in countless ways, assisted by an accessible, award-winning faculty. Located on a beautiful, 80-acre campus in Flushing, the college is cited each year in the Princeton Review as one of the nation's 100 "Best Value" colleges, as well as being ranked a U.S. News and World Report Best College and Forbes Magazine Best Value College thanks to its outstanding academics, generous financial aid packages, and relatively low costs. Visit our homepage to learn more.
About LaGuardia Community College
LaGuardia Community College (LAGCC), located in Long Island City, Queens, educates thousands of New Yorkers annually through degree, certificate, and continuing education programs . LaGuardia is a national voice on behalf of community colleges, where half of all U.S. college students study. Part of the City University of New York (CUNY), the College reflects the legacy of our namesake, Fiorello H. LaGuardia, the former NYC mayor beloved for his championing the underserved. Since our doors opened in 1971, our programs regularly become national models for pushing boundaries to give people of all backgrounds access to a high quality, affordable college education.
####