Mechanical Engineering Major & Mom of Two, Ramona Wilkins, is Writing Her Own Future
December 17, 2018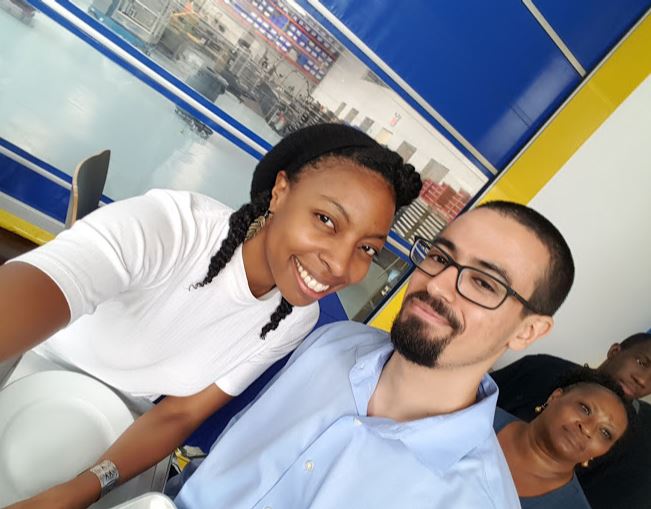 Ramona Wilkins is pictured at left above, with Shareef Alhanshaly, a LaGuardia electrical engineering student who recently completed an internship at Boyce.
"Calculus II was my nemesis," says Ebaneeka "Ramona" Wilkins-Kolkmeyer, age 29. "I had to drop it a few times and start over, but I never gave up. I've gone from remedial math to differential math and linear equations. I'm a mom with aging parents; I'm not the perfect student. But I stick with it and give it my all."
Today, Ramona is planning to graduate from LaGuardia Community College in June 2019 with her associate's in Mechanical Engineering, and then pursue a bachelor's in the same field.
"I'm proud that I've gotten this far," says Ramona, who was born in NYC, where she and her family lived until they moved to Montego Bay, Jamaica when Ramona was nine-years-old. "I'm grateful I got to experience two very different cultures."
After finishing high school in Jamaica, she moved to Queens and enrolled at the Vaughn College of Aeronautic Engineering, Aviation, and Technology to pursue a certificate in aviation maintenance. "I've always had a passion for aviation," she says.
"Then my daughter was born, which helped me see the importance of having a career in a field that I loved. I realized that I wanted to design airplanes, not just repair them. I wanted to find a field that also involved two of my other interests: science and machinery. I visited a few four-year colleges and spoke to engineers working in the field, and decided to enroll at LaGuardia Community College. The engineering program here was well-respected, the college was affordable, and I learned that most if not all credits would be applied towards my major when I transfer to a four-year college."
She started at LaGuardia in September 2013, and enrolled her then 18-month-old daughter, Sophie, in the college's on-campus, subsidized daycare, the Early Childhood Learning Center (ECLC).
Not having done much math since high school, she placed into pre-algebra, a developmental math course, which she was required to pass before she could take college-level math courses. "I embraced having to take pre-algebra. I got to relearn math I'd done in the past, and learn new things."
She passed pre-algebra and continued taking math courses, which went well until she got to Calculus II. The first time she took it, she was overwhelmed with a new baby that kept her up nursing at all hours. During the second round, she had a miscarriage mid-semester, and then took off time to care for her mother who was battling cancer. So, she took it a third time, which was going great until she had a major respiratory issue. She took it a fourth time, and at last passed it, with an A-.
"I worked so hard for my A-!" says Ramona. "Calculus II was a real character-builder for me. It taught me how to study better, how to teach myself, and how to focus. I've had truly phenomenal professors. They challenged me and set high expectations. I was like, 'Wow—I've got to be on it. Life's real, buck up.' The professors really care about students—if you put work in, they definitely care."
Ramona also learned how to ask for help. "I've gone to the Math Lab so often that literally everyone there knows me."
"I couldn't have gotten here without LaGuardia's Early Childhood Learning Center," says Ramona. "Going to school is hard; majoring in engineering is hard. Being able to have my children on campus with me, in an enriching environment where I know they're being well-taken care of and are learning so much, is incredible. They have swimming classes, and go on field trips. And it's affordable! It made me feel like there was no reason for me to not go to school and better myself."
Her son, Leon "Jack," is in pre-K at the Center; Sophie is now in first grade at a school near the family's home in East Elmhurst, Queens.
Having access to affordable on-campus childcare allowed Ramona to have two career-developing internships secured through First Big Break, LaGuardia's Honors Internship Program.
She worked for two years at MTA Bridges and Tunnels, first in its archive and then in its Mechanical Group. "I wouldn't have gotten this internship if I hadn't taken learned about Robert Moses, the urban planner who shaped New York City's highways, tunnels and bridges, in a social sciences class at LaGuardia. This showed me that the core curriculum is there for a good reason, even if you don't know how it'll benefit you at the time. It's important to be a well-rounded individual. Life has an incredible way of bringing many experiences into a full circle."
Currently, Ramona is an intern at Boyce Technologies, a Long Island City company that manufactures communications devices for the NYC Subway, among other products. At Boyce, Ramona works in R&D with mechanical engineers, doing odd jobs like making gussets and circuit board chassis. "I absolutely love it here. The culture is great. It's fast paced. I get to put my skills to the test, as well as learn invaluable insights of the engineering world through my mentors. This internship has helped me determine that I definitely want to pursue a career in mechanical engineering."
Ramona thanks the professors who have challenged her and supported her journey. In mathematics, Mahamane Traore, Tao Chen, Frank Wang, Abdou Drame, Mahdi Majidi-Zolbanin, and Rudha Meangru. She credits Professor Philippe Mercier for giving her an appreciation for chemistry. And she says that Physics Professor Roman Senkov taught "one of the best classes I ever had."
"LaGuardia has been amazing for me," says Ramona. "By the time I graduate, I'll have been here for about five years. I've met wonderful people here and I'll miss them all very much."
• • • •
LaGuardia Community College (LAGCC), located in Long Island City, Queens, educates thousands of New Yorkers annually through degree, certificate, and continuing education programs . LaGuardia is a national voice on behalf of community colleges, where half of all U.S. college students study. Part of the City University of New York (CUNY), the College reflects the legacy of our namesake, Fiorello H. LaGuardia, the former NYC mayor beloved for his championing the underserved. Since our doors opened in 1971, our programs regularly become national models for pushing boundaries to give people of all backgrounds access to a high quality, affordable college education.
####