LaGuardia's 'Project SEMBRAR' Offers Next Generation of Food and Agriculture Professionals First-hand Experience in Urban Farming and Management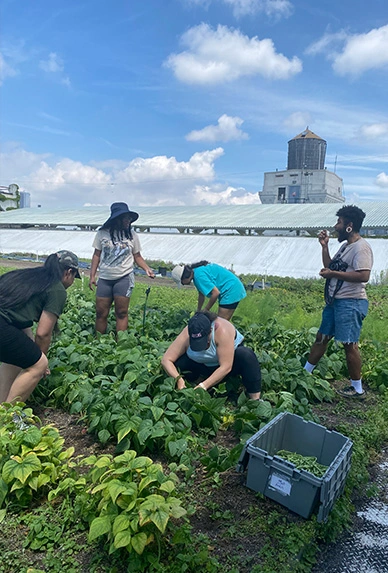 LONG ISLAND CITY, NY (August 1, 2023) — LaGuardia Community College/CUNY is giving students the opportunity to experience all aspects of urban farming and management, through Project SEMBRAR, thanks to the generous support from the U.S. Department of Agriculture (USDA) National Institute of Food and Agriculture (NIFA).
Project SEMBRAR was the brainchild of Dr. Preethi Radhakrishnan, Program Director of LaGuardia's Environmental Science Program, who co-taught the summer program with Dr. Holly Porter Morgan and Dr. Nicolle Fernandes. This project builds on the new track offered at LaGuardia in Sustainable Urban Agriculture.
The experiential learning program is an urban agriculture internship which is a part of Project SEMBRAR (Spanish: to plant), a $250,000 USDA funded HSI grant awarded to LaGuardia which is meant to recruit and enroll the next generation of urban agriculture professionals. As part of this 3-week paid internship, students visited and volunteered at urban farms in Queens and Brooklyn for the first 2 weeks and then completed a week-long residency at SUNY Cobleskill.
"It was a competitive application process, the chosen finalists were an eclectic mix of environmental science, sustainable urban agriculture, nutrition and culinary management, veterinary technology, film and photography and animal science majors at LaGuardia," said Dr. Radhakrishnan.
During the first 2-weeks LaGuardia's partnerships were focused on urban agriculture. The students visited Oko farms, Queens County Farm and Museum, Kingsland Wildflowers and Brooklyn Grange, where they learned firsthand about different types of farming techniques such as aquaponics, hydroponics, rooftop farming and land based regenerative agriculture. At Connected Chef, students packed more than 150 boxes of food for the local Queens community and learned about food access, food justice and food sovereignty from the founders.
"The discussions we had with the farmers at each location were rich and filled with conversations around what the future of farming looks like in urban landscapes through the lens of climate resiliency," Dr. Radhakrishnan said. "Student reflections revealed that agentic and service-based learning are powerful ways to engage students with course content that is deeply meaningful. It was wonderful to see students engage in conversations with farmers and soil scientists about how soils are depleted by monocropping, about the differences in engineering that goes into rooftop agricultural spaces and about how food, agriculture, and healthcare are intimately related."
In the final week at SUNY Cobleskill the LaGuardia group partnered with professors, Stephen Weir and Timothy Moore who are part of the Agricultural Business and Food Systems Department. The LaGuardia group also met with the Commissioner of Agriculture, Richard Ball at his Schoharie Valley Farms and students were able to ask him questions about the future of the agricultural workforce.
"During this week-long venture at SUNY Cobleskill's 902-acre campus, students learned about dairy processing, which included milking cows," said Dr. Radhakrishnan. "We also participated in many hands-on modules focused on precision agriculture, wildlife and fisheries science, small animal industry and fermentation science. Students were able to interact with professors at the 4-year school, from Environmental and Energy Technology, Plant Sciences, Fisheries & Wildlife, and Animal Sciences."
Dr. Radhakrishnan says community-led, and service-based learning, which lies at the core of this internship, allows students to contextualize and see the impact their education can have on the lives of their community and the planet.
"Our partnership with the community-based farms and SUNY Cobleskill was an affirmation that students come alive and apply their passion to a project when it is born of their own direct experience, interest, and direction," she said.
Project SEMBRAR began in August 2021, with the main goal to sustain and grow the next generation of Urban STEM agricultural leaders. Dr. Radhakrishnan says LaGuardia has seen the fastest growth in STEM graduates, increasing 76% since 2015-16.


"Project SEMBRAR aims will leverage NIFAs mission and LAGCC's expertise in STEM to education to build a scaffolded pathway to degrees and careers in urban agriculture and food science for Hispanic and low-income students of color, anchored by robust high-tech career development opportunities, outreach and curriculum," she said. "This project will do this by building and strengthening strategic partnerships between high school, associates, bachelor's programs and local community stakeholders; creating opportunities and access to food and agricultural careers in the public and private sector; and strengthening recruitment, retention and leadership at LaGuardia and our four-year CUNY partner institutions."
Dr. Radhakrishnan says she hopes to continue enhancing this program to offer more experiential learning opportunities for students.
"For me, witnessing the close partnerships that students made within these three weeks forming their 'educational family' seeing students engage with farmers and educators outside LaGuardia was incredible," said Dr. Radhakrishnan. "I would love to see this program continue in the future with perhaps more programming on our own LaGuardia Urban Farm on day."
• • • •
LaGuardia Community College (LAGCC), a Hispanic-Serving Institution, located in Long Island City, Queens offers more than 50 degrees and certificates, and more than 65 continuing education programs to educate New Yorkers seeking new skills and careers. As an institution of the City University of New York (CUNY), the College reflects the legacy of our namesake, Fiorello H. LaGuardia, the former NYC mayor beloved for his advocacy of underserved populations. Since 1971, LaGuardia's academic programs and support services have advanced the socioeconomic mobility of students while providing them with access to a high quality, affordable college education.
####