LaGuardia Student Sheik Shaneeza Ali is Channeling Her Passion for Helping Others into a Future Career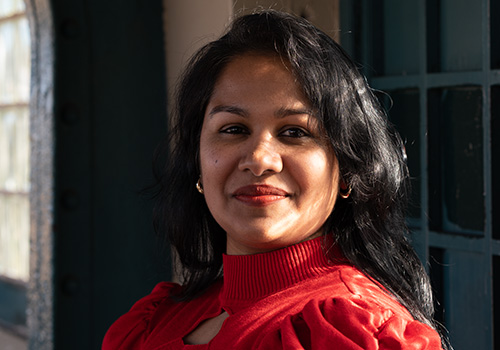 LONG ISLAND CITY, NY (February 08, 2023) — For LaGuardia Community College/CUNY student Sheik Shaneeza Ali, age 39, earning her college degree means getting a step closer to her aspiration for a career where she can apply her passion for helping others, particularly those from marginalized communities.
"In my home country, Guyana, there is a lot of poverty. I would see girls as young as 14 or 15 be married and having babies, or they would be sent to live with another family as a maid, or worse. I want to help victims of human trafficking and end these patterns of abuse."
Sheik and her husband moved to New York City from Guyana in 2018, seeking better opportunities for themselves and their three children. They settled in Richmond Hill, Queens, and her husband found work as an associate at a bank.
However, shortly after moving here, Sheik realized she was falling into a depression.
"I came from a poor background, so I've been working since I was 16 years old. That changed when I moved to the U.S. I had a high school diploma from back home, but the jobs I qualified for here were minimum wage. And with my youngest being six months old at the time, I would've had to give my entire salary to a babysitter," said Sheik. "I was feeling down, but soon recognized that I needed to view the changes in my life not as a burden, but an opportunity. I had time to study!"
She reached out to LaGuardia Admissions and heard back from director Shannon Lund. "He advised me to get my GED in NYC to qualify for in-state tuition. He was tremendously helpful."
After earning her GED, Sheik enrolled at LaGuardia in fall 2021.
Now, Sheik is in her second year at LaGuardia and an ASAP student. She has a 3.98 GPA and is getting ready to graduate in June with her AAS in Paralegal Studies. She then plans to go to John Jay or St. John's University for her bachelor's, and then ultimately plans to go to law school.
Sheik is dedicated to making the world a better place. Last year, she worked with the LaGuardia Humanitarian Initiative to design flyers to raise funds for the Malala Fund towards girls' education, and volunteered at a food drive for LaGuardia CARES. Outside of LaGuardia, she volunteers with New York Cares and is a blood donor.
"I waited for almost 24 years to start my first degree. I have worked hard and will continue to until I make my teenage-self proud!" said Sheik, whose children are now ages 5, 8, and 15. "At almost 40, I am not starting my journey, but I remain motivated by my endgame of helping others."
• • • •
LaGuardia Community College (LAGCC), located in Long Island City, Queens, educates thousands of New Yorkers annually through degree, certificate, and continuing education programs. LaGuardia is a national voice on behalf of community colleges, where half of all U.S. college students study. Part of the City University of New York (CUNY), the College reflects the legacy of our namesake, Fiorello H. LaGuardia, the former NYC mayor beloved for his championing the underserved. Since our doors opened in 1971, our programs regularly become national models for pushing boundaries to give people of all backgrounds access to a high quality, affordable college education.
####