LaGuardia Performing Arts Center Spotlights Western World's 1st-Ever Female Playwright in New Work, Sex and the Abbey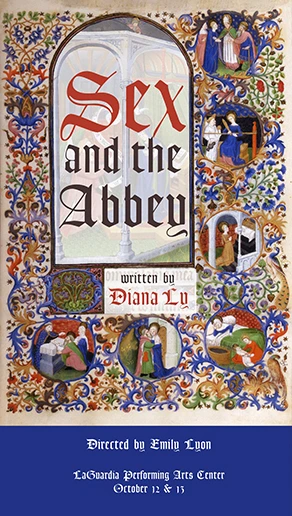 LONG ISLAND CITY, NY (September 27, 2023) —  The LaGuardia Performing Arts Center (LPAC) at LaGuardia Community College/CUNY, kicks off its 11th annual Rough Draft Festival with a new play, Sex and the Abbey, written by Diana Ly and directed by Emily Lyon. 
Performances will be held on Thursday, October 12, 3:30 p.m. and Friday, October 13, 2 p.m. Post-show discussions will be held with the creative team following each performance. Reserve your tickets today. General admission $25; discounts available for LaGuardia faculty, staff, and students (call 718-482-5151 or email lpacboxoffice@lagcc.cuny.edu for promo code). 
For more than 10 years, LPAC's The Rough Draft Festival has celebrated the development of exciting, new work from fresh voices in the theater community. By providing innovative, boundary-pushing theater artists with space and stipends to further develop their works-in-progress, the Rough Draft Festival allows artists an opportunity to view their work on its feet, and gives audiences a unique, inside peek into the creative process. 
Sex and the Abbey tells the story of Hrotsvit, the first recorded female playwright in the Western world. Hrotsvit was a canoness living in the Gandersheim Abbey during the 10th century.  
In Sex and the Abbey, Gandersheim Abbey is under threat of male takeover when Emperor Otto visits. Hrotsvit and the other canonesses must impress him with a performance if they want to save the abbey — so they put together a show written by Hrotsvit herself. Throughout the play, the women are embroiled in lustful conflicts, the stress of daily prayers, and impassioned moral arguments, as they grapple with what it means to be a woman in 10th–century Saxony. 
Sex and the Abbey's creative team includes Diana Ly, Emily Lyon, Christine Scarfuto, and Lauren Holmes. Diana Ly is a Vietnamese-American screenwriter who holds her MFA in playwriting from Hunter College, and writes about women and people of color coming into their own power, agency, and artistry. Emily Lyon is a director and dramaturg creating witty, thoughtful theater for social impact. Christine Scarfuto is a dramaturg, producer, and educator with over a decade of experience in new play development and is director of the Rita and Burton Goldberg MFA Playwriting Program at Hunter College.  
For more information about LPAC's 2023–24 Fall/Winter season, click here.
• • • •  
LaGuardia Community College (LAGCC), a Hispanic-Serving Institution, located in Long Island City, Queens offers more than 50 degrees and certificates, and more than 65 continuing education programs to educate New Yorkers seeking new skills and careers. As an institution of the City University of New York (CUNY), the College reflects the legacy of our namesake, Fiorello H. LaGuardia, the former NYC mayor beloved for his advocacy of underserved populations. Since 1971, LaGuardia's academic programs and support services have advanced the socioeconomic mobility of students while providing them with access to a high quality, affordable college education. 
LaGuardia Performing Arts Center (LPAC) at LaGuardia Community College welcomes vibrant storytellers to create theater, music, and dance in order to inspire conversation, connection, and change within our diverse community. If you have a story, we have a home for it.
####