LaGuardia Partners With Robin Hood To Launch Credits For Success Initiative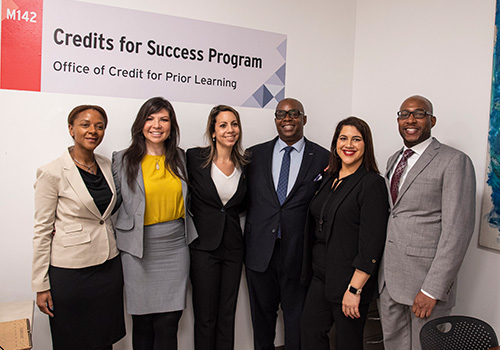 LONG ISLAND CITY, NY (February 10, 2023) — Students arrive to college with a variety of skills and experiences, including many that involve the equivalent of college-level learning. LaGuardia Community College/CUNY is committed to providing its students with equal opportunities to be recognized and validated for what they know and can do.
On February 10, LaGuardia welcomed its community partner Robin Hood, to celebrate the launch of Credits for Success, which offers students who have Credit for Prior Learning (CPL) experience with a high-quality pathway to acquire a college degree. CPL is an academic process that offers students the opportunity to earn credits for college-level learning acquired outside the traditional classroom.
Through a generous $1 million grant from Robin Hood, LaGuardia is expanding its academic opportunities to more students who are seeking to earn a college degree.
Kenneth Adams, President of LaGuardia Community College, said Credits for Success is an excellent example of how LaGuardia is doing more for the community.
"Launching this initiative has been instrumental in bringing more opportunities for students and a wonderful way to bring students back to our campus," Adams said during the Feb. 10 reception. "This initiative is a critical step for many students who are looking to get back on the educational pathway toward a better future. I am very proud of LaGuardia's partnership with Robin Hood to see this through."
Richard R. Buery, Jr., CEO for Robin Hood, echoed Adams' sentiments and said, "We could not be more excited about this work and this important investment in students and their futures. LaGuardia and CUNY are truly ready to carry this forward and help bring much-needed assistance for individuals who want to learn more and do more."
For many colleges across New York and the country, the pandemic has had an impact on student enrollment and the mindsets of students who have been considering a college degree. Buery said Credits for Success is a chance for students to realize their dreams.
"I'm happy to see that LaGuardia is finding a way to respect CPL of students who have stepped away from education for one reason or another," he said. "This is an opportunity for more students to earn a college degree. I am overjoyed to see Robin Hood partner with LaGuardia on this amazing initiative."
Credits for Success offers college credit eligibility through prior learning assessment of military training and occupations; standardized exams including Advanced Placement (AP), Cambridge, DANTES Subject Standardized Tests (DSST), Defense Language Proficiency Test (DLPT), and International Baccalaureate (IB); industry certifications and credentials, and portfolio assessment. Students interested in learning whether they qualify to receive CPL can submit a CLP Inquiry Form, visit the CPL website or email CPL@lagcc.cuny.edu.
LaGuardia students Taleida Gamble, human services major of mental health; and Joel Pujols-Villar, political science major, both know the benefits of CPL and the Credits for Success initiative.
Pujols-Villar, who is a recent graduate of LaGuardia is now a student at City College. He said Credits for Success helped him manage his time between work and school in order to complete his AA degree and transfer.
"I was going through a tough time trying to manage work, my living situation and my studies," he said during the reception. "I got a lot of support from the staff at LaGuardia to make sure that I was able to complete my studies without feeling overwhelmed. Now, I am excited to pursue my bachelor's degree, because I want to work with people who need help; and I want to help them like I was helped."
Gamble, is a returning student who currently works with Northwell as a mental health worker. She explained that life got in the way of having a seamless college experience; however, she was able to persevere with the help of Credits for Success.
"I've worked in health care for many years and I was pursuing a college degree, but things happen. I ended up going into college debt in the middle of trying to complete my undergraduate degree," Gamble said during the reception. "Without the help of Marsha (Oropeza), I don't know how I would have moved forward. I've never had anyone advocate for me like she did. I think I was calling her almost every week asking for assistance with classes or paperwork. She was there and it made a difference."
Marsha Oropeza, director of Credit for Prior Learning, Experiential Learning and Articulations and executive associate to the Associate Dean of Academic Affairs, said Credits for Success has had a big impact on enrollment and the college's ability to offer educational opportunities for more students who might not have been able to pursue their degree.
"Being able to partner with Adult and Continuing Education and with faculty across the college has really made this initiative a success," Oropeza said. "This is a collaborative effort with Robin Hood to improve the socioeconomic mobility for all of our students. It's remarkable to see the level of success that our students have achieved and we look forward to helping more students in the future."
• • • •
LaGuardia Community College (LAGCC), located in Long Island City, Queens, educates thousands of New Yorkers annually through degree, certificate, and continuing education programs. LaGuardia is a national voice on behalf of community colleges, where half of all U.S. college students study. Part of the City University of New York (CUNY), the College reflects the legacy of our namesake, Fiorello H. LaGuardia, the former NYC mayor beloved for his championing the underserved. Since our doors opened in 1971, our programs regularly become national models for pushing boundaries to give people of all backgrounds access to a high quality, affordable college education.
####