LaGuardia Community Colleges Receives $390,000 from Robin Hood Foundation for Innovative Bridge to College and Careers Program
October 28, 2020
LaGuardia Community College is pleased to announce a renewal grant of $390,000 from Robin Hood Foundation for the college's innovative Bridge to College and Careers Program. The program provides free high school equivalency preparation while exploring topics in healthcare, technology or business, to get students ready for college and future employment. Housed within the college's Adult and Continuing Education Division, the Bridge program has served over 2,500 students, thanks to Robin Hood's support over the past 10 years.
"We are grateful to Robin Hood Foundation for their ongoing support of our Bridge to College and Careers Program. The confidence Robin Hood has shown continues to serve as a critical foundation of the program's success in helping New Yorkers make better lives for themselves and their families. Because of Robin Hood's generous funding, we have been able to offer this program tuition-free, which is incredibly meaningful given the low-income, disadvantaged students we typically serve, and is even more so given the financial difficulties many students have as a result of the pandemic. Thank you again to Robin Hood Foundation," said LaGuardia Community College President Kenneth Adams.
By providing educational and career pathways for adults and out-of-school youth, LaGuardia's Bridge to College and Careers Program was designed to address historic challenges of high school equivalency education programs, including high attrition, low pass rates on the HSE exam, and a significant gap for HSE diploma earners in successful transition to college, certificate training programs, or the workplace.
The Bridge Program's evidenced-based approach to contextualized instruction, where curriculum is based upon content specific to a field of interest (healthcare, technology or business), continues to be recognized on a national level. Basic skills in math, writing and reading are taught using materials specific to the track, rather than generic material. Click here for MDRC's 2013 report on LaGuardia's Bridge program, which found that compared with students in a traditional HSE prep course, Bridge students were significantly more likely to complete the course, pass the HSE exam, and enroll in college.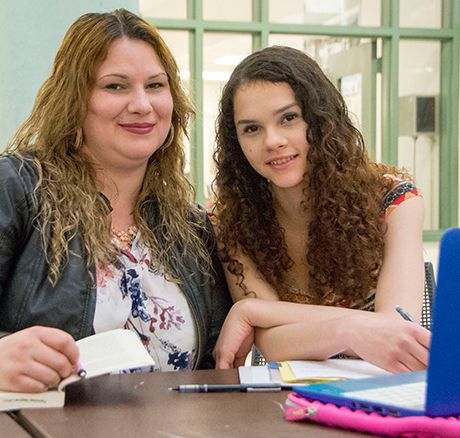 Sandra Chevalier is an example of the success of Bridge. The mother of five who was a high school dropout raised in foster and group homes, wished for more than another job at fast food place. When she came to LaGuardia's Bridge to College and Careers Program, she says staff "introduced me to a world of potential I never knew even existed for someone like me. They told me I could go to college and have guided me every step of the way." She enrolled in the healthcare track.
Less than a year later, Sandra earned her high school equivalency diploma. She then enrolled at LaGuardia Community College, alongside her daughter, Mariah Diaz, a LaGuardia psychology major, pictured here. Currently, Sandra is a Liberal Arts major at Hunter College.
As a result of the above-mentioned MDRC report and word of mouth about the success of Bridge to College and Careers, institutions around the U.S. have adopted the model in place of standard HSE programs, including University of Central Florida's Center for Higher Education Innovation and Northeast Wisconsin Technical College ( click here for an MDRC video about the Wisconsin program).
• • • •
Robin Hood Foundation has been finding, fueling and creating the most impactful and scalable solutions to lift families out of poverty in New York City for over 30 years. Visit https://www.robinhood.org/ to learn more.
LaGuardia Community College, located in Long Island City, Queens, educates thousands of New Yorkers annually through degree, certificate, and continuing education programs. Our guiding principle Dare To Do More reflects our belief in the transformative power of education—not just for individuals, but for our community and our country—creating pathways for achievement and safeguarding the middle class. LaGuardia is a national voice on behalf of community colleges, where half of all US college students study. Part of the City University of New York (CUNY), the College reflects the legacy of our namesake, Fiorello H. LaGuardia, the former NYC mayor beloved for his championing the underserved. Since our doors opened in 1971, our programs regularly become national models for pushing boundaries to give people of all backgrounds access to a high quality, affordable college education. We invite you to join us in imagining what our students, our community, and our country can become. Visit www.LaGuardia.edu to learn more.