LaGuardia Community College Student Min Young Kim Earns Jack Kent Cooke Undergraduate Transfer Scholarship
South Korea-native will receive $55,000/yr. to complete her Bachelor's degree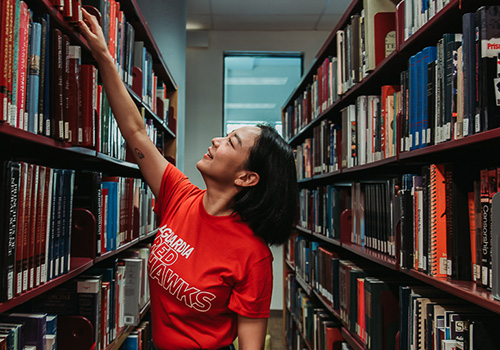 LONG ISLAND CITY, NY (May 9, 2023) — LaGuardia Community College/CUNY student Min Young Kim has been named a 2023 Jack Kent Cooke Foundation's Undergraduate Transfer Scholar. Min Young is one of 60 winners selected for academic ability and achievement, financial need, persistence, and leadership, from more than 1,700 students from 448 community colleges nationwide. The award will provide Min Young with as much as $55,000 per year to complete her bachelor's degree—helping her complete her undergraduate education with as little debt as possible.

"There are so many bright and persistent community college students in our nation who we know will thrive at four-year institutions if they can find a way to transfer without being weighed down by a heavy financial burden," said Seppy Basili, executive director of the Jack Kent Cooke Foundation, which had selected 459 applicants as semifinalists in March 2023. Min Young was one of seven semifinalists from LaGuardia.

"Min Young is an exceptional young scholar who recognizes the need for interdisciplinary approaches to solving entrenched inequalities in access to technology and education," said Karlyn Koh, Ph.D., professor of English and LaGuardia's Jack Kent Cooke Foundation Faculty Representative. "We are so proud of her, and happy that she found inspiration and support here at LaGuardia from which to launch into this work."

Min Young Kim, 26, is from Seoul, South Korea, and is the first in her family to go to college. She's a Liberal Arts: Applied Math major and has a 4.0 GPA.

"It took me a long time to get to this point," said Min Young, who dropped out of high school in Seoul at age 16. "Now almost 10 years later, I have this amazing scholarship and a plan for what I want to do with my life. It's rare to find an institution where every faculty and staff member is genuinely rooting for you. I'm so thankful I came to LaGuardia because that's what I've found here."

Min Young moved to New York City four years ago and began college at another CUNY campus as a film and media major. However, when the pandemic hit, she moved in with friends in Texas in order to save on rent and enrolled at North Central Texas College as a computer science major. However, she soon missed New York City and made plans to come back. She enrolled at LaGuardia for its reputation as a leading college for STEM and chose Liberal Arts: Applied Math as her major.

At LaGuardia, Min Young has held numerous leadership positions and been selected for opportunities for high-achieving students. She has served as president of the Red Hawk Engineering & Computer Science Club, treasurer of the Women in Tech (WIT) Club, a President's Society Ambassador, a Phi Theta Kappa International Honors Society member, and a member of the Honors Program. She worked as a Student Success Mentor (SSM), helping to teach the First Year Seminar for incoming students. She has received a Foundation Scholarship.

Min Young stepped up when invited to work with faculty on research projects through the CUNY Research Scholars Program (CRSP). She collaborated with Professor Yun Ye on research developing underwater acoustic communication. Currently, she is collaborating with Professor Alaa Darabseh on human activity recognition. In 2022, Min Young was one of five students named as fellows of LaGuardia's Border Lands, Border Waters Institute, which explores real-word solutions for border issues, and is supported by a grant from the National Endowment for the Humanities.

"I've really enjoyed being able to apply my classroom learning to real world projects. I even got to present my first research project at M.I.T.," said Min Young. "Through the Border Lands Institute, I learned how to apply my interest in STEM to helping other people. It showed me how different disciplines can overlap. For example, how technology can impact education or social issues. This helped me determine my career goal, which is to earn my Ph.D. and develop ways to teach STEM to under-represented people, like I was when I dropped out of school."

Min Young is deciding where to transfer to next year after graduating from LaGuardia this June. To date, she has been accepted to Columbia University, City College, and Brooklyn College.

Along with financial support, new Cooke Undergraduate Transfer Scholars receive comprehensive educational advising to guide them through the process of transitioning to a four-year college and preparing for their careers. Scholars will additionally receive opportunities for internships, study abroad, and graduate school funding, as well as connection to a thriving network of more than 3,000 Cooke Scholars and Alumni.

The Jack Kent Cooke Scholarship is last dollar funding, meaning that scholars may receive up to $55,000 per year to earn their bachelor's degrees after accounting for all institutional aid.

A list of the 2023 Cooke Transfer Scholars, including their community colleges, can be found here.
• • • •
LaGuardia Community College (LAGCC), a Hispanic-Serving Institution, located in Long Island City, Queens offers more than 50 degrees and certificates, and more than 65 continuing education programs to educate New Yorkers seeking new skills and careers. As an institution of the City University of New York (CUNY), the College reflects the legacy of our namesake, Fiorello H. LaGuardia, the former NYC mayor beloved for his advocacy of underserved populations. Since 1971, LaGuardia's academic programs and support services have advanced the socioeconomic mobility of students while providing them with access to a high quality, affordable college education.

The Cooke Foundation is dedicated to advancing the education of exceptionally promising students who have financial need. Since 2000, the Foundation has awarded $250 million in scholarships to more than 3,200 students from 8th grade through graduate school, along with comprehensive counseling and other support services. The Foundation has also provided $125 million in grants to organizations that serve such students.
####