LaGuardia Community College Professors Recognized for BRESI Projects and Leadership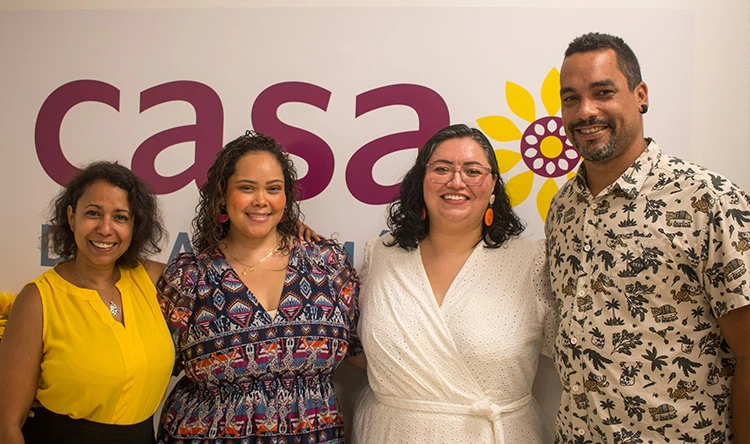 LONG ISLAND CITY, NY (October 31, 2023)  — The City University of New York/CUNY recently hosted an event to recognize CUNY faculty and students who created projects through the Black, Race and Ethnic Studies Initiative (BRESI). The initiative was announced in 2020 as part of an historic gift of $10 million from the Mellon Foundation to encourage change across CUNY's 25 campuses and develop and expand a range of initiatives related to the ongoing COVID-19 pandemic and the effort to advance social and racial justice.
The BRESI, funded by $3 million of the Mellon Foundation grant, encourages conversations, program development and new collaborations, across all CUNY's 25 campuses and graduate programs. BRESI received 500 proposals and funded 126 projects as well as the BRES Collaboration Hub and planning process to build CUNY's first doctoral program in Black, Race and Ethnic Studies.
BRESI projects cover nine areas across CUNY including: Course and Curriculum Design and Course and Curriculum and Syllabus Decolonization; BRES-Focused Student Research; BRES-Focused Student Internship; BRES-Focused Campus Climate Work; Existing CUNY BRES Centers and Institutes; CUNY Departments and Programs and New BRES-Related Initiatives; Faculty Publication Support on BRES Topics; Faculty Research Grants for Community Colleges; and Faculty Research Grants for Senior Colleges.
"CUNY is deeply grateful to the Andrew W. Mellon Foundation for its historic and very timely support," stated CUNY Chancellor Félix V. Matos Rodriguez in the BRESI Report. "This extraordinary generous gift will help greater numbers of our students and faculty shape the conversations about race relations and racial inequity demanded by ongoing national demands. Mellon's vital assistance will help CUNY continue to fulfill its core mission of promoting educational equity and serving as the country's unparalleled engine for upward social mobility."
CUNY created a publication titled, "Black, Race and Ethnic Studies Initiative at the City University of New York (BRESI): Asking the Right Questions, Changing the Narrative," which was presented during the event. In the publication, the following members of LaGuardia Community College were recognized as BRESI grant awardees for their innovative projects and leadership:
Andrea Francis; Proposal: "Accounting Program DEI Accelerator"
Jaime Riccio and Poppy Slocum; Proposal: "Decolonizing the Public Speaking Course"
Justin Brown, in collaboration with Monique Guishard from Bronx Community College, Proposal: "Jumpstarting the Black and Latinx Studies Emerging Scholars Pipeline at Community Colleges a Collaborative Cross Campus Mentored Student Research Program"
Ryan Mann-Hamilton, in collaboration with Natalie Vena from Queens College; Proposal: "The Queens Climate Justice Fellowship"
Ryan Mann-Hamilton and Sonia Alejandra Rodriguez; Proposal: "Casa de las Americas" (pictured above)
Allia Abdullah-Matta; Proposal: "Southern Borders: Gender, Place, and Space"
Milena Cuellar and Reem Jaafar; Proposal: "Equity Quantification in Mathematics Guided Pathways at LaGuardia Community College"
Natalie Havlin; Proposal: "No Justice, No Peace: U.S. Third World Student Movements' Radical Challenge to Reading for Tolerance"
Jayashree Kamble; Proposal: BIPOC Writers, Editors, and Novels: The Missing Chapters in the Story of Mass-Market Romance"
Karlyn Koh; Proposal: "Global Division of Desire"
Karen Miller, Proposal: "From Detroit to the Philippines: Circulations of Racial Logics and Struggles for Freedom Across Colonial and Postcolonial Geographies Over the Long Twentieth Century"
Kenneth J. Yin; Proposal: "Arli Arbudu: The Life, Times, and Work of a Soviet Dungan Writer"
Tameka Battle, Professor of Health Sciences and Education, was recognized as a BRES Curriculum Development Fellow, and Justin Brown, Assistant Professor of Health Sciences, was recognized as a BRES Research Faculty Fellow.
To learn more about the Black, Race and Ethnic Studies Initiative, visit the CUNY website.
• • • •
LaGuardia Community College (LAGCC), a Hispanic-Serving Institution, located in Long Island City, Queens offers more than 50 degrees and certificates, and more than 65 continuing education programs to educate New Yorkers seeking new skills and careers. As an institution of the City University of New York (CUNY), the College reflects the legacy of our namesake, Fiorello H. LaGuardia, the former NYC mayor beloved for his advocacy of underserved populations. Since 1971, LaGuardia's academic programs and support services have advanced the socioeconomic mobility of students while providing them with access to a high quality, affordable college education.
####