LaGuardia Community College Partners With Open Streets NYC and The Department Of Transportation to Host Public Events on Greenway Plaza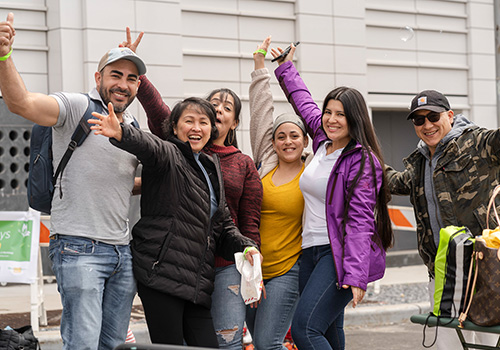 LONG ISLAND CITY, NY (April 11, 2023) — LaGuardia Community College/CUNY is taking over the streets of Long Island City, Queens with a series of culturally diverse, informative, and entertaining programs that are available for the public to enjoy.

The series of programs are part of the LaGuardia Community Greenway, a collaborative effort to create a new open space for Long Island City, and LaGuardia's 33,000 students and faculty. LaGuardia envisions reclaiming public streets to create a space that is sustainable and positively impacts the physical and mental health of the community and environment.

"With collaboration from New York City's Open Streets and the Department of Transportation, LaGuardia is dedicating eight days of live music, activities and programming to invite the community to learn about our college, engage with neighbors, and enjoy the urban sanctuary we're calling – The Plaza," said Kenneth Adams, President of LaGuardia Community College. "These events support our college's mission to serve the Queens community and all New Yorkers."

As a pilot program in 2022, organized by the President's Society Environment Program, the Greenway was introduced as a pop-up space for outdoor activities and programming on 29th Street, stretching from Skillman Avenue to 47th Avenue. More than 1,000 people enjoyed the pop-up Greenway. The success of the pop-up Greenway inspired the LaGuardia community to partner with New York City's Open Streets program to bring back the LaGuardia Community Greenway with a series of eight days filled with events and activities that reflect our community's diversity, culture, and spirit.

The 2023 Schedule includes:

Each day will offer a variety of activities: Food vendors, live music, exhibition tables, and workshops. Open to LaGuardia students, faculty, staff and the New York City community.
• • • •
LaGuardia Community College (LAGCC), a Hispanic-Serving Institution, located in Long Island City, Queens offers more than 50 degrees and certificates, and more than 65 continuing education programs to educate New Yorkers seeking new skills and careers. As an institution of the City University of New York (CUNY), the College reflects the legacy of our namesake, Fiorello H. LaGuardia, the former NYC mayor beloved for his advocacy of underserved populations. Since 1971, LaGuardia's academic programs and support services have advanced the socioeconomic mobility of students while providing them with access to a high quality, affordable college education.
####