LaGuardia Community College Marks 50 Years in Queens with 2022 Commencement
New York State Governor Kathy Hochul, Queens Borough President Donovan Richards, and CUNY Chancellor Félix V. Matos Rodríguez Spoke to the Graduates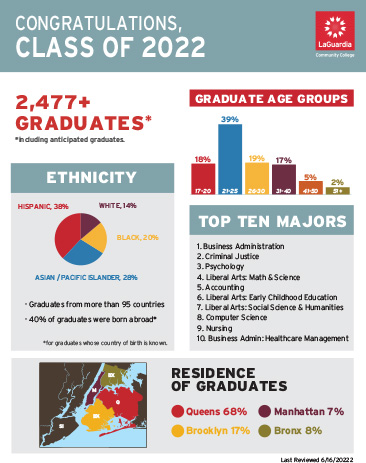 LONG ISLAND CITY, NY (JUNE 21, 2022)—Earlier today, LaGuardia Community College President Kenneth Adams, joined by New York State Governor Kathy Hochul, Queens Borough President Donovan Richards, and CUNY Chancellor Félix V. Matos Rodríguez, commemorated the college's 50 years in New York by conferring Associate Degrees and professional certificates for the nearly 2,500 members of LaGuardia's Class of 2022.
Commencement exercises for LaGuardia's 50th graduating class were held on the grounds of Queens College, the same location as LaGuardia's first commencement. A video of today's commencement is available here.
"It was an honor to have Governor Hochul, Queens Borough President Richards, and CUNY Chancellor Matos Rodríguez join today's commencement for the LaGuardia Community College Class of 2022. In addition to celebrating the achievements of the nearly 2,500 graduates, today we marked two milestones—our first in-person ceremony in three years, and 50 years of serving communities in Queens and beyond," said President Adams.
Dr. Guillermo Linares, president of New York State Higher Education Services Corporation, addressed the graduates and congratulated the Class of 2022 on behalf of his daughter, CUNY Trustee Mayra Linares-Garcia, who was unable to attend.
Ceremony Highlights
"Fifty years of this institution changing the lives of countless individuals. So many immigrants who came to this state, looking for what is known as the American dream, but I call it the New York dream because we welcome everyone here. And your success will define the success for your children and your children's children," said Governor Hochul.
"Our borough, our city and our world are in desperate need of young, determined leaders such as yourself," said Borough President Richards. "The future of Queens has never been brighter because of the individuals sitting in front of us today."
"As you know, you are LaGuardia's 50th graduating class. But what you might not know is that this year we are also celebrating CUNY's 175th anniversary," said Chancellor Matos Rodríguez to the graduates. "It's a history that started 13 years before the Civil War with 143 students in a school called the Free Academy. It was created to educate and provide access, equity, and opportunity to people from families of modest backgrounds but with a heck of a lot of talent. Many were the children of immigrants. Sound familiar? That Free Academy was the anchor to CUNY's unbeatable record of propelling New Yorkers to the middle class."
"I know how hard it was to get to the finish line—juggling multiple responsibilities and making tough choices and sacrifices to stay on this path. We are celebrating your strength and perseverance today," said Lely Nourmania (LaGuardia'17), a human trafficking survivor from Indonesia. When she escaped her enslavement, Ms. Nourmania found herself in New York, a city she barely knew, without family, education, or financial support. She came to LaGuardia, where she learned English, enrolled in college classes, and found self-confidence and hope for the future. She holds an Associate of Arts from LaGuardia and a CUNY Baccalaureate and is pursuing a master's degree at CUNY's Baruch College. She is dedicating her career to helping children in foster care, juvenile detention, or with refugee status.
Featured Members of LaGuardia's Class of 2022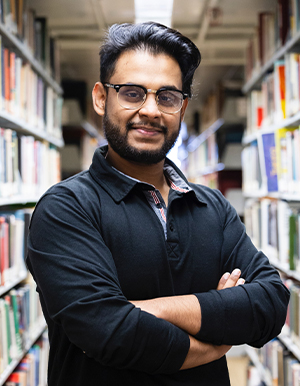 Talha Islam (Associate in Science— Business Administration), who spoke at commencement as the Class of 2022 Representative. In his speech, he shared his personal story as a political asylum seeker from Bangladesh who arrived in the U.S. at age 11. This fall, Mr. Islam will start classes at Cornell University towards a bachelor's degree in Applied Economics with concentrations in marketing and entrepreneurship. His professional goal is to start a nonprofit to help immigrants acclimate to their new communities and overcome food insecurity.
"I want to thank the LaGuardia Foundation for providing scholarships for thousands of students—helping them with rent, books, and many other necessities. Students like me don't really receive [access to federal or state] financial aid. It was because of the Foundation that I was able to graduate with you all today," said Mr. Islam, a Jamaica, Queens resident. "I also want to give shoutouts to my fellow undocumented DACA students, who… took the risk to secure their future by making the decision to come to LaGuardia… To my fellow international students, who left their parents far away just to get an education. Today, our parents are your parents. And they're equally proud of you as they are of us. Today, they are your family, and we are your family… And to all the students who are the very first in their family to get a college degree. Your perseverance will set an example for generations to come."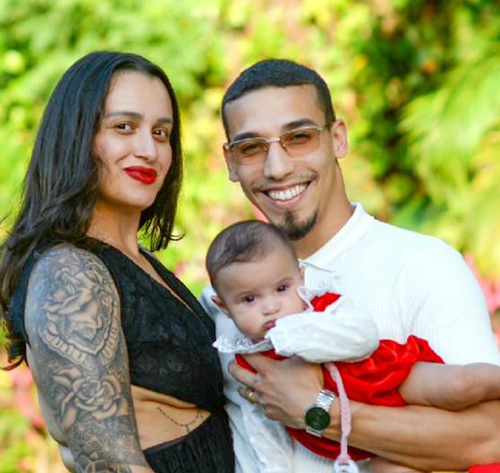 M.I.T.-bound Evelyn De La Rosa (Associate in Science— Electrical Engineering). She started LaGuardia at age 24, while expecting her first child, having waited to start college until she could apply for federal aid as an independent student. She was president of The Red Hawk Engineering and Computer Science Club and a member of the National Institutes of Health (NIH) Bridges program—securing a $14,000 NIH grant to conduct research on neurotransmitters and prosthetics. She and her partner, Luis Valdez, along with their one-year-old daughter, are gearing up for the move to Cambridge, Mass. so she can start classes this fall at M.I.T. towards a bachelor's degree in electrical engineering and computer science. Her goal is to start and lead a clean energy engineering business.
Two Jack Kent Cooke Undergraduate Transfer Scholars: Mohamad Bekhit (Associate in Science— Computer Science) and James Stuart (Associate of Arts— Political Science). Mohamad, age 30, left school after eighth grade to help his family financially. Despite never attending a day of high school, and with minimal reading and writing skills, he eventually sought his high school equivalency diploma at a neighborhood community center—taking the exam four times before passing. He graduated from LaGuardia with a near straight-A average. Mohamad hopes to start classes at NYU's Tandon School of Engineering this fall and plans to become an engineer. James, age 30, graduated as a member of LaGuardia's Honors Program. During the height of the pandemic, he enrolled at LaGuardia—hoping to find a new career pathway after working professionally as a dancer, actor, and choreographer for many years. Having become interested in the intersection between the arts and mental health, James plans to study psychology at one of three institutions from which he received acceptances, all of them in his native California.
Full Circle—LaGuardia's 50th Commencement at Same Location as First Commencement
"Since our first graduating class of 1973, New York has benefited from our graduates' grit and resiliency—coming from poverty and other disadvantaged circumstances, many juggle work and family responsibilities along with school to get to the finish line," said President Adams. "The Class of 2022 faced extra hurdles, including an economic downturn and the ongoing impacts of the COVID-19 pandemic. Their fortitude reflects their readiness to earn a bachelor's degree, start a career in their chosen field, or take whatever next step they choose. Their LaGuardia family will be with them every step of the way—cheering them on and celebrating their accomplishments—just as we have done for all our graduates since our doors first opened five decades ago."
LaGuardia Community College's first commencement, for the 256 students of the Class of 1973, was held on September 16, 1973, in Colden Hall (now known as Colden Auditorium) at Queens College. The keynote speaker was former Congresswoman Shirley Chisholm, the first Black woman elected to the United States Congress, the first Black candidate to seek a major party's nomination for President of the United States, and the first woman to run for the Democratic Party's presidential nomination.
• • • •
LaGuardia Community College (LAGCC), located in Long Island City, Queens, educates thousands of New Yorkers annually through degree, certificate, and continuing education programs . LaGuardia is a national voice on behalf of community colleges, where half of all U.S. college students study. Part of the City University of New York (CUNY), the College reflects the legacy of our namesake, Fiorello H. LaGuardia, the former NYC mayor beloved for his championing the underserved. Since our doors opened in 1971, our programs regularly become national models for pushing boundaries to give people of all backgrounds access to a high quality, affordable college education.
####