LaGuardia Community College Appoints Dr. Alexis J. McLean as Vice President for Student Affairs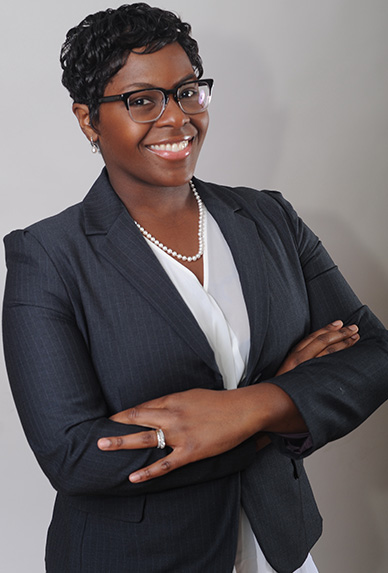 LONG ISLAND CITY, NY (May 11, 2023) — LaGuardia Community College/CUNY President Kenneth Adams announced the appointment of Dr. Alexis J. McLean, as Vice President for Student Affairs of the college. Dr. McLean will join LaGuardia on June 5, 2023.

Dr. McLean currently serves as the Dean of Students at Medgar Evers College/CUNY, where she administers all areas within the Division of Student Success and ensures an environment conducive to learning, and to the personal and social development of students.

Dr. McLean has worked at Medgar Evers College for 14 years. Her roles there include serving as the Associate Director in the Department of Special Programs/Percy E. Sutton SEEK Program; as Assistant Professor and Counselor with the Department of Special Programs/SEEK Program; and as a Counseling Coordinator in the same department. Prior to working at Medgar Evers, Dr. McLean was as an instructor/counselor in the counseling department at LaGuardia Community College.

"We are very pleased to welcome Alexis McLean back to LaGuardia," said Kenneth Adams, President of LaGuardia Community College. "Dr. McLean brings leadership experience in managing many facets of the student learning experience and campus life, including special programs, counseling and career development."

"I am very excited to be a part of such a great institution," Dr. McLean said. "Student Affairs is a crucial component of the college, and the work my new colleagues have already engaged in illustrates a deep commitment to student development and success. One of my priorities is to work alongside them to secure more resources and opportunities for students who are facing mental health and wellness challenges, and food and housing insecurity. These issues impact students in every cohort under our purview, and cause significant barriers for college students in our city. LaGuardia has been a special place for me, and I am very happy to be returning to an institution that actively serves first generation students and a diverse population that truly represents New York City."

Dr. McLean earned a Bachelor of Science in Psychology from Pennsylvania State University, and a Master of Arts in Mental Health & Wellness Counseling, and Doctor of Education in Higher Education Administration, both from New York University.

In her new role, Dr. McLean will serve on the President's Cabinet and oversee LaGuardia's Student Affairs Division which includes Athletics, Campus Life, the Early Childhood Learning Center, Health Services, the Office of Accessibility, Transfer Services, Veterans' Services, the Wellness Center, and more.

Dr. McLean's research has been published in peer-reviewed and academic journals including The NYU Journal of Student Affairs, Taboo: The Journal of Culture and Education, and The American Educational Research Association Annual Conference Proceedings. She has also presented her research at the city, state and national level. Her conference topics have focused on student development in higher education, the role of institutional agents at colleges and universities, and the ways in which Black women navigate the doctoral completion process. Works include "We Got Y'all: The Transformative Role of Mentoring in the Lives of Students of Color," "Sugar and Spice and Everything Nice: A Recipe for Successful Relationships between Black Practitioners and Black Students in Community College," "Just Like the Water… Surviving and Thriving as a Woman of Color Moving Through the Academy", and "Okay Ladies, Now Let's Get in Formation! Narratives of Mothers of Color Who Survived and Thrived While Pursuing Doctoral Degrees." In addition, she has served as a guest lecturer, speaker and facilitator for a number of workshops, panels and symposia focused on access and success in higher education.

Dr. McLean serves as a member of a variety of academic and professional organizations including, the American Counseling Association (ACA), the American Educational Research Association (AERA), the Association for the Study of Higher Education (ASHE), and the National Association of Student Personnel Administrators (NASPA). She is also a member of the SUNY Conduct Institute, and an External Reviewer for the Middle States Commission on Higher Education.
• • • •
LaGuardia Community College (LAGCC), a Hispanic-Serving Institution, located in Long Island City, Queens offers more than 50 degrees and certificates, and more than 65 continuing education programs to educate New Yorkers seeking new skills and careers. As an institution of the City University of New York (CUNY), the College reflects the legacy of our namesake, Fiorello H. LaGuardia, the former NYC mayor beloved for his advocacy of underserved populations. Since 1971, LaGuardia's academic programs and support services have advanced the socioeconomic mobility of students while providing them with access to a high quality, affordable college education.
####