CUNY Chancellor Felix V. Matos Rodriguez and President Kenneth Adams Visit Boyce Technologies, Inc.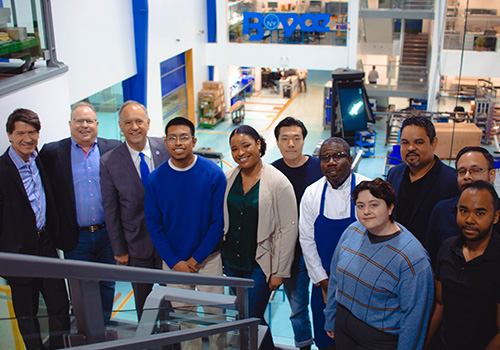 LONG ISLAND CITY, NY (May 10, 2023) — City University of New York Chancellor Félix V. Matos Rodríguez and LaGuardia Community College/CUNY (LAGCC) President Kenneth Adams participated in a tour on May 5 of Boyce Technologies, led by its Founder and President Charles Boyce.

During the tour, CUNY and LaGuardia leadership had an opportunity to meet with Boyce Technology student interns, who are currently enrolled at LaGuardia including Ryan Jhin, Human Resources intern, majoring in Electrical Engineering; Jimmy Tranquille, a Culinary intern, majoring in Electrical Engineering; Leo Tepoxtecatl, a Mechanical Engineering intern, majoring in Mechanical Engineering/General; and Tenzin Choesang Tamang, a Marketing intern, majoring in Business Administration.

In the 2023 spring semester, LaGuardia has seven students who are participating in an internship at Boyce Technologies, and there are currently 20 employees who either attend or graduated from LaGuardia or other CUNY schools.

"Boyce Technologies, CUNY, and LaGuardia have a profound commitment to New York City, and a commitment to providing the very best service to meet the needs of our community," said Chancellor Matos Rodríguez. "This partnership is designed to open doors for students and it's an opportunity for Boyce to find local talent who can grow with a demanding industry."

"It's an amazing partnership," said President Adams. "Our students get first-hand, on the job experience in very high-tech manufacturing. It's been a partnership that has created many career opportunities for our students and student across CUNY."

Mr. Boyce, who is the Chair of the LaGuardia Foundation Board, founded Boyce Technologies Inc. (BTI) after a more than 20-year career executing large systems contracts for the Metropolitan Transportation Authority (MTA) in New York. As he engineered and managed these MTA contracts, Mr. Boyce realized the risks and impacts of the projects were subject to decisions and schedules in the equipment manufacturing supply chain.

Today, BTI offers its employees with access to the world's most cutting-edge equipment which enables them to produce intelligent designs and rapid solutions. BTI's team includes engineers, designers, CAD modelers, CNC programmers, machinists, welders, assemblers, field technicians, project managers, software designers, salespeople, and administrative support.
• • • •
LaGuardia Community College (LAGCC), a Hispanic-Serving Institution, located in Long Island City, Queens offers more than 50 degrees and certificates, and more than 65 continuing education programs to educate New Yorkers seeking new skills and careers. As an institution of the City University of New York (CUNY), the College reflects the legacy of our namesake, Fiorello H. LaGuardia, the former NYC mayor beloved for his advocacy of underserved populations. Since 1971, LaGuardia's academic programs and support services have advanced the socioeconomic mobility of students while providing them with access to a high quality, affordable college education.

About Boyce Technologies
Boyce Technologies couples a broad range of materials and manufacturing processes to engineer innovative, reliable, and accessible transit safety solutions. BTI is redefining what is possible by creating innovative systems and highly reliable products that are aesthetically pleasing and work exceptionally well even under the harshest environments. Their mission is to combine the brightest minds with the best facility to create the environment to solve the most challenging urban technology problems.
####