LaGuardia Community College and the Fedcap Group Announce Partnership to Bring Industry-Recognized Courses to Civic Hall in Manhattan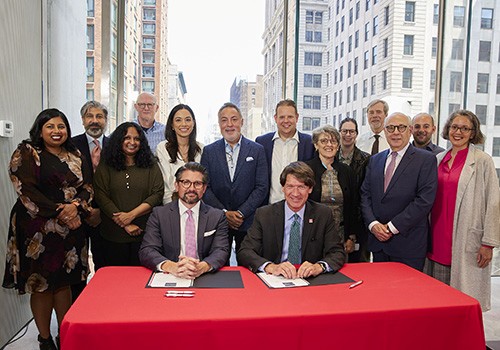 LONG ISLAND CITY, NY (May 31, 2023) — LaGuardia Community College/CUNY and The Fedcap Group have created a pioneering partnership that will place LaGuardia Community College as the first-ever educational partner for Civic Hall in Manhattan. On May 31, the two institutions signed a memorandum of understanding and agreement during a ceremony at the future home of Civic Hall at Zero Irving in the vibrant Union Square area of New York City.

Starting in September and ramping up with additional programs throughout the year, LaGuardia will offer several high-demand digital and technology education programs including cyber security, computer and IT network programming, digital marketing, and Microsoft program skills. Starting this summer, LaGuardia will begin hosting open houses and recruitment events virtually, to maximize accessibility to a new population of students and learners. This partnership represents a significant milestone in fostering educational collaborations in New York City.

The initial agreement lasts for a full academic year, with a mutual expectation for a long-term collaboration to continue well beyond this period. The primary aim of this partnership is to foster a unique educational ecosystem that promotes skill-building, career development, and higher learning opportunities for students in the region.

"The Fedcap Group and LaGuardia Community College share a vision of creating innovative pathways to enhance the education and career prospects of our students," said Kenneth Adams, President of LaGuardia Community College. "Our collaboration will open up new possibilities for students, not just at LaGuardia, but throughout New York."

LaGuardia Community College and The Fedcap Group will work together to develop educational and upskilling pathways between LaGuardia and other training and education providers co-located at Zero Irving. Emphasis will be placed on the creation of articulation agreements and degree pathways with other education providers.

"Our partnership with LaGuardia Community College is an exciting example of things to come at Civic Hall," said Christine McMahon, President and CEO of The Fedcap Group. "We are excited to partner with LaGuardia Community College's world-class team to offer digital skills and technology training that will put many individuals on a path to economic well-being. Not only will this partnership help individuals, it will fill critical workforce gaps in the tech sectors for New York City."

Civic Hall @ Union Square in RAL's new Zero Irving development at 124 East 14th Street will occupy 85,000 square feet on seven floors of flexible classrooms and convening spaces to the nation's leading digital skills/technology and job training organizations as well as a stunning and customizable conference and events center.

Civic Hall @ Union Square will help individuals, especially from underserved communities, gain valuable access to training and education in the tech sector. Civic Hall will provide high quality digital and tech skills training opportunities to communities too often left behind. These programs will help close the digital skills divide through a mix of hard and soft skills trainings that also fit into future upskilling pathway programs at Civic Hall and elsewhere.
• • • •
LaGuardia Community College (LAGCC), a Hispanic-Serving Institution, located in Long Island City, Queens offers more than 50 degrees and certificates, and more than 65 continuing education programs to educate New Yorkers seeking new skills and careers. As an institution of the City University of New York (CUNY), the College reflects the legacy of our namesake, Fiorello H. LaGuardia, the former NYC mayor beloved for his advocacy of underserved populations. Since 1971, LaGuardia's academic programs and support services have advanced the socioeconomic mobility of students while providing them with access to a high quality, affordable college education.

About Civic Hall
Located in the heart of the NYC tech community, Civic Hall will be a new, 85,000 square feet learning and training center at the new state-of- the-art Zero Irving building. Civic Hall embodies a bold vision to leverage high-impact tenants and workforce training partners to work collectively to close the digital skills divide and plan for the needs of tomorrow's workforce. Civic Hall will support and enable best-in-class career and workforce programs to partner effectively and expand their reach to serve all New Yorkers, especially those from communities too often left behind. For more information, visit https://civichall.org/ or email Seema Shah, Civic Hall's Executive Director, at sshah@fedcap.org.

About The Fedcap Group
For 87 years, The Fedcap Group has developed scalable, innovative, and disruptive solutions to some of society's most pressing needs. Serving 340,000 people this past fiscal year, The Fedcap Group provides educational services to every age group, vocational training and job attainment in high-growth industries, as well as support services such as behavioral health services—all targeted to helping people achieve long-term self-sufficiency. The Fedcap Group also invests its time and resources in broader system change—working in partnership with federal, state, and local government to improve the way services are designed, funded, and delivered.
####