Graduation for New Emergency Medical Technicians Held at LaGuardia Community College
Assemblyman Kenny Burgos Spoke to Graduates at Event Hosted by Global Medical Response (GMR) and Hunter Ambulance.
—Through GMR's Earn While You Learn program, participants received an hourly wage throughout their training, which was provided to them at no cost—
New York, NY–Bronx Assemblyman Kenny Burgos (District 85) joined Global Medical Response (GMR) and Hunter Ambulance for the graduation of 80 new Emergency Medical Technicians (EMTs) during a ceremony held at LaGuardia Community College/ CUNY on Thursday, April 28. Graduates hailed from Queens, The Bronx, Long Island, and Westchester. The celebration comes as the country faces a critical EMT shortage and continues to battle against the COVID-19 pandemic.
Of the 80 graduates, 30 were from LaGuardia's EMT training program. The other graduates were trained at centers in Long Island and Westchester.
"LaGuardia Community College has been providing top-notch emergency medical services (EMS) training for 35 years, and we are pleased to continue that long-standing tradition through our work with Global Medical Response," said LaGuardia Community College Vice President of Adult and Continuing Education Sunil B. Gupta. "Today's graduates, and those of future cohorts, help reduce the shortage of vital EMTs in communities throughout New York City and beyond."
The graduates were part of GMR's Earn While You Learn program, which paid the students throughout their EMT training. In addition to an hourly salary, training (a value of approx. $1,500) was provided at no cost to the students—their textbooks, uniforms, tuition, and fees were all covered by the program. In return, participants agree to work for GMR for one year after becoming a certified EMT. The graduates are eligible to work for one of GMR's subsidiaries: American Medical Response, Hunter Ambulance, or Crowd Rx. As EMT graduates, they will each receive a raise and a promotion.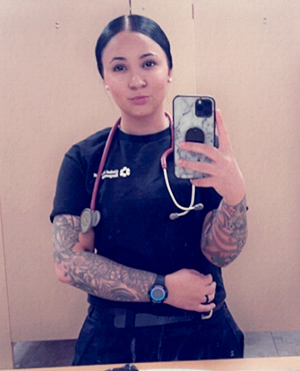 "I'm excited to get to work as an EMT. I became an EMT because I've always loved helping people and wanted to learn about the medical field. And this program will help me get a good job as an EMT that will enable me to pay my bills while I continue pursuing my bachelor's in Emergency Services Administration and Homeland Security at John Jay College of 25-year-old Criminal Justice," said Queens-resident Dora Meschino (pictured at right in her EMT trainee uniform) who graduated from LaGuardia's EMT program. She received LaGuardia's Outstanding Student Award for excellence in EMT skills and perfect attendance. "I'm focused on becoming the best EMT possible, so that one day I can become the best paramedic. My long-term goal is to work in disaster management for FEMA."
"As someone who plays, works and lives in the communities represented by today's graduates, I can say I feel safer today because of the 80 new EMTs who are watching over my district and all of New York," said Kenny Burgos, Assemblyman for District 85. "You are our heroes. Communities like mine don't have a hospital. We look forward to making sure programs like Earn While You Learn thrive."
"This was a remarkable day for emergency medical services in New York," said Mike Addario, Global Medical Response's Vice President of Operations for New York.
• • • •
LaGuardia Community College, located in Long Island City, Queens, educates thousands of New Yorkers annually through degree, certificate, and continuing education programs. Our guiding principle Dare To Do More reflects our belief in the transformative power of education—not just for individuals, but for our community and our country—creating pathways for achievement and safeguarding the middle class. LaGuardia is a national voice on behalf of community colleges, where half of all U.S. college students study. Part of the City University of New York (CUNY), the College reflects the legacy of our namesake, Fiorello H. LaGuardia, the former NYC mayor beloved for his championing the underserved. Since our doors opened in 1971, our programs regularly become national models for pushing boundaries to give people of all backgrounds access to a high quality, affordable college education.
Global Medical Response, Inc. provides air, ground, specialty and residential fire services, and managed medical transportation organization. With more than 38,000 employees, GMR delivers compassionate, quality medical care, primarily in the areas of emergency and patient relocation services in the United States and around the world. GMR acquired Hunter Ambulance last summer. GMR subsidiary American Medical Response, Inc. provides services in 40 states and the District of Columbia. More than 28,000 AMR paramedics, EMTs, RNs and other professionals work together to transport more than 4.8 million patients nationwide each year in critical, emergency and non-emergency situations.
####