Goldman Sachs 10,000 Small Businesses Education Center Opens at LaGuardia Community College
December 5th, 2018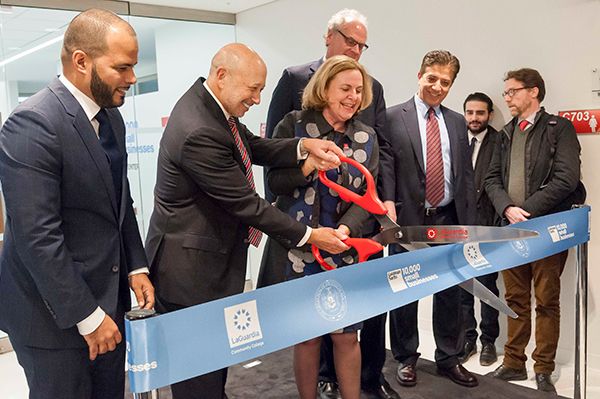 A ribbon cutting was held on Tuesday, December 4th, 2018 to mark the opening of the Goldman Sachs 10,000 Small Businesses Education Center at LaGuardia Community College. Pictured from left to right: Roy Castro, CEO of the D.M. Ice Cream Corporation in Long Island City and a 10,000 Small Businesses graduate, Goldman Sachs Chairman Lloyd Blankfein, LaGuardia Community College President Gail O. Mellow, President and CEO of Empire State Development and Commissioner of the New York State Department of Economic Development Howard Zemsky, and LaGuardia Community College Vice President of Administration & Finance Shahir Erfan.
New York State, under Governor Andrew M. Cuomo's leadership, awarded LaGuardia Community College $5 million to build the new center.
The 10,000-ft2 brand-new space is a venue for 10,000 Small Businesses trainings, lectures, alumni events, and more.
The 10,000 Small Businesses program launched in 2010 as a partnership between LaGuardia Community College and Goldman Sachs to support and help local entrepreneurs to grow their businesses and create jobs. Often described as a "mini-MBA," 10,000 Small Businesses provides training in business development, capital building, contract negation, systems management, and more. Immediate and sustained business growth for the alumni of the program have resulted. To date, the program at LaGuardia Community College has helped more than 830 business owners. Based on this success, Goldman Sachs expanded the program. Today, it's served nearly 8,000 small businesses across all 50 U.S. states, Puerto Rico and Washington, D.C.
For more, visit http://www.LaGuardia.edu/10KSB.
For more about the new Education Center, click here.
For media coverage of the ribbon cutting, click on the links below:
• NY1
• Queens Latino (in Spanish)
• • • •
LaGuardia Community College (LAGCC), located in Long Island City, Queens, educates thousands of New Yorkers annually through degree, certificate, and continuing education programs . LaGuardia is a national voice on behalf of community colleges, where half of all U.S. college students study. Part of the City University of New York (CUNY), the College reflects the legacy of our namesake, Fiorello H. LaGuardia, the former NYC mayor beloved for his championing the underserved. Since our doors opened in 1971, our programs regularly become national models for pushing boundaries to give people of all backgrounds access to a high quality, affordable college education.
####