Four LaGuardia Community College Faculty Awarded
Prestigious 2021 Mellon/ACLS Fellowships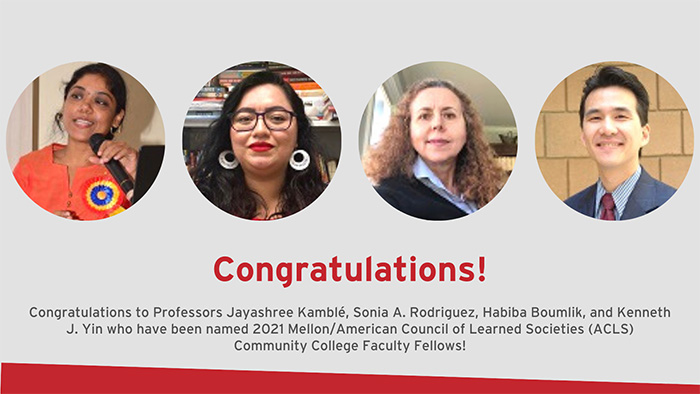 LONG ISLAND CITY, NY (May 10, 2021)—Four LaGuardia Community College faculty have been awarded 2021 Mellon/American Council of Learned Societies (ACLS) Community College Faculty Fellowships. The fellowship recognizes humanities and social science faculty at two-year institutions for their vital contributions to scholarship, teaching and their communities. The scholars will each receive up to $40,000, made possible by a generous grant from The Andrew W. Mellon Foundation, to support their research.
LaGuardia's four awardees are among 12 CUNY faculty members representing six CUNY two-year colleges among the 2021 awardees, accounting for nearly half of the 28 total awardees from across the country.
"We are proud of Habiba Boumlik, Jayashree Kamblé, Sonia A. Rodríguez, and Kenneth J. Yin, and congratulate each of these faculty members on this honor that provides generous support for their academic pursuits," said LaGuardia Community College President Kenneth Adams. "By spotlighting often marginalized communities, their research projects reflect the incredible diversity of our student population and our focus on inclusion and global citizenry."
This year's diverse cohort of fellows, more than 60 percent of whom identify as scholars of color, represent 21 community colleges around the country. Their supported projects encompass a wide range of disciplines, topics, and methodologies. They will come together in a convening hosted by the ACLS to build their cohort, share work in progress and discuss wider issues related to the humanities in community colleges and the impact of COVID-19.
LaGuardia's 2021 Mellon/ACLS Community College Faculty Fellows and their projects are:
Habiba Boumlik , Professor of Education and Language Acquisition, LaGuardia Community College
Amazigh Cinema in North Africa and the Diaspora: Finding A Newfound Voice for a Pan-Amazigh Identity
Jayashree Kamblé , Associate Professor of English, LaGuardia Community College
BIPOC Writers, Editors, and Novels: The Missing Chapters in the Story of Mass-Market Romance
Sonia A. Rodríguez , Associate Professor of English, LaGuardia Community College
Conocimiento Narratives: Challenging Oppressive Epistemologies through Healing in Latinx Children's and Young Adult Literature
Kenneth J. Yin , Lecturer of Education and Language Acquisition, LaGuardia Community College
Making Literary History: The Emergence and Development of Soviet Dungan Literature
• • • •
LaGuardia Community College (LAGCC), located in Long Island City, Queens, educates thousands of New Yorkers annually through degree, certificate, and continuing education programs . LaGuardia is a national voice on behalf of community colleges, where half of all U.S. college students study. Part of the City University of New York (CUNY), the College reflects the legacy of our namesake, Fiorello H. LaGuardia, the former NYC mayor beloved for his championing the underserved. Since our doors opened in 1971, our programs regularly become national models for pushing boundaries to give people of all backgrounds access to a high quality, affordable college education.
####