Daring LaGuardians—Stories of Four Members of the LaGuardia Community College 2018 Graduating Class
Monday June 4, 2018
More than 1,600 New Yorkers are expected to celebrate earning their associate's degree at tomorrow's  2018 Commencement for LaGuardia Community College.
Since it's a large number, we want to share the stories of four members of the Class of 2018. Stories that are emblematic of LaGuardia Community College, where a typical student might be considered "non-traditional" at a four-year college. Approx. 46 percent are age 25 or older, with 20 percent over age 30. They're often poor—71 percent have family incomes of $30,000 or less—are recent immigrants or have otherwise disadvantaged backgrounds. And a good number are the first in their family to pursue a college degree.
"A LaGuardia education gives students the knowledge and tools they need to excel in their careers and in their lives," said LaGuardia Community College  President Gail O. Mellow. "Our graduates, having overcome obstacles that often include balancing multiple demands of work, family and academics, have incredible grit and determination to excel. Graduation is a time to celebrate their accomplishments and to join them in imagining how they will improve the lives of their families, our city and our nation."
Many came to LaGuardia seeking a second chance after a bad start at a four-year college. Or they chose LaGuardia after a negative high school experience—and as a result, came in with poor study habits, or needing to take remedial classes in math, reading, or writing. Or despite having the academics for a four-year college, they needed an affordable route to begin their college journey.
They'll graduate in one of more than 60 majors. For the Class of 2018, Business Administration, Criminal Justice, and Liberal Arts: Social Science & Humanities are the three most common majors. If not entering the workforce, many are transferring to a public four-year college, a private college, or one of the most selective colleges and universities this country has to offer, to pursue their bachelor's.
The stories below include: a mother-daughter duo, where the mother always dreamed of going to LaGuardia, but dropped out after one semester nearly three decades ago when she became pregnant with her first child; a woman with a bachelor's from Boston University who enrolled at LaGuardia to pursue her passion for theatre and ended up earning a prestigious Fulbright Scholarship where she'll study in India; and a young man from The Bronx who came to LaGuardia to get his college journey back on track after getting expelled for poor grades from a four-year college—at LaGuardia, he ended up finding a passion for journalism and has been selected as a 2018 Pulitzer Center Campus Consortium Fellow.
Their stories are below. Congratulations to the LaGuardia Class of 2018, who are all embodiments of our school motto, 'Dare To Do More'!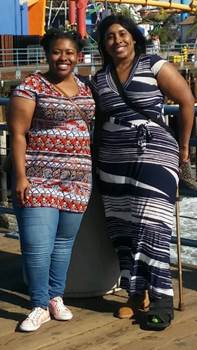 Mother-Daughter Duo: Lakima Lewis and Tamecca Reid
Lakima Lewis, age 45 (pictured at right below), is a paralegal studies major, who is transferring to Queens College to pursue her bachelor's in political science.
Lakima first studied at LaGuardia in 1990, but dropped out after one semester when she became pregnant with her first child, a son (now 26 and a graduate of Brooklyn College).
After she got injured on the job in 2011, she decided to re-enroll at LaGuardia, where her daughter, Tamecca Reid (pictured at left), was studying. Ms. Lewis, who relies on a wheelchair and a cane to get around, found support and resources from LaGuardia's Office for Students with Disabilities.
At LaGuardia, the two, who live together in Brooklyn, often met for breakfast together before classes.
Now they're really excited to be celebrating earning their associate's degrees on the same day. Tamecca, age 21, is a deaf studies major.
"I cried when I found out that we'd be graduating together because I thought it was really special," said Ms. Lewis, who is a member of Delta Alpha Pi, the international honors society for students with disabilities. "Especially for me to come back to a school I always wanted to go to when I was 18."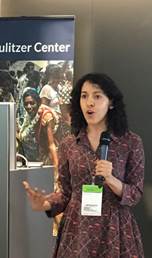 Fulbright Scholar: Ambar Castillo
Ambar Castillo (pictured at right), is a theater major who was recently awarded a prestigious Fulbright Scholarship to study performance-based initiatives to combat social problems in rural villages in India, continuing the work she pursued as a Pulitzer Center Reporting Fellow in Gujarat last summer.
The Fulbright Program aims to increase mutual understanding between the people of the United States and the people of other countries. Fulbright alumni include 59 Nobel Laureates, 82 Pulitzer Prize winners, 71 MacArthur Fellows, 16 Presidential Medal of Freedom recipients, and thousands of leaders across the private, public and non-profit sectors.
Ambar holds a B.A. in Latin American Studies & Journalism from Boston University. She was working a secure job with benefits when she decided to pursue her passion for theatre and enrolled at LaGuardia.
Ambar's acting roles have ranged from cross-gender ones in Boston-based William Suspension Productions to a role in "Vagina Monologues" with Athena Players and that of a mayfly at LaGuardia, for which she earned a 2017 Irene Ryan acting nomination.
Her goal is to earn a master's in public health, and then a PhD in performance studies.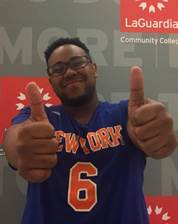 Pulitzer Center Reporting Fellow: Jonathan Custodio
Jonathan Custodio, age 23 (pictured at right), is a journalism major who plans to begin pursuing a bachelor's in journalism this fall at City College.
He was recently one of just 43 emerging journalists selected from across the U.S. as a Pulitzer Center 2018 student reporting fellow. Jonathan, who speaks Spanish, plans to travel to Mexico in January where he'll report on Afro-Mexican identity.
Jonathan started his college journey at a four-year college upstate, but was asked to leave after one semester for a 1.1 GPA. Being expelled was deeply disappointing for Jonathan, who especially feared letting down his parents, immigrants from the Dominican Republic. When they instead responded with love and understanding, his fears subsided.
Deciding that perhaps a school closer to his family home The Bronx would provide better structure for himself, he enrolled at LaGuardia where he realized his passion for writing and switched his major from business administration to journalism, and became editor-in-chief of LaGuardia's student newspaper, The Bridge. He also served as a Civic Fellow for LaGuardia's government affairs team—engaging civically with community members about the opportunities at the college.
His gift for writing is evident in the personal statement for his application to four-year schools, in which he writes passionately about the turmoil he felt upon leaving his first college. Read below.
In Depression to Independence
By: Jonathan Custodio
The letter arrived on a rainy June afternoon. I had been expelled from the University at Buffalo. 
It was expected for months but it still struck me like a thunderous punch that I didn't anticipate. I could not bear the shame, the disappointment, nor the depression that followed. The days went by slowly; the nights even more so.
My time at the university had come to an end because of academic ignorance. Growing up in a strict Dominican household, I was rarely given the autonomy to be as social as I had liked to be. So after being thrown into a situation in which I had complete freedom, I could not manage leisure with responsibility and my studies suffered. As a result, I ended my first and only academic year there with an atrocious 1.1 Grade Point Average (GPA). 
"Jonathan, we are headed to the movies. Do you want to come?" "No, I'm okay."
"Jonathan, are you feeling alright. Is everything okay?" "Everything is fine."
These were the sullen answers that were given to genuine concern from my family because I felt too embarrassed to face them and explain my failures.
My father worked ten-hour shifts in a factory and my mother did housework gigs. I always noticed how tired my parents were when arriving home from work and told myself that I would do everything in my power to ensure that his final decades were as relaxing as possible.
Immigrants from the Dominican Republic, my parents always preached the importance of an education and placed immense pressure on me to succeed. That pressure was only exacerbated by the bachelor's degrees that were earned by both of my older brothers. 
All of these factors contributed to a rapidly developed depression. Overwhelmed by my lack of success, I could not bear disappointing them and thought that everything would be easier if I removed this liability from their lives. 
With no job or school enrollment, I had hours in the day to myself that I would alternatively spend between crying or pressing a blade to my wrists and wondering what it was like to experience the sweet release of death. My pride always stopped me. My story was not going to end that way. It was time to speak up.
I waited until the night before returning students were scheduled to start the sophomore year to tell my parents. Before the words could even come out, my eyes became faucets. I had never felt so emotional and could only manage to keep my eyes fixed on the floor because I was too afraid to see the reaction of my mother, who was more critical of me than anyone else.
But suddenly, the support interjected. They proved what it meant to be family: togetherness and just being there for someone when he or she needs it most. I was at a loss for words as each member of my family showered me with love and words of encouragement.  
Fear turned into relief. Depression converted to comfort. 
Almost five years later, I sit here writing this statement as easily as blinking. I do so with no regrets, and with no remorse.
I went to college because I was told that you were supposed to. You go to college, get a job and have a family. Hence, I believed that I needed to seek what was familiar and safe. I followed my older brother's path in studying Business Administration because he was doing well for himself and my parents approved of it.
I decided to pursue my passion in journalism at LaGuardia Community College. Why did I choose LaGuardia? The reason isn't profound or deep. It was the only school in all of CUNY still accepting students at the time.
To my surprise, LaGuardia has been nothing but a venue of support, development and education. There, I have honed my leadership, networking and communal skills while being a Civic Fellow; embraced a journalistic integrity in being editor-in-chief of our school newspaper The Bridge for more than a year; and developed a passion for uplifting fellow students and dreamers towards their wildest aspirations.
I love to write and I love the news. I feel a compulsion to properly inform the people and give them a platform to be heard. Real change happens through people, and the biggest mistake is not believing that we have the power to have a massive impact on the issues that matter to us.  I learned to believe in myself.
LaGuardia Community College helped me develop those beliefs; I would not be as content and driven as I am today without the experience of being a student at this college in Long Island City, Queens. 
I recently finished my classes towards my major and am getting ready to graduate in June. After which time I plan to go to a four-year school towards a bachelor's in journalism.
We cannot improve upon ourselves until we tackle our greatest fears; until we follow our passions; until we learn from our past. I didn't know that at nineteen years old. I know it at twenty-three.
####