President Kenneth Adams Gives Keynote and Receives Honorary Degree at 2022 Commencement for Middlebury Language Schools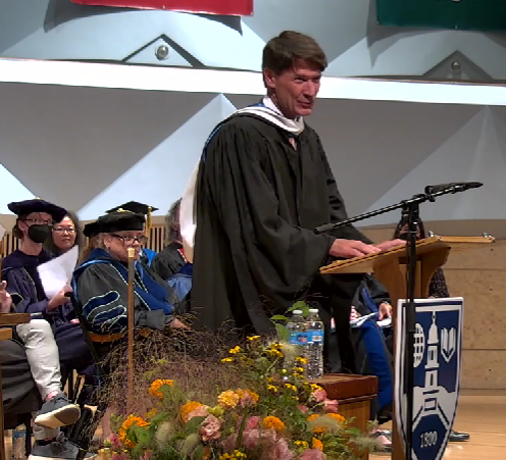 LONG ISLAND CITY, NY (AUGUST 23, 2022)—LaGuardia Community College (LAGCC) President Kenneth Adams gave the keynote address and received an honorary Doctor of Education degree at the 2022 Commencement for Middlebury Language Schools on August 19.
President Adams earned his master's degree in Spanish literature from the Middlebury Language Schools and a bachelor's degree from Middlebury College.
"We were honored to have Kenneth back on our Vermont campus as commencement speaker for the Language Schools this year," said Middlebury President Laurie L. Patton. "Learning languages, at its core, is about human understanding, connection, and care. It also takes more than a little humility to immerse oneself in a new language. Kenneth embodies these values in his life and in his life's work, opening doors for all people to the transformational experience of higher education."
"Kenneth Adams' career as a leader in workforce development and as founding director of New York Cares embodies the spirit of service that characterizes so many Middlebury graduates," said Steve Snyder, dean of the Middlebury Language Schools. "His tenure as president of LaGuardia Community College has highlighted his commitment to equity and inclusion, values we seek to promote across the institution and in the Language Schools. We know our graduates will learn from his shared insights about the challenges and possibilities of global citizenship."
In his address, President Adams spoke about the diversity of LAGCC's student population, the advantages of mastering new languages, and the importance of embracing multilingualism in higher educational settings.
"Language acquisition can be a powerful driver of academic confidence," said President Adams. "Consider the enormous potential of language learning to rebuild the confidence of students whose educations were disrupted by COVID—of classrooms and campuses made more inclusive by language aware faculty that acknowledge and leveraged multilingualism; of language diversity as a pillar of this country's social and economic recovery."
The benefits of embracing multilingualism in the classroom are ever-present at LaGuardia. President Adams spoke about several LAGCC students including recent graduate Talha Islam'22 who came to New York City from Bangladesh at age 11. During high school, Talha felt embarrassed speaking English with an accent—as a result, he spoke little and didn't feel confident. At LAGCC, however, he heard many of his fellow students speaking with accents. No longer feeling out of place, he felt confident to speak up and participate in class. This fall, Mr. Islam, who earned his associate degree in business administration, will start classes at Cornell University. His goal is to start a nonprofit to help immigrants acclimate to their new communities and overcome food insecurity.
####