New Initiative to Help New Yorkers Recover from the Economic Setbacks of COVID-19, with a Focus on Hard-Hit Residents of Queens and The Bronx
NYC Accelerated Workforce Recovery Hub is Expected to Benefit 3,000 New Yorkers
—Funded by a $1.65 Million Seed Grant from The New York Community Trust—
January 18, 2022
CUNY's LaGuardia Community College and Hostos Community Colleges, in partnership with The New York Community Trust, are launching a new initiative to help low-income communities throughout New York — with a focus on Queens and The Bronx — that have been upended by the COVID-19 pandemic. The NYC Accelerated Workforce Recovery Hub is a new model for high-quality workforce development at scale. It is funded by a seed grant of $1.65 million from the New York Community Trust, the City's community foundation. Additional donors and federal grants will contribute to building and expanding the Hub over time.
The Hub will provide workforce training for high-demand jobs for at least 400 New Yorkers over an initial 18-month pilot period. By helping the colleges expand support services to connect graduates to jobs and higher education, the initiative is expected to ultimately impact over 3,000 students.
"The pandemic has had a devastating economic impact on New Yorkers and has wrought an agonizing toll on communities," said CUNY Chancellor Félix V. Matos Rodríguez. "We are grateful to the New York Community Trust for this support, which will endow workforce training programs at LaGuardia and Hostos Community Colleges. Preparing New Yorkers who have lost their livelihoods because of COVID-19 for careers in high-demand sectors is a critical step in our city and state's recovery."
"CUNY community colleges' continuing education divisions are ideally positioned to prepare people for good-paying jobs," said Roderick Jenkins, program director for youth and workforce development at The New York Community Trust. "The Workforce Recovery Hub will ensure immediate and equitable access to workforce training for hundreds of unemployed and underemployed New Yorkers looking to advance their careers."
"The Hub is an audacious effort that will open up access to a wide variety of in-demand workforce training programs through scholarships and wraparound support services," said LaGuardia Community College President Kenneth Adams. "Our partners at the New York Community Trust and community-based organizations and colleagues at CUNY and Hostos Community College share our aim to help New Yorkers who were severely impacted by the pandemic to advance into jobs that move them forward in life and stability."
"Partnering with LaGuardia with the support of the New York Community Trust to bring the NYC Accelerated Workforce Recovery Hub to scale is a vital step towards supporting the growth and empowerment of our communities which have been so severely impacted during these difficult times," said Hostos Community College President Daisy Cocco De Filippis. "Sharing our resources and educational acumen to positively impact the workforce of New York City is important and we are proud to be a part of the work."
Accelerated Training for Good Jobs
The NYC Accelerated Workforce Recovery Hub community partners in Queens and The Bronx will be engaged to recruit underemployed and unemployed residents who are eager to recover from setbacks imposed by the ongoing pandemic. LaGuardia will collaborate with Commonpoint Queens and Queens Community House; Bronx partners are being selected.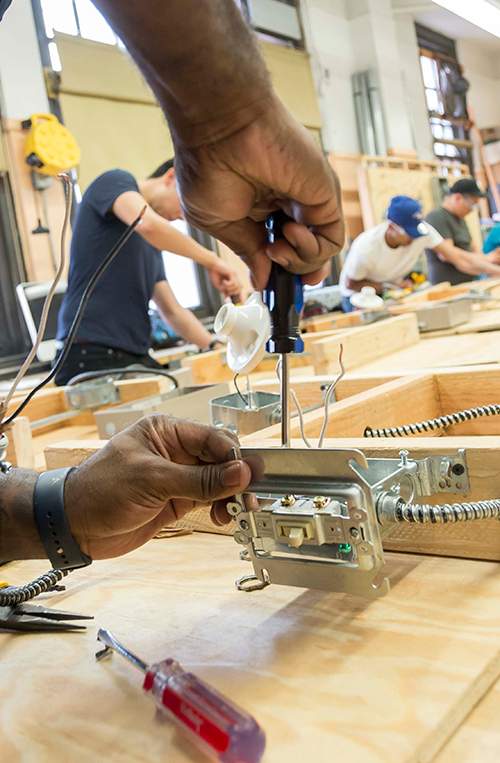 Students will receive full- and partial-tuition scholarships for the colleges' high-quality accelerated professional training in programs such as medical assistant, nursing assistant, electrical, pharmacy technician, patient care tech and IT support, to prepare them for well-paying jobs that require an industry-recognized certification to get hired. They will earn college credits that can be applied toward a college degree in the future.
The first cohort of approximately 50 students, expected to begin in March, will receive training for one of eight jobs in health care, technology and construction. Each semester, training programs will be reassessed to reflect the needs of the ever-changing labor market.
Targeting Those Hardest Hit by COVID-19
The NYC Accelerated Workforce Recovery Hub initiative seeks to address critical issues of workforce equity, and the ability to bring high impact workforce training programs to scale within our communities.
The COVID-19 pandemic has been especially cruel to low-income communities of color in Queens and The Bronx, the communities served by LaGuardia and Hostos. Black and Hispanic New Yorkers were infected at much higher rates than other groups, accounting for nearly 62 percent of all confirmed deaths from COVID-19.
These communities were also the worst hit by the economic crisis triggered by the pandemic. Two-thirds of pandemic-related job losses in NYC were among persons of color, with Latinx workers bearing 32 percent of lost jobs. The Bronx recorded the highest level of out-of-school, out-of-work young adults in 2020, with 37 percent of all young adults. According to a Pew Research Center report, Black and Hispanic workers continue to face significantly higher rates of unemployment than white workers; the same goes for less educated workers compared with more highly educated workers. According to data from Opportunity Insights, low-wage employment (defined as making less than $27,000 a year) is still trailing pre-pandemic levels by about 20 percent.
Many Queens and Bronx residents do not want to return to the low-wage and unstable restaurant and retail jobs that evaporated during the pandemic. Instead, they seek higher quality jobs with more stability and a brighter future for themselves and their families.
• • • •
About The New York Community Trust
The New York Community Trust is a public charity and New York City's largest community foundation. It connects generous people and institutions with high-impact nonprofits making the city and its suburbs a better place for all. It builds stronger communities, influences public policy, foster innovation, improves lives, and protects our environment.
About The City University of New York
The City University of New York is the nation's largest urban public university, a transformative engine of social mobility that is a critical component of the lifeblood of New York City. Founded in 1847 as the nation's first free public institution of higher education, CUNY today has seven community colleges, 11 senior colleges and seven graduate or professional institutions spread across New York City's five boroughs, serving over 260,000 undergraduate and graduate students and awarding 55,000 degrees each year. CUNY's mix of quality and affordability propels almost six times as many low-income students into the middle class and beyond as all the Ivy League colleges combined. More than 80 percent of the University's graduates stay in New York, contributing to all aspects of the city's economic, civic and cultural life and diversifying the city's workforce in every sector. CUNY's graduates and faculty have received many prestigious honors, including 13 Nobel Prizes and 26 MacArthur "Genius" Grants. The University's historic mission continues to this day: provide a first-rate public education to all students, regardless of means or background.
About LaGuardia Community College
LaGuardia Community College (LAGCC), located in Long Island City, Queens, educates thousands of New Yorkers annually through degree, certificate, and continuing education programs . LaGuardia is a national voice on behalf of community colleges, where half of all U.S. college students study. Part of the City University of New York (CUNY), the College reflects the legacy of our namesake, Fiorello H. LaGuardia, the former NYC mayor beloved for his championing the underserved. Since our doors opened in 1971, our programs regularly become national models for pushing boundaries to give people of all backgrounds access to a high quality, affordable college education.
About Hostos Community College
Hostos Community College is an educational agent for change, transforming and improving the quality of life in the South Bronx and neighboring communities since 1968. Hostos serves as a gateway to intellectual growth and socioeconomic mobility, and a point of departure for lifelong learning, success in professional careers, and transfer to advanced higher education programs. The College's unique "student success coach" program, which partners students with individualized guidance, is emblematic of the premier emphasis on student support and services. Hostos offers 28 associate degree programs and 2 certificate programs that facilitate easy transfer to The City University of New York (CUNY) four-year colleges or baccalaureate studies at other institutions. The College has an award-winning Division of Continuing Education & Workforce Development that offers professional development courses and certificate-bearing workforce training programs. The Hostos Center for the Arts & Culture (HCAC) is one of the pre-eminent Latino arts centers of the northeast. The HCAC has distinguished itself for showcasing traditional art forms as well as emerging and internationally renowned artists. Hostos Community College is part of CUNY, the nation's leading urban public university serving more than 500,000 students at 25 colleges.
####