LaGuardia Welcomes USDA Liaison to Work With Hispanic Serving Institutions Across Northeast Region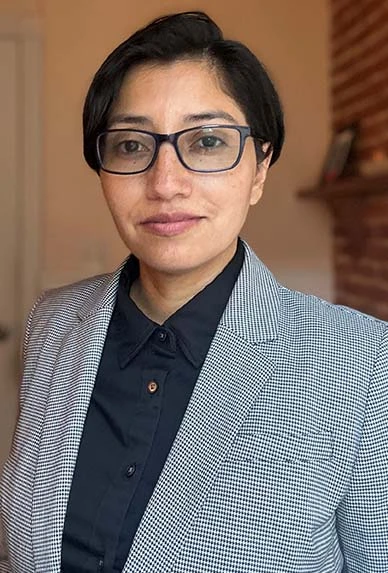 LONG ISLAND CITY, NY (July 25, 2023) — LaGuardia Community College/CUNY continues to build upon its mission to serve the community through academic programming, workforce development, and the cultivation of partnerships.
LaGuardia was recently selected as a host Hispanic-Serving Institution (HSI) for the U.S. Department of Agriculture's Northeast division, and on August 7th the college will welcome Herminia "Mina" Gomez as the USDA HSI Liaison, who will serve as the primary contact and work with other HSIs in the Northeast region on enhancing their programs and opportunities for students.
Gomez is looking forward to joining LaGuardia and says her ties to the City University of New York (CUNY) extend through her family.
"My partner, my father at the age of 58, all my siblings, and most of my friends have received CUNY degrees," she said. "Although, I got my B.A. from NYU, I enrolled at Hunter College and received a second B.A. and got a chance to experience the CUNY magic. I wouldn't be where I am today if it wasn't for CUNY."
As the USDA HSI-Liaison, Gomez will engage and build collaborative partnerships with HSIs in the Northeast, however she will primarily be based out of LaGuardia Community College. Gomez officially begins her role and moves into her office in M-103D on August 7th.
"Welcoming Mina to the LaGuardia campus will create opportunities for our students, faculty and staff to learn about the USDA and to carry out our mission of serving our community to meet their needs," says Kenneth Adams, President of LaGuardia Community College. "We are in a better position to enhance our support and to collaborate with the USDA."
The USDA has established cooperative relationships with HSIs across the country, placing a USDA Liaison at an HSI since 1997. Gomez says there are currently four other active liaisons located at Miami Dade College, North Campus in Miami, FL; The University of Texas Rio Grande Valley, in Edinburg, TX; Imperial Valley Community College, Imperial, CA; and California State University, Fresno, in Fresno, CA.
As a USDA liaison, Gomez will support students, faculty, and staff from historically underserved communities with access to information and guidance on applying to internships, educational opportunities, and services that exist within USDA. "For example, for students, USDA has summer internships across its different agencies that require applicants from diverse academic backgrounds," she said. "It's a great opportunity for students to explore USDA careers and federal employment."
For faculty and staff, Gomez will be encouraging them to apply to the E. Kika De La Garza Education and Science Fellowship, which would provide them with the opportunity to travel to Washington D.C. to meet with leaders from different USDA agencies to learn more about their services and programs. The E. Kika De La Garza Science Fellows spend an additional week collaborating with top scientists from USDA's Agricultural Research Service (ARS) or the Natural Resources Conservation Service's (NRCS).
"These efforts are part of USDA's commitment to advance equity in professional development opportunities as well as build a more diverse pipeline into public service and the agricultural sector," Gomez said.
Gomez hopes to be a support and facilitator for LaGuardia in its implementation of current and future USDA grants and building those relationships with our USDA agencies regionally and nationally.
"LaGuardia faculty and staff are passionate about their students, and in shaping them into the leaders of tomorrow," she said. "I know LaGuardia students are resilient, often first-generation students that bring with them a wealth of knowledge. I want to present all of them with an opportunity to be part of the USDA family to make a difference and impact in the lives of people across the United States."
• • • •
LaGuardia Community College (LAGCC), a Hispanic-Serving Institution, located in Long Island City, Queens offers more than 50 degrees and certificates, and more than 65 continuing education programs to educate New Yorkers seeking new skills and careers. As an institution of the City University of New York (CUNY), the College reflects the legacy of our namesake, Fiorello H. LaGuardia, the former NYC mayor beloved for his advocacy of underserved populations. Since 1971, LaGuardia's academic programs and support services have advanced the socioeconomic mobility of students while providing them with access to a high quality, affordable college education.
####